Meet 'the Zeen': Philly inventor behind the Steadicam creates wheelchair-walker hybrid
Nearly 50 years ago, Garrett Brown invented the Steadicam for motion picture filming. Today, he's using his skills to give people more mobility options.
Listen
3:48
Nearly 50 years ago, Garrett Brown invented a system for camera operators on movie sets to smoothly track action shots and sequences with a stabilization mount.
It was named the Steadicam, and film studios in Hollywood and across the world quickly adopted the new system when it officially launched in 1975.
In the earliest days, the system was used to film scenes in the Woody Guthrie biography "Bound for Glory," in Stanley Kubrick's psychological horror "The Shining," and, of course, the infamous climb of a fictitious boxer outside the Philadelphia Museum of Art in "Rocky."
"Fatefully, I was chasing [Sylvester] Stallone up the steps a few months later, so that helped a lot," Brown said.
Just when Brown, now 81, figured his inventing days were behind him, he was again inspired to create something related to motion. But this time, it's for the human body.
"The Zeen" is a sort of hybrid between a traditional wheelchair and a walker, and its main function is to give users an opportunity to safely explore movement and maintain whatever range of abilities they might have.
It can be used just like a traditional wheelchair, but the user can also elevate the seat to different heights so that they're at eye level with other people. The device can also transform into a sort of mobile scaffolding that supports someone as they stand or walk.
"Our goal is to help them hang on to what they've got," Brown said, "because you atrophy frighteningly quickly if you cease to use any given set of muscles."
Brown, who grew up in Havertown, saw this happen to his own father and friends. As they began to use wheelchairs and walkers, Brown said they had few options to exercise their full range of mobility, at least not in a seamless way.
It took about five years to develop an official prototype, and a couple more years until Brown and a small team opened an office in West Chester, Pa. in 2018 to manufacture and market the product.
Priced at around $3,900 each, about 300 devices have been built and sold to people in the region, as well as online. Brown even gifted one to Pope Francis with encouragement from officials in Vatican City.
The Zeen is especially helpful for people facing chronic conditions, who may have different levels of mobility, Brown said. It's also used in physical therapy settings to help people recover from injuries or illnesses, including stroke recovery.
But Brown says it's not for everyone. It requires some degree of mobility from the user to start out with in order to benefit the most from the device. So he said it might not be the best option for someone who has permanent paralysis or is in rapid decline.
Amy Gurowitz was among the Zeen's earliest users. She lives in Montclair, N.J. and has multiple sclerosis, a chronic disease that causes nerve damage. Gurowitz said the device has given her more options.
"I'm walking with my husband, and it makes it so that I don't have to worry about how far I can walk, because we can turn around and he can wheel me home. That's huge," she said. "I was never certain [before] how far I could go and then also make it back."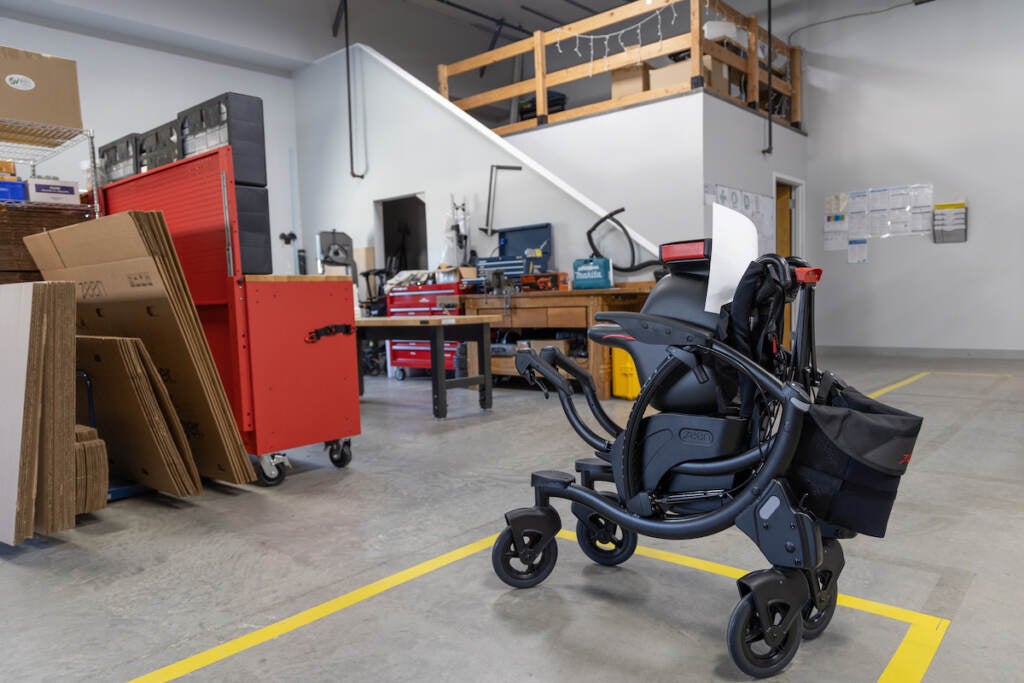 Since using the device for about a year, Gurowitz said she's also noticed a change in how others perceive her and her condition.
"I walk around town and people are like, 'Oh, what's that?'" she said, "as opposed to, 'That poor person,' you know? It just, it makes you feel more normal and cutting edge."
Anomie Fatale, a musician in Philadelphia, is able to do more exercise in the device, like squat repetitions, without worrying about injuring herself or falling out of the chair since it has a seatbelt.
Fatale lives with Ehlers-Danlos Syndrome, a connective tissue disorder that causes nerve damage, muscle weakness, and imbalance.
"It's something that happens a lot. We have to choose between physical safety or [building] muscle mass that we have," she said. "And we don't have to choose anymore."
On a daily basis, Fatale relies on a power wheelchair that she's named Andromeda. It helps her travel far distances and keep up her energy as she does routine activities. The Zeen hasn't replaced her power wheelchair, but rather serves as a complimentary device that she uses to improve her health, and explore her creativity.
"I want to get this on a stage, because I feel like I could fly," said Fatale. "Like, it's going to be something amazing. I just got to work on practicing and building my dance moves, so it's going to happen," she laughed.
As for Brown, he's still making long-term plans for his latest creation. He said the next steps are to move into mass production and work on making the Zeen cheaper and lighter in weight.
Brown is already thinking about how to make versions of the device for children and for bariatric health care patients.
"This has been the hardest thing I ever tackled by far," Brown said. "But it also has been really, really rewarding."
Garrett Brown (left) operates the Steadicam system on the set of ''The Shining,'' directed by Stanley Kubrick, right, and released in 1980. (Courtesy of Garrett Brown)

A Zeen signed and returned by legendary filmmaker Francis Ford Coppola which he used recently while shooting a film. (Kimberly Payner/WHYY)

Garrett Brown, known for inventing the Steadicam, is also the inventor of the Zeen, a mobility machine that aims to improve on traditional wheelchairs and walkers, at the company's office and assembly warehouse in West Chester, Pa. (Kimberly Paynter/WHYY)

Anomie Fatale has been using her Zeen since December of 2022. (Kimberly Paynter/WHYY)

Anomie Fatale uses her Zeen to build strength and is able to push uphill will her legs around her apartment complex in Philadelphia. (Kimberly Paynter/WHYY)
WHYY is your source for fact-based, in-depth journalism and information. As a nonprofit organization, we rely on financial support from readers like you. Please give today.