'We're just getting started,' says Pence in Philly stump for Barletta; so were protesters
Women dressed as characters from the television show "Handmaids Tale," gather on Broad Street outside the Union League to protest Vice President Mike Pence's appearance on behalf of Senate candidate Lou Barletta. (Emma Lee/WHYY)

Women dressed as characters from the television show "Handmaids Tale," gather on Broad Street outside the Union League to protest Vice President Mike Pence's appearance on behalf of Senate candidate Lou Barletta. (Emma Lee/WHYY)

Spectators watch the protest from second story windows across the street from the Union League, where Vick President Mike Pence was speaking. (Emma Lee/WHYY)

Philadelphia police guard the Union League, where Vice President Mike Pence spoke in support of Senate candidate Lou Barletta. (Emma Lee/WHYY)

Women dressed as characters from the television show "Handmaids Tale," gather on Broad Street outside the Union League to protest Vice President Mike Pence's appearance on behalf of Senate candidate Lou Barletta. (Emma Lee/WHYY)

Women dressed as characters from the television show "Handmaids Tale," gather on Broad Street outside the Union League to protest Vice President Mike Pence's appearance on behalf of Senate candidate Lou Barletta. (Emma Lee/WHYY)

Protesters cheer as they take off their "Handmaid's Tale" robes during a protest against Vice President Mike Pence outside the Union League. (Emma Lee/WHYY)

Protesters discard their "Handmaid's Tale" robes during a protest against Vice President Mike Pence outside the Union League at Broad and Sansom streets. (Emma Lee/WHYY)
Vice President Mike Pence visited Philadelphia Monday to support fellow Republican, U.S. Rep. Lou Barletta — and to tout how the Trump administration's tax cuts are working in Pennsylvania.
Speaking in front of a crowd of about 300 people at the Sheraton Hotel, Pence praised the Trump administration's policies on immigration, the canceled Iran nuclear deal, and low unemployment.
"Confidence is back. Jobs are coming back. In a word, America is back," said Pence, to a room full of applause. "And we're just getting started."
During his speech, Pence backed Barletta, calling him a friend and someone who puts Pennsylvania first.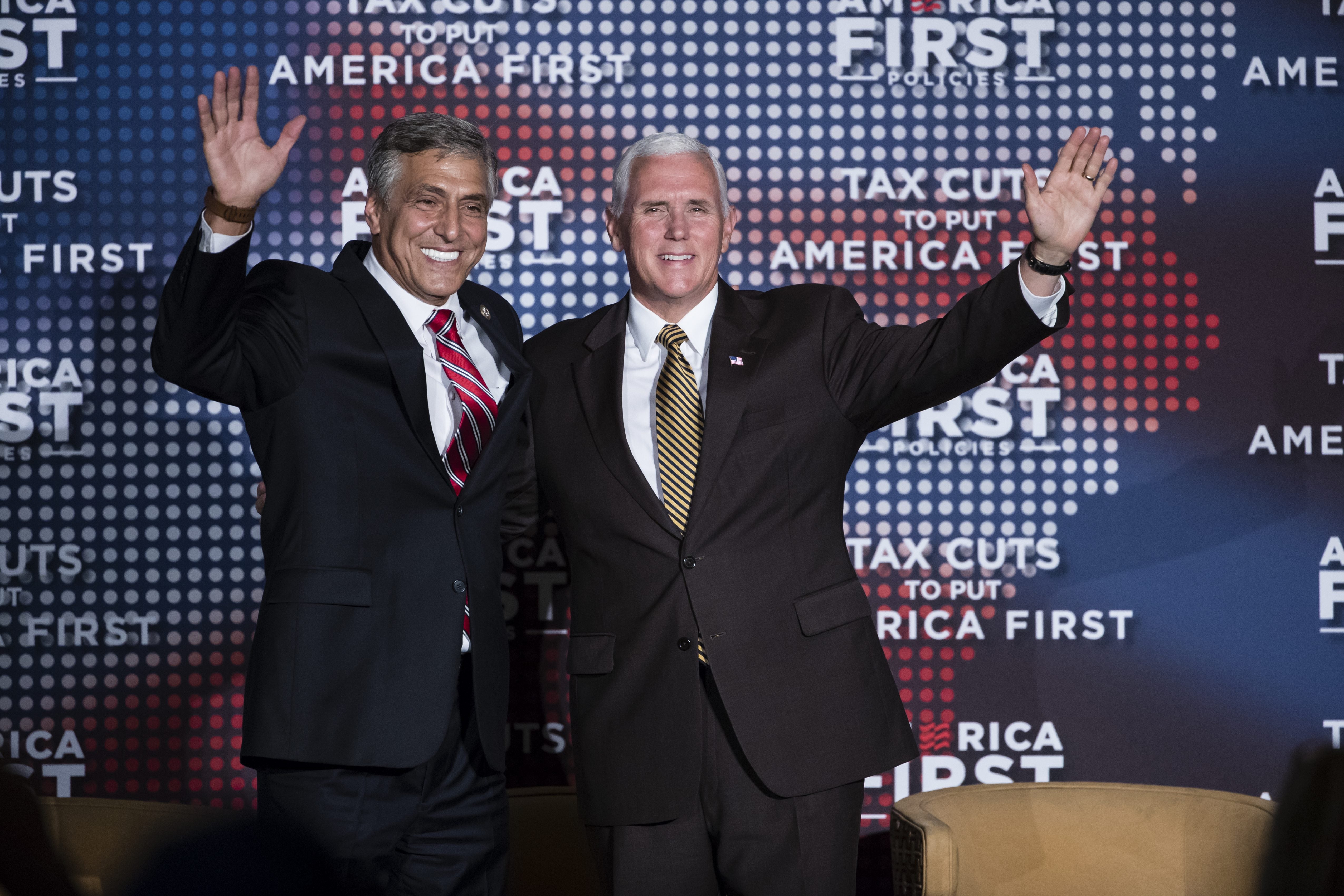 Barletta, a four-term congressman and former mayor of Hazleton, is challenging incumbent U.S. Sen. Bob Casey, a Democrat, in a highly anticipated race for U.S. Senate this November.
Pence also got in a few jabs against Casey.
"His record over the last 12 years, he actually … votes more like Bernie Sanders than like Pennsylvania," Pence said of the incumbent.
A Franklin & Marshall College poll out last month shows Casey with a comfortable lead over Barletta, but nearly one in three registered voters in Pennsylvania still remain undecided.
"Once people get to know me, I think this race is going to tighten up in a hurry," said Barletta.
According to the latest financial disclosures, Casey also shows a substantial lead when it comes to cash on hand for the campaign with nearly $9.9 million to Barletta's $1.6 million.
Opposition
Later, at a private fundraising event at Philadelphia's Union League, Pence stumped for Barletta inside while hundreds of protesters congregated outside.
About 100 demonstrators wore the distinctive red dresses and white headgear of characters in "The Handmaid's Tale," Margaret Atwood's award-winning novel that's now a TV series. Set in a dystopian society where women are property of the state, the drama is a cautionary tale that's too close for comfort, said several protesters who fear abortion rights are at risk under the Trump administration.
Protester Carol Mickey described what went through her mind when she saw others in the blood-red uniform.
"It was fear," she said. "It was fear that if we don't do something shortly, we might end up in 'The Handmaid's Tale.' "
Others keyed in on Pence's stance on rights of the LGBTQ community.
"I'm here to protest Trump and Pence as well, because what they've been doing is absolutely unacceptable for our community," said Morgana Celestia. "And I represent the LGBT community, something that Pence is strictly against."
And support
The same Franklin & Marshall poll found that voters saw a small increase in their incomes because of the recent tax cuts and that about one in three voters believe President Donald Trump is doing an "excellent" or "good" job as president.
And the vice president drew hundreds of admirers to the event at the Sheraton, organized by America First Policies, a nonprofit organization that advocates for the Tax Cuts and Jobs Act passed in December.
Other speakers included U.S. Rep Lloyd Smucker of Pennsylvania, U.S. Rep. Tom MacArthur of New Jersey, Guy Berkebile, president of Guy Chemical, and Elaine Parker, president of Job Creators Network.
Retired special-education teacher Kim Bowker of West Chester, Pennsylvania, heard about the event from Facebook and told her former colleague Suzanne Carr of Delaware. Back in 2016, the two saw then-candidate Trump at a rally in Aston, Pennsylvania, and didn't want to pass up the chance to see Pence in person.
Bowker, a registered Republican wearing an American flag scarf, said she voted for Casey in 2012, but this November, Barletta has her support.
"He's done," she said of Casey. "You can't vote 'no' for everything and expect your constituents to stand behind you."
As for the tax cut, Carr said she's seen a small bump in her Social Security check, and Bowker saw a modest increase in her pension.
"It's only given me $80 in my pension, but $80 in my pension is a whole lot to me," Bowker said.
Maya Aphornsuvan contributed to this story
WHYY is your source for fact-based, in-depth journalism and information. As a nonprofit organization, we rely on financial support from readers like you. Please give today.