Weighing decades of good works with inconsolable loss, Philly judge resentences juvenile lifer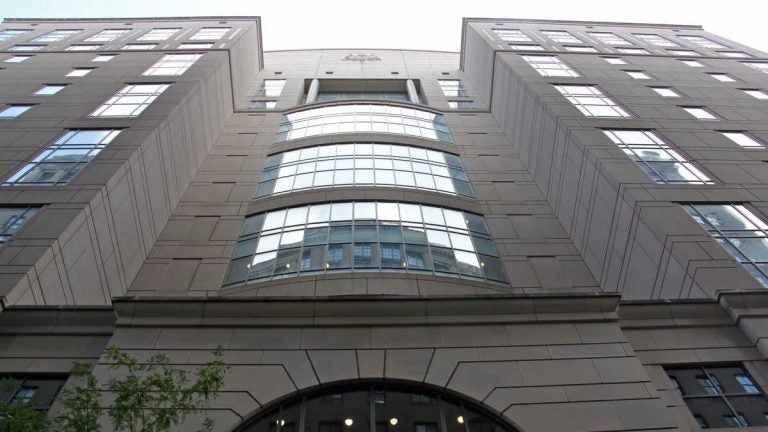 Common Pleas Court Judge Barbara McDermott sentenced Andre Martin to 44 years to life with time served, meaning Martin could make his case to a parole board in roughly three years.
Handcuffed, Andre Martin clutched a single sheet of paper and began to weep.
For two days, Martin had listened to hours of gut-wrenching testimony during his resentencing hearing — his shot at a second chance.
Now, minutes before the judge's ruling, he faced the family and friends of the Philadelphia police officer he gunned down as a teenager — to apologize.
"I am deeply sorry for the tremendous pain and loss I have caused each of you … I pray every day for your peace and comfort," said Martin.
Prosecutors wanted Martin to serve 60 years to life, what some consider a de facto life sentence because he is now 57.
In the end, Common Pleas Court Judge Barbara McDermott sentenced Martin to 44 years to life with time served, meaning Martin could make his case to a parole board in roughly three years.
It may be the most harrowing case among the hundreds involving Philadelphia inmates sentenced to life for killing while they were juveniles. The hearings come in the wake of a Supreme Court ruling that mandatory life-without-parole sentences are unconstitutional for juveniles.
McDermott told Martin she weighed everything before reaching a decision.
She said she couldn't "ignore" his behavior while serving a life sentence in prison. A corrections officer Wednesday called Martin a "model inmate." And defense experts highlighted his blemish-free record in recommending his release.
But McDermott also said she couldn't ignore that Martin threatened public safety by killing Officer John Trettin.
"Without [public safety], we'd just disintegrate into lawlessness," said McDermott.
Louis Natali, Martin's longtime attorney, called his client's new sentence "good news."
"He has an incredible opportunity to get out," said Natali after a hearing packed with the families of Trettin and Martin. "The parole board is going to see all the progress he made."
Prosecutors were disappointed with McDermott's decision, but weren't prepared to say whether the city district attorney's office would appeal.
One life stolen, another saved
Earlier Wednesday, McDermott heard from several defense witnesses, including a former inmate, a pair of corrections officers and two experts — one a criminal justice consultant, the other a forensic psychologist.
All of them had kind words to say about Martin. The two experts deemed him eligible for parole.
Through teary eyes, former Graterford inmate Robert Hall said Martin's unlikely friendship kept him from committing suicide.
For hours each week, Martin, an African-American from a crime-ridden section of South Philadelphia, would sit with Hall, a white attorney, to keep him safe from the rest of the inmates — and himself.
"He was there for one reason. To sit on a picnic table and save my life," said Hall, sentenced after drunkenly crashing his car into another driven by a 22-year-old West Point cadet.
Tyrone Williamson, a veteran corrections officer, told McDermott that Martin was "very remorseful" for shooting Trettin in the head on Feb. 25, 1976.
Trettin was responding to reports of gunfire at Wilson Park Apartments, a public housing complex near 25th Street and Snyder. He died at the hospital four days later.
The loss devastated Trettin's family, friends and colleagues on the Philadelphia Police Department.
John Trettin Jr., one of Trettin's three children, was 10 months old at the time. He testified Wednesday that his father's death has left an everlasting hole in his heart.
"There's a difference between a father and a daddy," said Trettin Jr. "A father helps create a child. A daddy helps nurture his child during his lifetime. I never had a daddy."