Weekly Entertainment Guide – Pompeii, The Surrealists, and Children's Film Festival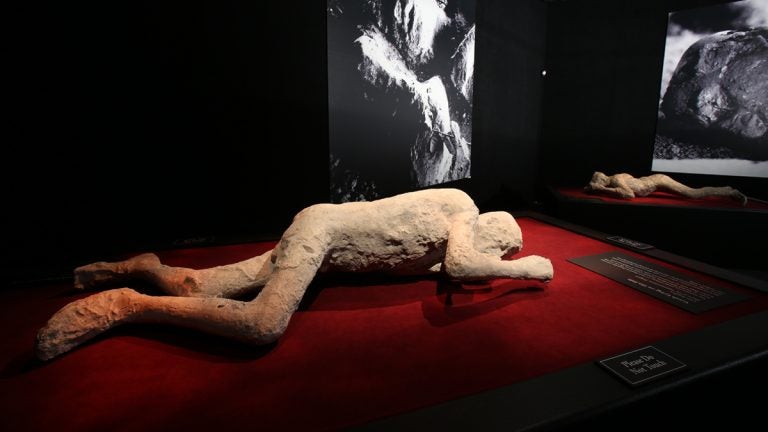 Looking for something to do this week? WHYY's Robin Bloom has some recommendations on what's happening in the Philadelphia region. Here are her picks:
Art Appreciation
One Day in Pompeii at the Franklin Institute
In 79 AD, Pompeii was destroyed and buried under volcanic ash caused by the eruption of Mount Vesuvius. Due to lack of air and moisture, the objects that lay beneath the city were well preserved for thousands of years. The Franklin Institute offers the opportunity to experience the ancient Roman city in a new exhibit, "One Day in Pompeii" featuring over 150 artifacts on loan from the Naples National Archaeological Museum in Italy. These relics provide a detailed insight into the life of a city and its tragic end. See wall-sized frescos, marble and bronze sculptures, jewelry, ancient Roman coins, and full body casts of the volcano's victims, along with simulated volcano eruptions, hands-on stations in the science lab, and "Ring of Fire," the IMAX documentary film that looks at varieties of volcanos. Opening November 9 through April 27, 2014, 222 North 20th Street, Philadelphia.
The Surrealists: Works from the Collection
The Philadelphia Museum of Art draws approximately one hundred works from its repository to assemble a new exhibit that puts a spotlight on Surrealism. "The Surrealists: Works from the Collection" surveys the period of time during which the movement began and flourished – from the mid-1920s (originating in Paris by artists who were influenced by the psychological theories and dream studies of Sigmund Freud and the political ideas of Karl Marx) to the late 1940s in New York and Europe.Featuring pieces by over fifty artists like Giorgio de Chirico, Joan Miró, Dorothea Tanning, Man Ray, and Roberto Matta, who tested the boundaries of social acceptability with fantastical scenes offering commentary on real world tragedies. On view through March 2 in the Perelman Building, 2525 Pennsylvania Avenue, Philadelphia. Celebrate at "The Surrealists" party, Friday, November 8, 6pm-9pm. "Every Family" Party, Saturday, November 9, 5:30pm-8pm. Pictured: Soft Construction with Boiled Beans (Premonition of Civil War), Salvador Dalí.
50th Annual Delaware Antiques Show
The 50th Annual Delaware Antiques Show returns to the Chase Center on the Riverfront in Wilmington, DE, this Friday, November 8 through Sunday, November 10. More than sixty dealers from around the country offer a wide array of antiques, including furniture, rugs, ceramics, jewelry, paintings, and more, including lectures and events and a special exhibition "Collecting Treasures: Celebrating 50 Years of the Delaware Antiques Show," featuring objects acquired by Winterthur and friends of the museum over the past half century. Honorary Show Chair and Keynote Speaker Lady Henrietta Spencer-Churchill (pictured).
"The Nature of Things" at Gross McCleaf
On display at Gross McCleaf Gallery is "The Nature of Things," a solo exhibition by Joan Becker, whimsical botanicals that offer multi-faceted explosions of colorful flora and fauna, and exaggerated figures in a dream-like world with a hint of darkness, through November 30, 127 S. Sixteenth Street, Philadelphia.
Onstage
Globe Trot with Thaddeus Phillips in 17 Border Crossings
Innovative actor, director, and one-man theater company Thaddeus Phillips steps back onstage for the world premiere of "17 Border Crossings," a new theatrical solo performance based on Phillips' own far flung travels. From Egypt to Singapore, Morocco to Mexico, the show weaves together accounts of the outrageous, funny, and sometimes unfortunate situations Phillips has found himself in. Featuring 17 self-contained, action-based "mini-plays," ranging in length, constructed from over 20 years of international travel, the show can be seen November 13-17 at FringeArts' new waterfront headquarters, 140 N. Columbus Boulevard, Philadelphia.
A New translation of "Everyman" at Villanova Theatre
Villanova Theatre re-imagines a medieval morality play into a high-fashion, gender-bending spectacle of sight and sound with "Everyman," November 12-24. Morality plays were used as an educational tool to reach the illiterate masses through public performance. This play, believed to have been written in the late 15th century, was translated from Old English by Mark J. Costello, alumnus of the Villanova Masters in Theatre Program, and takes the audience on a journey through the final hours of the eponymous Everyman, who represents all of mankind, and must answer to God for all of the good and evil deeds he committed in his life. Rev. David Cregan, who directs the production, cast the title role as a woman (Hallie Martenson), and blends the old with the new by fusing elements of haute couture and punk rock (including an 11 foot skate ramp!) with medieval spiritual hymns to create a soundscape that emphasizes the fleeting nature of fashion, trend, and ultimately, human life. Special events include a Speakers night, November 21, post-show discussion with Humanities professor Michael Tomko, Vasey Hall, 800 Lancaster Avenue, Villanova, PA.
"Hands Across Veronica" at Walking Fish Theatre
"Hands Across Veronica," a biting comedy about women and their relationships with men, food and their bodies by Philadelphia playwright, Gin Hobbs, takes to the stage at Walking Fish Theatre, through November 30. Director and Co-Producer Hannah MacLeod brings back the show that was first produced in Philadelphia by Theatre Catalyst /Eternal Spiral Project in 2003. The play follows the personal journeys of Veronica and Aubrey, supported by a Greek chorus of three Phat Ladies who offer their own perspective on weight and femininity in rap, song and dance. Starring Kirsten Quinn (who originated the role of Aubrey), Shelli Pentimall Bookler, and Dan Tobin, with Meryl Lynn Brown, Zarah Ivans and Shelvy Paredes as The Phat Lady Chorus. Opening night is Saturday, November 9, 8pm. Wednesday performances are "pay what you can," 2509 Frankford Avenue, Philadelphia PA.
"Empress of the Blues" at People's Light
Miche Braden belts it out as the "Empress of the Blues" at People's Light & Theatre in "The Devil's Music: The Life and Blues of Bessie Smith," onstage through November 24. Created by collaboration between Braden, director Joe Brancato, and playwright Angelo Parra, the play is an imagined evening in 1937 before Smith's final moments, as she performs with a live band in Memphis. Post-performance conversation about the production after the Thursday performances on November 14 and 21. Scoop on Sundays: History, Context, and Gossip, a discussion before every Sunday 7pm performance, 39 Conestoga Road, Malvern, PA.
"I Am My Own Wife" at Theatre Horizon
"I Am My Own Wife," the award-winning play by Doug Wright, is onstage at Theatre Horizon through November 24. Starring Philadelphia actor Charlie DelMarcelle and directed by Kathryn MacMillan, the play is based on a true story of Charlotte von Mahlsdorf, who was born a man and lived under the radar of the Nazis and Communists while existing as a woman. During World War II, Charlotte began collecting household items, saving historical every-day artifacts from bombed-out houses, and preserving items from homes of people who fled. Her collection evolved into the Gründerzeit Museum. The production, featuring 35 characters but written for one, also highlights the playwright's journey to meet her and his development of the play, 401 Dekalb Street, Norristown, PA.
"True Story" at Passage Theatre Company
"True Story" by E.M. Lewis makes its world premiere at Passage Theatre Company, the story of grieving mystery writer Hall Walker (Dan Hodge) who is hired to ghostwrite the "story of the century," about what really happened between acquitted murderer Donnie Lawrence and his wife. The thriller, directed by Damon Bonetti, is onstage through November 24, Mill Hill Playhouse, 205 E. Front Street, Trenton, NJ.
"God of Carnage" at Old Academy Players
Old Academy Players presents "God of Carnage" by French playwright Yasmina Reza, the 2009 Tony Award-winner for Best Play about a playground dispute between two boys that brings together two sets of Brooklyn parents to discuss and resolve the issue. The sharp and boisterous comedy stars Heather Ferrel, Jim Golden, Leigh Jacobs, and Michele Scutti, and is directed by Charlotte Higgins, November 8-24, 3544 Indian Queen Lane in East Falls.
Film & other festivals
The Philadelphia Comedy Collective presents the annual Philadelphia Improv Festival, November 12-16, showcasing the city's improv scene with acts including Hot Dog, BillyHawk, Royal Baby (pictured), The N Crowd, Junior Varsity, Ranger Danger, ComedySports Philadelphia and more at the Playground at the Adrienne, 2030 Sansom Street and Philadelphia Shakespeare Theater, 2111 Sansom Street, Philadelphia.
Philadelphia Asian American Film Festival
The Philadelphia Asian American Film Festival returns for a 6th year, November 13-23, with over 30 screenings, speaker panels, and special events at International House Philadelphia, 3701 Chestnut Street and Asian Arts Initiative, 1219 Vine Street. Films include Sake Bomb (pictured), Someone I Used to Know, The Gauntlet, Tiger Mask, and more including a family friendly and animation shorts program.
The 3rd annual GEOfest, a series of travel-related illustrated lectures and internationally themed feasts, returns with "Hit the Road with Andrew McCarthy," and the opportunity to hear the actor's stories and view video clips from his life-altering adventures, Wednesday, November 13, 7:30pm, Ritz East Theatre. GEOfeast at City Tavern on Thursday, November 14, 5:45pm, members of the Philadelphia Chapter of American Society of Media Photographers reveal stories behind their photos of Philadelphia and beyond, at Ritz East Theatre, Thursday, November 14, 7:30pm, and more, presented by the Geographical Society of Philadelphia.
The first Philadelphia International Children's Film Festival
The first Philadelphia International Children's Film Festival is November 15-17, with a variety of animated, live-action and experimental short and feature films from around the world. Films include Zarafa, Kid Flix Mix & Party Mix short film series, Pinocchio, Kirikou and the Men and the Women, Wolf Children, Meet the Small Potatoes (pictured), The Zig Zag Kid and more at the Philadelphia Film Society's Theater at the Roxy, 2021 Sansom Street, Philadelphia. In partnership with New York International Children's Film Festival.
Music
The Grand hosts "World Blues," a concert celebrating American blues music's global influence, featuring iconic folk-blues legend Taj Mahal, South African blues guitarist and vocalist Vusi Mahlasela, and Fredericks Brown, Deva Mahal – Taj's daughter's – band, Saturday, November 9, 8pm, 818 N. Market Street, Wilmington, DE.
Joshua Redman at Annenberg Center
Tenor saxophonist Joshua Redman performs for one night only with his quartet – pianist Aaron Goldberg, bassist Rueben Rogers, and percussionist Gregory Hutchinson – Saturday, November 9, 8pm, at Annenberg Center, 3680 Walnut Street, Philadelphia.
The Boston-based Debo Band brings their funky, soulful sound to Arden Gild Hall Saturday, November 9, 8pm. The eleven member group is known for their groundbreaking take on Ethiopian pop music, with sousaphone, accordion, violin, and electric guitar, incorporating traditional scales and vocal styles alongside American soul and funk rhythms, with instrumentation reminiscent of Eastern European brass bands. Angela Sheik opens at 2126 The Highway, Arden, DE.
Turkish roots, Jewish blues and Balkan brass at Crossroads
Crossroads Music hosts a concert of Turkish roots, Jewish blues and Balkan brass featuring oud virtuoso İsmail Hakkı Fencioğlu, Montreal klezmer innovators Shtreiml (pictured), and the West Philadelphia Orchestra, Sunday, November 10, 7:30pm, at Calvary Center, 801 South 48th Street, Philadelphia. The WPO also performs a free children's program before the concert at 6pm.
The polyphonic vocalist Bobby McFerrin performs songs from his new album spirityouall, this Sunday, November 10, 7:30pm. Re-imagining Americana with spirituals and original songs, the show features familiar tunes like "He's Got the Whole World In His Hands" and "Every Time I Feel The Spirit" alongside songs that explore McFerrin's everyday search for grace, wisdom, and freedom, Verizon Hall, Kimmel Center, Broad Street, Philadelphia.
Keyboard Mania is a unique evening of piano artistry with diverse musicians from the Philadelphia area, covering classical, jazz, pop and beyond, Thursday, November 14, 7pm. Performers include Ching-Yun Hu, Tom Lawton, Tania Stavreva, John Conahan, Mike Ruhl, Dylan Babitch, Martin Weinberg and Wayne Zimmerman. In addition to solo pieces there will be keyboard collaborations, including 4-hand piano, and conversations with the artists, at the Colonial Theatre, 227 Bridge Street, Phoenixville, PA. All proceeds benefit the Kimberton Waldorf School Steinway Restoration Fund.
Lucy Kaplansky at Burlap and Bean
Burlap and Bean hosts concerts with Eric Brace & Peter Cooper with Mark Mandeville & Raianne Richards, Friday, November 8, 8pm; American Schoolyard with Jason McGovern and the Describers, Saturday, November 9, 8pm; Amy Speace, Wednesday, November 13, 8pm; Lucy Kaplansky (pictured) with Suzie Brown, Friday, November 15, 8pm, The Shops at Springton Pointe, 203 South Newtown Street Road, Newtown Square, PA.
Veterans Day events
Last chance to see the exhibit "The Joe Bonham Project," a collection of more than 40 portraits of wounded Iraq and Afghan War veterans in recovery, on display at Drexel University College of Medicine, New College Building, 245 North 15th Street, Philadelphia. The Project was formed in 2011 and is the work of Mike Fay, a retired US Marine and combat artist, and several of his colleagues in an effort to document the struggles of U.S. service personnel undergoing rehabilitation after traumatic front-line injuries. Joe Bonham was the central character in Johnny Got his Gun, the 1938 novel by Dalton Trumbo which centers on a World War I solder who is unable to communicate with the outside world due to the extent of his wartime injuries.Celebrate Veterans Day on the Battleship NJ with a wreath ceremony and tours, Monday, November 11, 11am, featuring Col. Edwin W. Simpson (USA Retired), former Deputy Chief of Staff to Gen. Fred Franks during Desert Storm. The ceremony concludes with the casting of a memorial wreath into the Delaware River, Camden, NJ.The National Constitution Center honors the contributions and sacrifices of the men and women in the U.S. military with a daylong commemoration on Monday, November 11, beginning at 9:15am with a flag raising ceremony on the museum's front lawn. Additional programs and events include a wreath-laying ceremony, talks, flag activities and workshops, and more, concluding in a flag lowering ceremony at 4:45pm, Independence Mall, Philadelphia. Free admission for veterans. $5 admission for general public courtesy of the Macy's Foundation.
Yifei Kong contributed reporting to this week's guide.
To submit an event to be considered for the Weekly Entertainment Guide email Robin Bloom at artscalendar@whyy.org.
Like us on Facebook to add the Weekly Entertainment Guide to your News Feed.
WHYY is your source for fact-based, in-depth journalism and information. As a nonprofit organization, we rely on financial support from readers like you. Please give today.