Weekly Entertainment Guide – Philadelphia Flower Show, Flamenco Festival and Costumes of Downton Abbey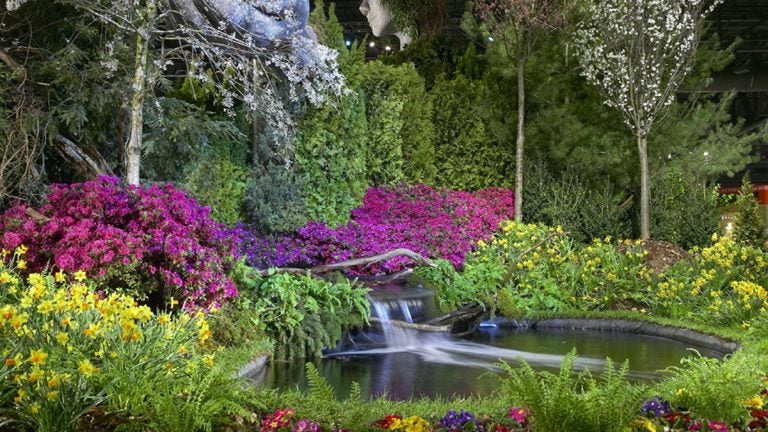 Looking for something to do this winter season? WHYY's Robin Bloom has some recommendations on what's happening around the Philadelphia region this week. Here are her picks:
Art Appreciation
"Costumes of Downton Abbey" at Winterthur
As you anxiously await the next season of Downton Abbey, Winterthur Museum, Garden, and Library offers an opportunity to get up close and personal with the "Costumes of Downton Abbey," a special exhibition opening Saturday, March 1. Featuring forty garments and accessories (worn in the PBS series) on loan from Cosprop, the world's leading costumier to film, television, and theater, the display is organized chronologically and highlights the similarities between life at Henry Francis du Pont's estate at Winterthur and their fictional contemporaries at Downton. See Lady Sybil's harem pants, Lady Mary's engagement dress, du Pont's Saville Row evening jacket, and the du Pont family's 1874 Tiffany silver tea service. Special events include lectures, workshops, and a republished Life at Winterthur: A du Pont Family Album, through January 4, 2015 at 5105 Kennett Pike, Winterthur, DE.
Native American Voices: The People—Here and Now at Penn Museum
Penn Museum continues its commitment to telling original stories through the treasures of its collections with "Native American Voices: The People—Here and Now." The interactive exhibit showcases the museum's renowned collection of Native American objects from around the United States and from the Delaware Valley region, displaying items as various as contemporary artwork, ceremonial regalia, children's toys, and ancient stone tools (pictured) alongside narratives that record an ongoing dialogue between the museum and living Native American artists, scholars, and leaders. A day-long opening celebration kicks off the opening this Saturday March 1, 11am-4pm, with Native American music, art, and dance. On view at the University of Pennsylvania Museum of Archaeology and Anthropology, 3260 South Street, Philadelphia.
"Treasures from Korea: Arts and Culture of the Joseon Dynasty, 1392-1910"
"Treasures from Korea: Arts and Culture of the Joseon Dynasty, 1392-1910," arrives at the Philadelphia Museum of Art, the first comprehensive survey in the United States devoted to the art of an era that profoundly shaped the culture of Korea in ways that continue to resonate today. More than 150 works are on view, drawn primarily from the collection of the National Museum of Korea, along with loans from public and private collections. The unprecedented cultural exchange is designed to foster greater understanding and friendship between the U.S. and Korea. Featured objects include ritual vessels, ceramics, illustrated books, metalwork, ceremonial screen paintings, sculpture, lacquer, furniture, costumes, textiles, photographs, and national treasures that are new to American audiences. On view March 2 through May 26 and then moving on to the Los Angeles County Museum of Art and the Museum of Fine Arts, Houston later in the year. The exhibit is accompanied by a fully illustrated scholarly catalogue, Benjamin Franklin Parkway, Philadelphia.
Yeesookyung: The Meaning of Time at Locks Gallery
Locks Gallery celebrates Korean arts with "Yeesookyung: The Meaning of Time," through March 15. The display is designed to complement the nationally touring exhibit at the Philadelphia Museum of Art with a contemporary perspective. Yeesookyung revisits traditional Korean arts in work featuring porcelain and gold sculptures. Known for her "Translated Vase" series, she collects shards of ceramics from reproductions of Joseon Dynasty white porcelain, making forms out of the discards by using the traditional method of repairing ceramics with gold. Also, silk scroll paintings, and a video dance performance, "Twin Dance," an extended meditation on Kyo Bang Choom, a traditional Korean dance performed by women of the Joseon Dynasty. The artist will be in Philadelphia for a special reception on Friday, February 28, 5:30pm-7:30pm, 600 Washington Square South, Philadelphia. While there, see an exhibit of selected works by Robert Rauschenberg.
"Tomorrow Never Knows: The Beatles in Text and Image"
"Tomorrow Never Knows: The Beatles in Text and Image" is on display at the University of Pennsylvania Library, marking the 50th anniversary of the "Fab Four's" television appearance on The Ed Sullivan Show. The exhibit features a variety of printed materials including paperback books, periodicals, ephemera and signed editions dating from 1964 to the present, from the personal collection of David McKnight, Director of the Rare Book and Manuscript Library, through August 11, Van Pelt-Dietrich Library, 3420 Walnut Street, Philadelphia. A symposium exploring the band's influence on pop culture and music will be held February 28-March 1 with authors, music industry experts and professors who have studied and taught about the Beatles. Participants include Richard Langham (former EMI sound engineer who worked with The Beatles in 1963), Larry Kane, Walter Everett, Gordon Thompson, Al Sussman, Donna Parsons, Jude Southerland Kessler, Eugene Halus, and Anthony DeCurtis.
The Arts at Rowan University
"Cradles to Conquests: Mapping American Military History," a solo exhibition by Joyce Kozloff, a New Jersey native and major figure in both the Pattern and Decoration and Feminist Art movements of the 1970s, is on display at Rowan University Art Gallery. Selected works utilizing collage and cartography – completed between 2000 and 2010 – focus directly on maps and imagery that dramatize imagined as well as historical military events. Known for her feminist and anti-war activities, Kozloff makes use of a practice once widely viewed as "gender specific" – applique, weaving, pattern – to challenge and question the authority of a patriarchal, militaristic culture, on view through March 15 in Westby Hall, Route 322, Glassboro, NJ. Also at Rowan, the Department of Theatre and Dance presents "Psycho Beach Party," a spoof about a teenage boy with multiple personalities who desperately wants to be part of the 1960s surf crowd, February 28 through March 2 in the recently renovated Tohill Theatre. And, lutenist Miguel Yisrael opens the brand new Rowan Performing Arts Presenting series on Monday, March 3, 8pm. Future performances include the Da Da Dance Project, March 5 and Kareem Roustom on April 2, Boyd Recital Hall.
Fanciful flowers
The world-renowned Philadelphia Flower Show, produced by the Pennsylvania Horticultural Society, makes its way back to the Pennsylvania Convention Center, March 1-9. The oldest and largest indoor flower show in the world promises to "wow" audiences as it has since it began in 1829 with an unprecedented theme, "ARTiculture," showcasing the intertwined histories of art and floral design. Flowers have always inspired artists, but the horticultural designs in this year's flower show are all inspired by artwork through unique collaborations between floral designers and world-class museums, including the Philadelphia Museum of Art, the Solomon R. Guggenheim Museum, and the Smithsonian Institution's National Portrait Gallery. Artwork will also be on display around the exhibition, like rare works from Andy Warhol's "Flowers" series. Visitors can watch cooking demonstrations at the "Garden to Table Studio," visit the "Butterfly Experience," build a terrarium at the "Make and Take" station, check out the SEPTA Mobile Museum featuring artwork by public school children, stay late for evening events like the LGBT Party, Wedding Wednesday, or Girls Night Out, or tune-in to the "Green Room," a new social media hub video project, which will broadcast live and online, 12th & Arch Streets, Philadelphia.
"Orchid Extravaganza" at Longwood Gardens
Longwood Gardens' annual "Orchid Extravaganza" is underway, celebrating one of the first plant collections by founder Pierre S. du Pont and his wife, Alice. Take in the range of color and fragrance of thousands of orchids in the Conservatory and Orchid House, through March 30. Special events include OrKID Days, select days when children can learn firsthand about the beautiful blossoms at discovery stations, through scavenger hunts, and storytelling. Check out the rare blue-poppies that bloom in the month of March, Route 1, Kennett Square, PA.
"Lifeforms" at National Liberty Museum
On display at the National Liberty Museum is "Lifeforms," an exhibit of juried works inspired by glass biological models made in the late 19th and early 20th centuries for Harvard University by Leopold and Rudolf Blaschka. Featuring approximately 30 glass objects that represent a wide range of flora and fauna created by artists from Australia, Canada, Italy, Scotland, and the United States, along with the works of featured artists Tim Jerman and Paul Stankard, through April 13 in G321, 321 Chestnut Street, Philadelphia. On Thursday, March 6, 6pm, Robert Mickelsen, the show's coordinator, hosts a lecture and flame-working demonstration.
Dance
The Philadelphia Flamenco Festival
Pasión Y arte, Philadelphia's all-female flamenco dance company, hosts the second bi-annual Philadelphia Flamenco Festival, March 1-16. Enjoy two weeks of performances and master workshops with leading contemporary flamenco artists. Israel Galvan showcases new groundbreaking work with two evenings of solo performances and two evenings of choreographed solos danced by his sister, Pastora. Modern feminist flamenco artist Rosario Toledo (pictured) performs "Tapas," "Vengo," a new solo piece and "Complices." Special events include Gala Flamenca, public discussions, film screenings, master classes, and more at various locations throughout Philadelphia including Drexel University, International House, Merriam Theater, and WHYY.
Pennsylvania Ballet's performs "Carmina Burana"
John Butler's "Carmina Burana" returns to the Academy of Music March 6-15. The special encore presentation featuring the Carl Orff score – a signature of the Pennsylvania Ballet's repertoire since the 1960s – opens with the company premiere of George Balanchine's "Stravinsky Violin Concerto." The two diverse programs include the Pennsylvania Ballet Orchestra, the Philadelphia Singers and ChildrenSong of New Jersey, Broad Street, Philadelphia. Related programs and events include Conversations with the Pennsylvania Ballet and guest speaker, Principal Dancer Ian Hussey, Monday, March 3, 6:30pm, Philadelphia City Institute Library, 19th & Locust Streets. Also, a book signing and Q&A with American Ballet Theatre Soloist Misty Copeland, Sunday, March 9, 4pm, DoubleTree by Hilton Hotel, Philadelphia.
Settlement Music School & Metropolitan Ballet Company's Collaboration
Settlement Music School joins with the Metropolitan Ballet Company for their annual collaborative concert Saturday, March 1, 7pm. The 30 member classical dance company and students from the largest community school of the arts in the United States join together for a 90 minute program of musical ensembles, solos, and original works for dancers and musicians. The program includes contemporary premieres by guest choreographers Tommie-Waheed Evans of PHILADANCO!, New York City choreographer and Alvin Ailey Company dancer Kanji Segawa, and New York City choreographer and MBC alumna Sarah Mettin, at the Kurtz Center of William Penn Charter School, 3000 West School House Lane, Philadelphia. Celebrate Settlement Music School's 10th anniversary of the Field Chamber Music Center with a free "Play-In," Sunday, March 2, 12pm-3pm, Mary Louis Curtis Branch, 416 Queen Street, Philadelphia.
Onstage
BrainSpunk Theater takes on the Arthur Miller classic "All My Sons." Miller's first successful play examines the relationship between fathers and sons and the price of living the American dream. The show opened on Broadway in 1947 and won the Tony Award, pushing the already controversial playwright further into the spotlight of the House Un-American Activities Committee, before which he was called to appear during the 1950s. The new production is directed by Artistic Director Christopher King and stars Jaron Battle, Jack Drummond, Andre N. Jones, Tai Jones, Melanie Matthews, Zuhairah McGill, Twoey Truong, Steve Wei, Anthony Wilcox, and Merceedes Simmons through March 9, Skybox at the Adrienne Theatre, 2030 Sansom Street, 3rd Floor, Philadelphia.
"Circle Mirror Transformation" at Theatre Horizon
Onstage at Theatre Horizon is the Philadelphia area premiere of Annie Baker's "Circle Mirror Transformation," the smart comedy that won the Obie Award for Best New American Play about a group of strangers who spend a summer exploring theater and discovering truths about themselves in a "creative drama" class. Directed by Matthew Decker and starring Nancy Boykin, David Bardeen, Kim Carson, Emilie Krause, and Bob Weick through March 16 at 401 DeKalb Street, Norristown, PA
South Camden Theatre Company's "Gemini"
The comedic drama "Gemini" takes to the stage at South Camden Theatre Company this weekend through March 16. Written by Philadelphia native Albert Innaurato, the play won a 1977 Obie Award and went on to Broadway for over 1800 performances. Set in the backyard of two South Philadelphia row homes in the early summer of 1973, "Gemini" explores the relationships of dysfunctional friends and families. Directed by Brad Reiter and Ray Croce and starring Nicole DeRosa Lukaitis, Dawn Varava, Eli Russell, Allison Kessler, Josh Samors, Anthony Scanish and Ray Croce at the Waterfront South Theatre, 400 Jasper Street in Camden, NJ. $5 tickets for Camden residents with proof of residency. Innaurato will host a talkback with the cast after the Friday, March 7 performance.
Music
The 14th annual Womynsfest returns to the Rotunda celebrating female talent this Saturday, March 1, 7:30pm. Hosted by Denice Witkowski a/k/a Vitamin D and featuring performances by The Sometime Boys, The Femme-mynistiques (pictured), Sophia Balter, Alli Hart, Boys from Brooklyn, Soooz featuring Susan Rosetti, Laszio Robiczi and Tara Murtha, the Voices of Africa, and more, 4014 Walnut Street, Philadelphia. Free & all ages.
Buckwheat Zydeco at Sellersville Theater
Celebrate Mardi Gras with Buckwheat Zydeco, Sunday, March 2, 7:30pm, at Sellersville Theater. Grammy Award-winning American musical legend Stanley "Buckwheat" Dural Jr. is considered the ambassador of Louisiana zydeco music, 24 West Temple Avenue, Sellersville, PA.
Philadelphia Chamber Music Society March Concerts
Philadelphia Chamber Music Society hosts March concerts: Johannes Quartet and Roberto Diaz, Sunday, March 2, 3pm, American Philosophical Society; Miguel Yisrael, lute, Friday, March 7, APS; Julietta Curenton, flute, Marietta Simpson, mezzo-soprano, and Lydia Brown, piano, Sunday, March 9, Philadelphia Museum of Art; Elias Quartet and Jonathan Biss, piano, Tuesday, March 11, 8pm, Kimmel Center; ECCO, Thursday, March 13, 8pm, Kimmel Center; New York Wind Quintet, Sunday, March 16, 3pm, APS; Ignat Solzhenitsyn, piano, Thursday, March 20, 8pm, Kimmel Center; Artemis Quartet, Friday, March 21, 8pm, Kimmel Center; Peter Wiley, cello and Anna Polonsky, piano, Sunday, March 23, 3pm, APS; Jerusalem Quartet (pictured), Thursday, March 27, 8pm, Kimmel Center.
Brazilian Carnival at International House
Celebrate Brazilian Carnival at International House Philadelphia, Tuesday, March 4, 6pm with the 24 member PhillyBloco and a mix of samba, funk, and reggae, along with a special set by Worldtown and a blend of Brazilian, West African, West Indian, Middle Eastern and Balkan rhythms. Brazilian-style cuisine catered by Chima and LeBlon Cachaca, 3701 Chestnut Street, Philadelphia.
With the kids
Symphony in C's "Peter and the Wolf"
Symphony in C presents Prokofiev's timeless classic, "Peter and the Wolf," the annual Concert for Young People, Saturday, March 1, 10am, conducted by Petko Dimitrov and narrated by actor Michael Boudewyns. 13 year old cellist Isabel Newell makes her debut at the Scottish Rite Auditorium, 315 White Horse Pike, Collingswood, NJ.
"Fancy Nancy the Musical" at Bristol Riverside Theatre
Join Fancy Nancy and her friends, Bree, Rhonda, Wanda, and Lionel as they perform in their very first show in "Fancy Nancy the Musical," based on the popular children's book, Saturday, March 1 and Sunday, March 2 at 11am, 1pm, and 3pm both days. Presented by Vital Theatre Company, who have performed over 75 original productions for over 300,000 children and their families, Bristol Riverside Theatre, 120 Radcliffe Street, Bristol, PA.
Kennett Symphony's "American Patchwork"
Kennett Symphony of Chester County hosts their annual children's concerts with "American Patchwork," Sunday, March 2, 2pm at the International Cultural Center on the campus of Lincoln University and Sunday, March 9, 2pm, Emilie K. Asplundh Hall, West Chester University. Guest conductor Dr. Robert Spence joins the Kennett Symphony Children's Chorus and pianist Dr. Justin Badgerow. Program includes Sousa's "Liberty Bell March," Anderson's "The Typewriter," Copland's "I Bought Me a Cat" and "Simple Gifts," MacDowell's "Presto Giocoso," from "Piano Concerto No. 2," and Ginastera's "Danza Final." The popular Instrument Zoo follows each performance, with the opportunity to meet the musicians.
Marissa Nicosia contributed reporting to this week's guide
To submit an event to be considered for the Weekly Entertainment Guide email Robin Bloom at artscalendar@whyy.org.
Like us on Facebook to add the Weekly Entertainment Guide to your News Feed.
WHYY is your source for fact-based, in-depth journalism and information. As a nonprofit organization, we rely on financial support from readers like you. Please give today.