Webcomic: Whistler while you work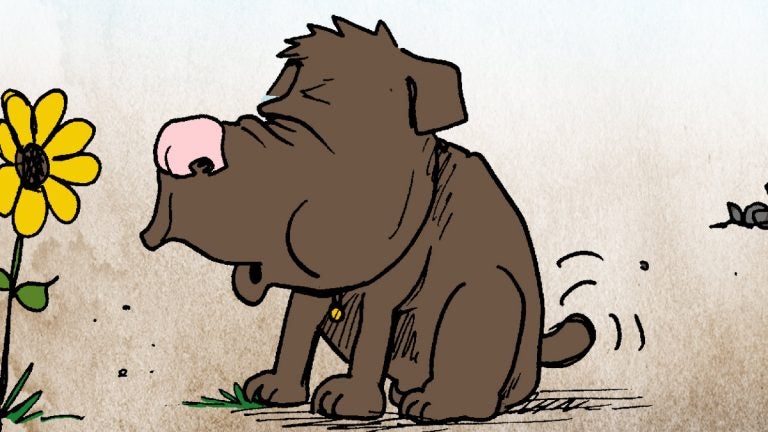 Whistler's "barking" is unorthodox, but it's far from unique among the canines who inhabit North Lower Bayheightsville.
Ms. Applebottom, who resides at 634 Ocean Ave., owns a pug named Cody whose barks resemble the repetitive sound of a woodpecker. Every night, he stands outside the neighbor's house around dinner time and barks relentlessly. Ms. Applebottom claims it's because her neighbors yelled at Cody when he was a puppy, but pug's aren't known to hold a grudge.
Meanwhile, Mark Eichmann of 32 Beachside Blvd., has a french bulldog named Mr. Robinson who he constantly forgets to let back into the house. Mr. Robinsons's frustrated barking and door scratching have been described by neighborhood kids as "nightmarish" and "deeply disturbed," and have earned him the nickname around town as "Satan's Messenger."
Lastly, we have Bud Hasslet, who owns the only comic book shop in North Lower Bayheightsville, "Han Shopped First." Bud's dog, a dachshund-chichuahua mix named Kazak, has managed to learn how to bark the opening theme song of "Game of Thrones." Next up is the theme song to the "X-Files."
_________________________________________
Check back every Monday, Wednesday and Friday during the summer as It's a Shore Thing follows the adventures of the Featherstone family as they run the family bed and breakfast in out-of-the-way North Lower Bayheightsville.
WHYY is your source for fact-based, in-depth journalism and information. As a nonprofit organization, we rely on financial support from readers like you. Please give today.