Webcomic: Junk down the Shore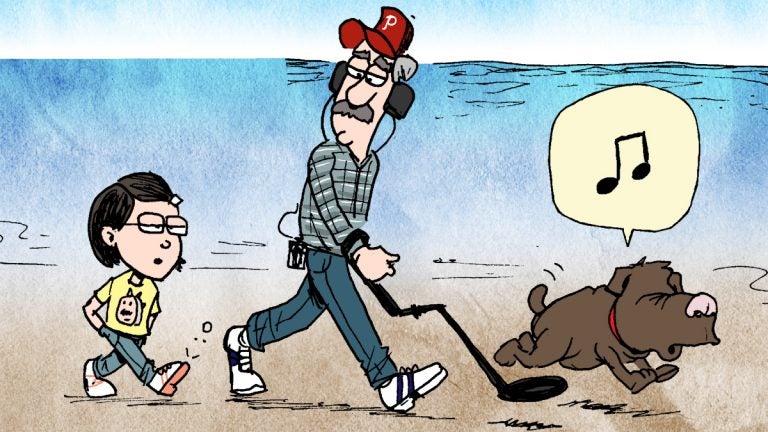 As a child, Art couldn't understand why North Lower Bayheightsville residents would abandon various treasures at the town dump. Every weekend, he would would dig around the mountains of junk and bring home everything he could fit in his Radio Flyer. His mother hated his collection and demanded he get rid of his entire treasure trove or else. Although he never knew what "or else" meant, he often heard her mutter something about a bonfire visible from space whenever she saw his latest additions.
Art couldn't allow his prized possessions to rot at the dump, so he decided to go into business and sell his wears to discerning shoppers. The market was tough since everyone knew Jimmy DeLorenzo held the monopoly on child-run businesses in town with his lemonade/car wash station, which he also franchised out in neighboring towns. Even soapy glasses of lemonade from Jimmy D's brutish thugs couldn't deter Art from setting up shop.
One summer, after finding some coins on the beach, Art went to buy some ice cream. Unbeknownst to him, Mr. Mulvaney, the town appraiser and normally a polite man, was behind him in line. As Art went to pay, Mr. Mulvaney gave a shriek sounding like a rabbit's death scream and knocked the money out of his hand. He attempted to retain his civility as he explained to the boy he was paying with pirate booty. The famous New Jersey scalawag, Captain Frank "Nude Chest" Sacci, who felt more attractive to wenches bearing his bare torso, buried stolen Spanish coins right in North Lower Bayheightsville.
Word got out to residents that Art sold rare antiquities. His business, Anteeks, became a mainstay in town where he sells authentic shore junk to tourists during the summer and whatever valuables they leave behind to residents during the off-season.
_____________________________________
Check back every Monday, Wednesday and Friday during the summer as It's a Shore Thing follows the adventures of the Featherstone family as they run the family bed and breakfast in out-of-the-way North Lower Bayheightsville.
WHYY is your source for fact-based, in-depth journalism and information. As a nonprofit organization, we rely on financial support from readers like you. Please give today.