Naloxone, just in case: Pennsylvania hands out thousands of overdose-reversal kits
More than 5,100 kits were made available at 80 health clinics, libraries and public spaces across Pennsylvania.
Starting at 11 o'clock Thursday morning, four Philadelphia libraries opened their doors to hand out free naloxone kits. Ten minutes later, Stephen Bryant was on his way out of the Holmesburg Free Library in Northeast Philadelphia with his.
"My daughter fell into the the opioid use disorder, and I was told by the experts you should have the naloxone," said Bryant, whose 23-year-old daughter, Danielle, is currently in jail. "Hopefully, when she gets out, she won't go back. But if she does, we want to have the naloxone ready."
The distribution throughout Philadelphia was part of a statewide effort to provide free naloxone, the opioid overdose-reversal drug commonly known by the brand name, Narcan. More than 5,100 kits were available at 80 health clinics, libraries and other public spaces across Pennsylvania. As of 3 p.m., about 4,500 had been distributed.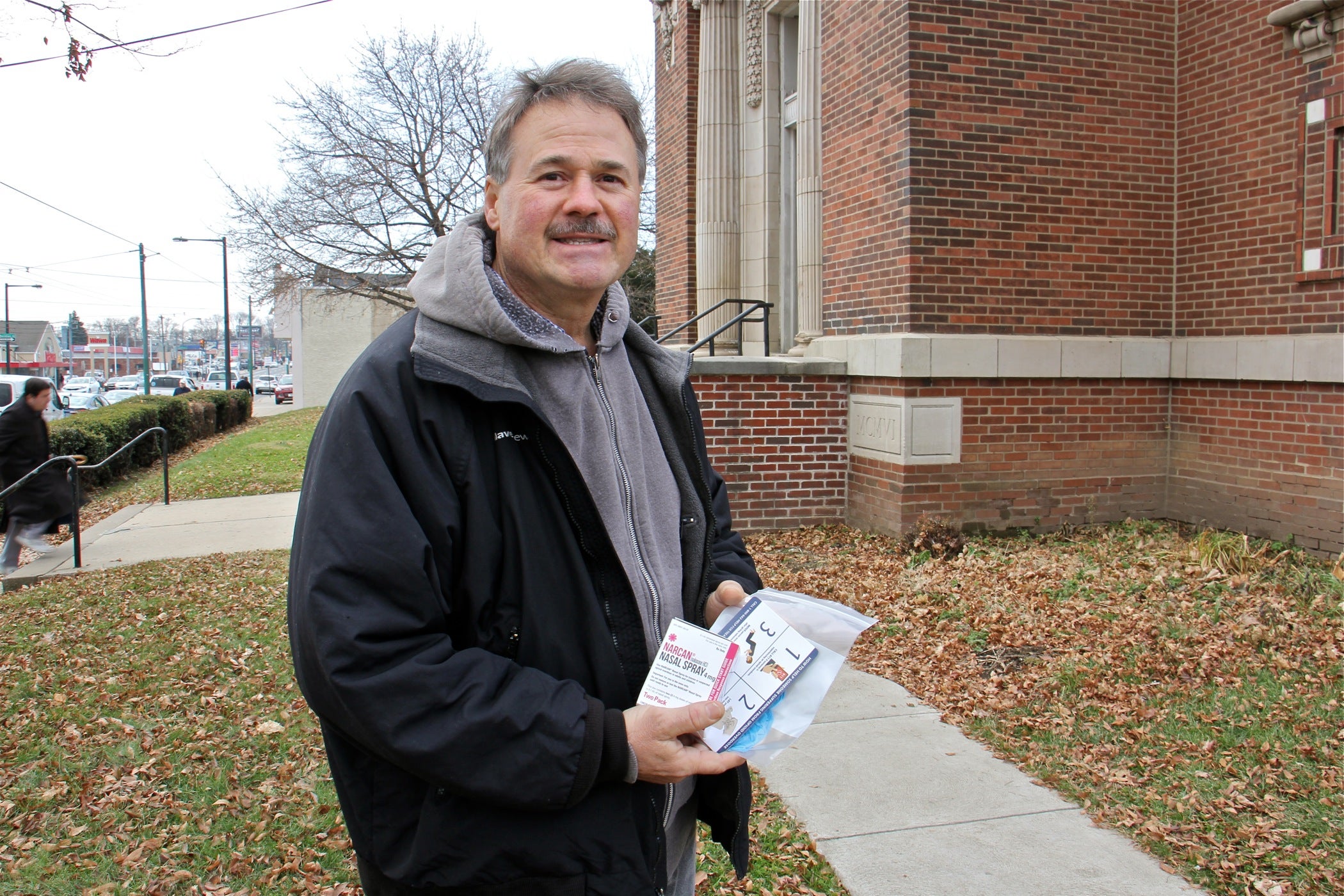 All morning, a steady flow of neighbors and residents streamed through the Holmesburg Library's front doors. They passed the reading nooks and public computer stations, proceeded past the bathrooms and down the back staircase into a large basement community room. Kits of naloxone, rubber gloves, and magnets with instructions on how to administer the nasal spray were laid out on a long folding table.
As an instructional video featuring Pennsylvania's physician general administering naloxone played on loop in the background, friendly officials from the city's public health department greeted those who came by to pick up their free kits.
Some had already been trained on how to administer the nasal spray  — a group of clinicians from a health clinic down the street came in, picked up the kits and left. Carl Cammisa and others stuck around for the video.  Cammisa, who lives in the neighborhood, said he hadn't realized that someone might wake up in withdrawal after administering Narcan.
"My girl uses, I'm trying to get her off," he said, hoping he could get an extra kit for his girlfriend, whom he says has been using heroin for three years.
Patti Sklodowski was also there to pick up some Narcan to keep around, just in case. She lives walking distance from the library and said that, even though her son, 32, has been doing well recently, she knows there's always a chance for a relapse. But she won't tell him she's stocking the drug.
"I don't even want him to know that I'm getting this, because it's not a free ticket," Sklodowski said.
Funding for the giveaway came out of the state's $5 million budget for 2017-18 to distribute naloxone to first responders. Statewide, the Pennsylvania Department of Health estimates emergency workers have administered naloxone in an overdose situation more than 12,000 times this year alone. Law enforcement has administered it 8,000 times between 2014 and 2018 across the state.
Gov. Tom Wolf's administration has been ramping up access to naloxone as a part of its efforts to combat the opioid epidemic, for which he extended an emergency declaration in January of this year. Physician General Rachel Levine issued a standing order, updated in April of this year, so that anyone can get naloxone without a prescription from a pharmacy. The order also provides protections for third parties who don't suffer from substance use disorder in administering the drug.
Locally, EMS, Philadelphia police, and SEPTA officials have administered naloxone almost 3,000 times through August of this year.
Even with the standing order and first responders who are better prepared than ever, naloxone access remains an issue. Many pharmacies still don't stock naloxone regularly; among those that do, employees aren't always clear on the stipulations of the standing order.
Allison Herens, with the Philadelphia Department of Public Health, said she started carrying Narcan when she was hired to be the city's first harm-reduction coordinator. She attended a training on how to use it, then picked it up from a pharmacy. The next day, while riding SEPTA, she said she saw a man overdosing and administered the Narcan, saving his life.
"What most people don't know about that story is I only actually had the medication because I went to a second pharmacy the day I went to get it," said Herens. "The first pharmacy not only gave me pushback about using my insurance, but didn't have it in stock."
City Councilman Bobby Henon, whose district includes Holmseburg, introduced a measure earlier this year that would require all pharmacies to stock at least two doses of Narcan at all times or face fines. The city estimates roughly a quarter of pharmacies in Philadelphia don't carry naloxone at any given time, and research from the University of Pennsylvania found that the pharmacies least likely to have it were in the ZIP code that includes Kensington.
While that neighborhood remains at the center of the city's opioid crisis, other communities also feel the effects of the epidemic.
"I know it's a lot worse down in Kensington, but it's bad in this neighborhood, too," said Bryant outside of the Holmesburg Library after picking up his kit. "There's people living with their parents and they're abusing. My daughter's boyfriend is stealing electric from his neighbor. Had no water. It's bad."
Bryant said he knew his daughter had "died and come back" at least once already, and he felt prepared to use the overdose-reversal drug should he ever need to revive her again.
WHYY is your source for fact-based, in-depth journalism and information. As a nonprofit organization, we rely on financial support from readers like you. Please give today.