'Waiting for the locusts': Philly area businesses reeling from pandemic, protests — now floods
For many business owners surveying the damage Wednesday, the storm was simply the latest in a string of events to have rocked their enterprise.
Workers wheeled cart after cart of goods out of the Fresh Grocer Supermarket on 69th street in Upper Darby early Wednesday morning. Stacks of soda cans, boxes of cereal, gallons of maple syrup — it all went straight into the dumpster, damaged by flooding caused by Tropical Storm Isaias.
"What you are seeing is total devastation," said Pat Burns, who owns this and six other grocery stores in the Philadelphia region. 
On Tuesday, the supermarket had been engulfed by the storm, with water rising over six feet in the parking lot, and four feet in the building. By Wednesday morning the parking lot was dry, but a generator-powered pump continued to remove water from the floor inside. Burns said millions of dollars of equipment and inventory had been destroyed. The store is now closed indefinitely. 
Since crashing ashore early Monday morning, Isaias has caused widespread flooding, knocked out power for hundreds of thousands of people, and forced at least one hundred families to leave their homes.
But for many business owners surveying the damage Wednesday, the storm was simply the latest in a string of events to have rocked their enterprise: first the pandemic, then the property damage following the killing of George Floyd, and now this. 
"I just feel it's the craziest time in my life," Burns said. "Between COVID, keeping people safe, looting in my shopping centers and stores, now floods? I am waiting for the locusts to come out of the ground next."
'We will try'
Soo and James Lee have run Lee's Best Dry Cleaners out of a strip mall in Upper Darby for more than two decades, but on Tuesday morning they weren't confident they would be open much longer. 
The storm water had risen three feet, damaging their customers' clothes and expensive dry cleaning equipment. The business had already been knocked on its heels by the pandemic.
"Everybody works at home and then doesn't want to come in," Soo said. 
The business has been flooded before, about a decade ago, and the couple was able to recover. But this time, after months of little business, they aren't sure. Their insurance company hasn't given yet answered if it will accept a claim.
"I don't know [if we will recover]," James Lee said. "We will try."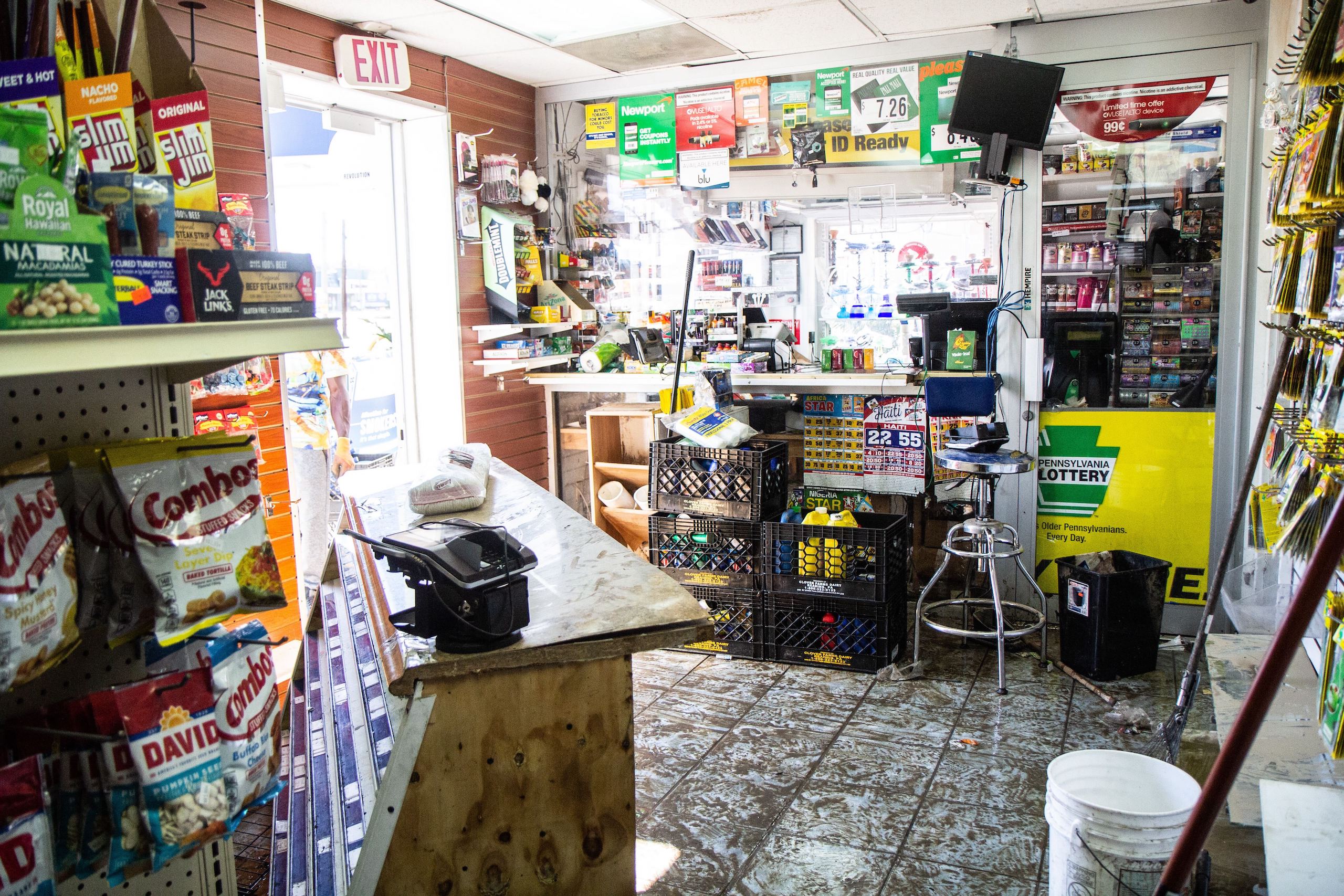 Across the street from the Fresh Grocer, Johnny Singh spent Tuesday morning coordinating clean-up at the combination gas station, car wash, and cigarette outlet he opened five years ago. 
He was doing most of the work himself, saying he had no other option. 
"I called my insurance guy yesterday and he says: 'You don't have flooding insurance,'" Singh said. "How the hell would I have known this property would flood?" 
Singh said he wasn't told that when he rented this storefront that this area has a history of flooding. He blames local officials for not preparing better stormwater management. 
Still, Singh's frustration is cumulative — the breaking point after five months of watching the business he has poured his life savings into fall apart. The pandemic reduced his foot traffic and his business was ransacked following the killing of George Floyd. Singh said he received a small federal Paycheck Protection Program loan and was starting to find his footing. Now, a flood. 
"I don't know what the hell is going to happen, because we don't have [financial reserves]," Singh said. "All we have is strength." 
But Singh still holds out hope that his shop will receive enough government assistance to survive. He immigrated from India to the United States in 1996 when he was a teenager, and he still sees the country as he did then — as a beacon of prosperity and equality that looks out for the little guy. 
"From America," he said. "I don't accept less." 


WHYY is one of over 20 news organizations producing Broke in Philly, a collaborative reporting project on solutions to poverty and the city's push towards economic justice. Follow us at @BrokeInPhilly.
WHYY is your source for fact-based, in-depth journalism and information. As a nonprofit organization, we rely on financial support from readers like you. Please give today.