Voting Block N.J.: In gubernatorial debate, Paulsboro residents see politics as usual
Listen
0:00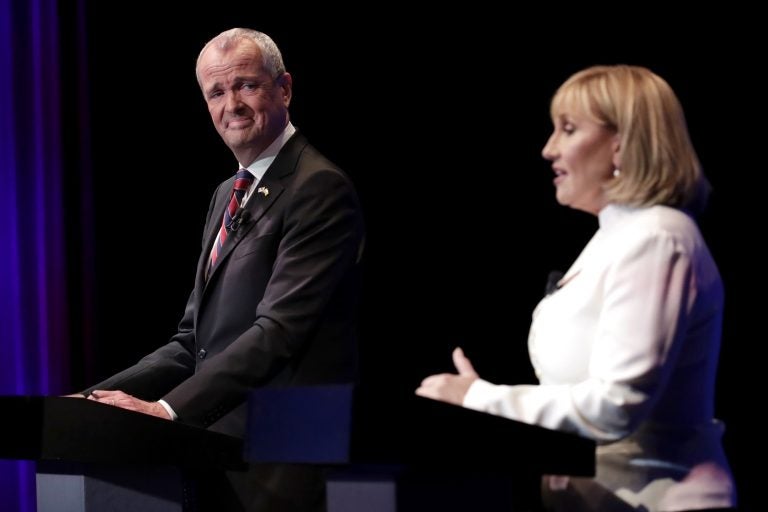 The top two candidates running to be New Jersey's next governor faced off in their first head-to-head-debate Tuesday night in Newark.
Democrat Phil Murphy, a former Goldman Sachs executive and former ambassador to Germany, and Republican Kim Guadagno, the lieutenant governor, verbally sparred for an hour.
As part of our statewide series on the governor's race, Voting Block N.J., we gathered four residents from Paulsboro, in South Jersey, to watch the debate and then share their thoughts on the candidates.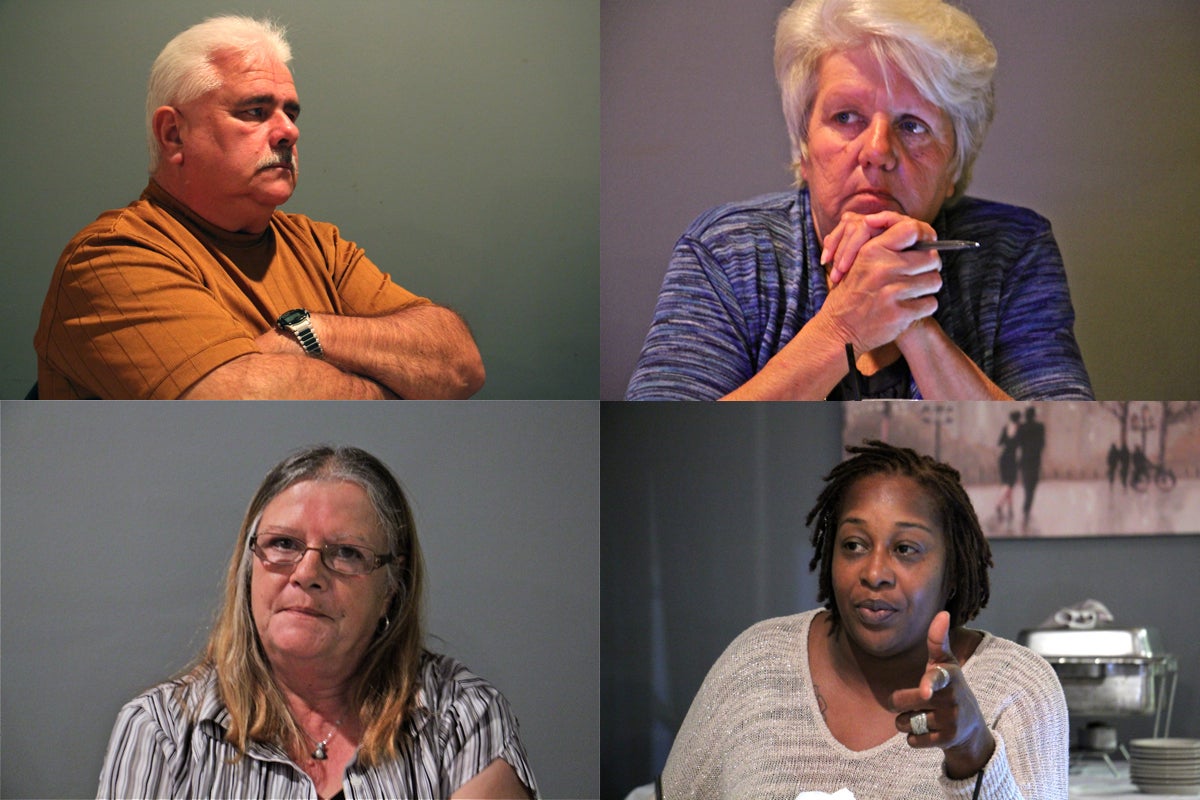 Here are some of highlights of that conversation, followed by residents' reactions, and conversation.
Guadagno returned to property taxes, her hallmark issue, time and again throughout the debate. She is promising to lower property taxes, in part, by reducing Trenton spending through a comprehensive audit of state government. Guadagno regularly attacks Murphy on taxes and did again Tuesday night, claiming he would make it harder for residents to afford to live the Garden State. But Murphy is vowing to reduce property taxes by fully funding the state's public schools. Under Gov. Chris Christie, the school funding formula has gone underfunded.
Christa Cooper, 45, head teacher at Boys and Girls Club, Democrat
"Far as the property taxes, yes, amen, I'm all for it. Yes, it has to be lower. But once again, where does the difference come in at? Because once you take away from something, you can only take away if you're going to attack something else. So when you lower those property taxes you know that there's something else that's coming that's gonna be higher."
Lenny Curtis, 60, municipal utilities employee, not affiliated with a political party
Sheryl Haas, 61, truck driver, Democrat
Lenny Curtis:"When you're No. 1 in the country, yeah, it's worth repeating. We're the highest in the country."
Sheryl Haas: "It is. I understand that. I'm not gonna argue that. But you know what? You're not showing me, you're not giving me that direct, if you're gonna do this, are we gonna have what we need to function as a school? Or a police department? Or a fire department? Or get our roads cleaned for snow removal?"
Lenny Curtis: "I believe her answer was she'd like to have the audit, which I believe …"
Sheryl Haas: "I agree we need to have an audit."
Lenny Curtis: "… I believe that because I think, like she said, they already know it's not being funded properly. I think the audit's going to be worth your while, just like any household. I mean let's be realistic."
Sheryl Haas: "She was lieutenant governor. Why, when she was in office, didn't she ask for an audit?"
Lenny Curtis: "She did. And the governor has to sign off on that. She's not the governor, she's the lieutenant governor."
Sheryl Haas: "She could've put it on the floor and got enough power behind her to get an audit done."
Lenny Curtis: "I guess maybe she could've."
Unsurprisingly, Cooper, Curtis, and Haas agreed that property taxes in New Jersey are too high, and noted that they're driving people out of the state. But while they welcomed the candidates' promises to cut taxes, after the debate, the residents were left wondering how either one would get it done.
Sheryl Haas: "How many of us sitting here wouldn't [leave] in a heartbeat?"
Lenny Curtis: "I'm about ready to, I can tell you that."
Christa Cooper: "My children and I just had that talk this evening, before I left work. And I said, 'Kids, I'm ready to pack up and go. I'm getting ready to go, and I'm gonna go listen to this debate, and I'm going to look for a reason to stay.' And it's kind of hard. Because right now I don't see an answer in these two candidates. I see a continuation of the same situation. So, as much as it is a pain to hear [Murphy] constantly remind you of the Christie era and that [Guadagno] is just a continuation of the same, the only difference is that she didn't say the same for him. That once you get in office it'll be the same go-around on the Democratic side. They don't have any real answers for us. New Jersey is a mess, top to bottom, at the end of the day. And we're paying too much to be here."
The residents overall felt underwhelmed by the debate, including the performances by the candidates as well as the issues they discussed. They said gubernatorial candidates from North Jersey (both live in Monmouth County) don't really understand the issues facing Paulsboro, a 2.6-square-mile town of 6,000 along the Delaware River.
Sandra Faber, 60, accounts payable clerk, Republican
Sandra Faber:"First of all he needs to come here. And he needs to walk our streets. They don't ever come down this way. You never see a governor or anybody."
Sheryl Haas: "The closest you get is Camden."
Sandra Faber: "But they never come south. They never come here. Come here. See what our needs are. Let them walk the streets, see what we're living with."
The debate only tangentially touched on issues facing Paulsboro, the residents said. The candidates discussed gun control but not street crime, economic development but not neighborhood blight. Neither of the candidates spoke directly to the problems plaguing Paulsboro, let alone offered any ways to solve them. For Cooper, who began the debate expecting to vote for Murphy, that mattered.
Christa Cooper: "It changed my mind, because it changed from being, 'OK, I'm Democrat.' It changed that. It changed that."
Joe Hernandez (reporter): "So before this debate you would've voted for Murphy?"
Christa Cooper: "I would've went that way because that's just the way that we go. But, now?"  Now she's undecided.
For the others, they ended the debate where they started it — unsure of whom to support. Residents lamented that the two candidates were saying the same things politicians always said. Curtis claimed there wasn't much of a difference between Republicans and Democrats anymore, that neither party provided any real answers or new solutions to the major obstacles facing the state.
Lenny Curtis: "I don't think you said, 'Aw man, Murphy, he really nailed it.' I don't think you said, 'Oh, Kim really nailed it.' None of us here were really overwhelmed by anybody. So I think what you're really asking us … If there was a third party? If there was another person running, he might have — that person, I shouldn't say he — would probably get a good ear and [we'd say] wow, you know?"
There are four candidates on the ballot beside Murphy and Guadagno.  Ones from the Constitution, Green, and Libertarian parties plus an independent.  But since those candidates did not raise $430,000 in campaign dollars needed to qualify for state matching funds, they were not allowed to participate in the debates set up by the New Jersey Election Law Enforcement Commission.