Vietnam Dustoff crews gather in Delaware to remember
A group of 60 Dustoff helicopter crews who flew in Vietnam gathered for their annual convention in Dover this weekend. On Saturday, they held a memorial service at the Kent County Vietnam Veterans Memorial, which features a Huey that flew rescue missions in Vietnam.
The Dustoff crews flew unarmed into the battle zone to rescue wounded soldiers. "Our job was to get them out of there and get them to medical care in that golden hour," said Jon Sabanosh of the Vietnam Dustoff Association. Getting injured soldiers to medical care within that "golden hour" often meant the difference between life and death. "One of our many mottos was 'no rationalization, no hesitation, no compromise, fly the mission.' And that's the legacy of Dustoff."
That legacy is remembered every year as these Vietnam veterans gather to share stories and remember their experiences. "I brought a lot of the photographs that I had taken when I was in Vietnam and my map that I used when we were over there," said Doug Petersen of Ft. Worth, Texas.
"It's just good reminiscing talking about the good things that we did, the crazy things that we did, and it's just great to get back and talk with each other."
A big draw for conversation was a map sent to Jon Sabanosh while he was in Vietnam. It was signed by Dustoff crews he met during his tours. "I signed that 46 years ago," said Paul Herpole of Amarillo, Texas. "I see all of these other names of people that were there … it's an extraordinary memory."
Not all those who signed the map made it home. Flying in a Dustoff crew was a very dangerous job. "We were 11 times more likely to become a casualty than any other job over there because we flew directly into the firefight," Sabanosh said. "That's where the wounded were."
As per the Geneva Convetion, the Dustoff crews weren't allowed to carry armaments to return enemy fire. Crews only carried handheld weapons to defend themselves once they were on the ground. And some crews ended up on the ground multiple times.
"I went down five times, three times shot down and two times mechanical failures," Harpole said. "We were lucky. Everybody here was lucky. All of our friends weren't as lucky."
More than 900,000 soldiers were evacuated by Dustoff crews during the war. But most of those who were rescued were anonymous to the Dustoff crews. "We picked up thousands of people and we didn't know who they were. We didn't know their names … we knew their faces, we didn't know their names. That was extraordinarily tough later on."
More than 200 Dustoff crew members died in Vietnam.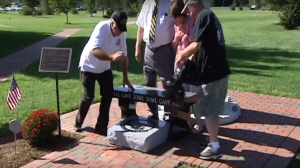 A new stone memorial honoring Dustoff crews was unveiled during a ceremony at the Kent County Vietnam Veterans Memorial in Dover. The inscription underneath a Huey etched into stone reads: "So others may live."
That idea is why Petersen still wears his dog tags to this day. "I want to remember that because of something that I did, there's a Vietnam veteran that's still walking around today."