On Valentine's Day, and every day, it's the sincerity that counts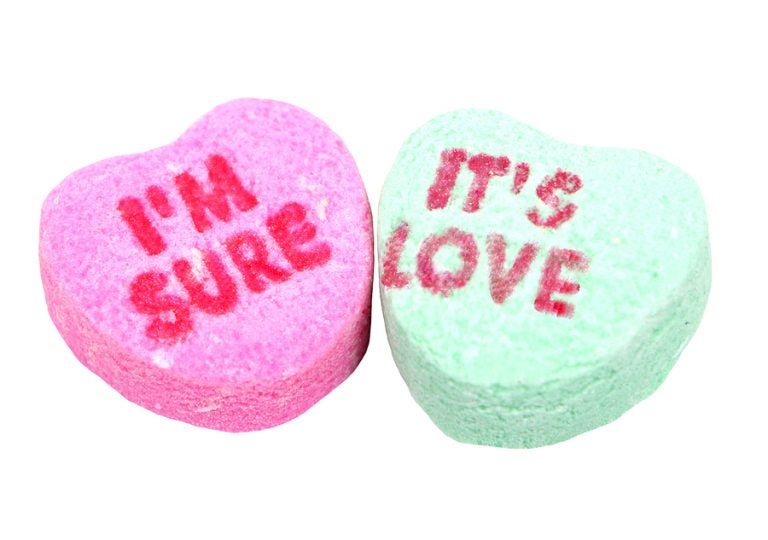 Happy almost Valentine's Day, everyone! I have heard from friends all about last year's candlelit dinners in fancy restaurants, massages at the spa, and diamond bracelets. Good for them! My sweetheart of a husband, Steve, has never pulled off a big Valentine's Day treat for me (he treats me just fine all year long), but that's OK. My expectations for this rather silly holiday are pretty low.
When I was little and in Catholic school, my mom always forgot to buy those Valentines that came 30 to a box, with Daffy Duck and hearts on them, until the very last minute. As a result, we only had time to scribble a message on a few. But that was not a problem, because giving them out in class was very hit-or-miss. My teacher, Sister Vincent, couldn't have cared less about our tender feelings when some of us only got one or two, and others a brimming book bag full.
I used to wish Joseph Grazie, the cute Italian kid who always brought great smelling, garlicky sandwiches for lunch, would give me a valentine. But nope! I only got them from boys like John Albert, who tried to impress me once by eating an entire box of Crayolas; he promptly threw up in "eight brilliant colors."
By the time my kids came along, children's tender feelings ruled the day. The expectation in elementary school was clear: Everybody had to get valentines from everybody, or no one would get valentines from anybody. This fair-handed approach to romance was a bonanza for Hallmark, but a pain for parents.
Every year, just as my mother had, I bumped into other moms in the store on Feb. 13, frantically scooping up 30-to-a-box cards (still, amazingly, with Daffy Duck and hearts on them). We then rushed home to "help" our first-graders write out their classmates' names, a painful procedure, indeed. Some overachieving parents always upped the ante by attaching lollipops or little bags of M&M's to their valentines, while the rest of us just sent in smudged and crossed-out wishes for the whole class.
When our brood was in high school, long-stemmed roses and candy grams were delivered to classrooms (a National Honor Society fundraiser or some such). Being a couple was a big deal come mid-February …  and not being a couple was, alas, a bigger deal. So much for sparing tender feelings! At the age when self-esteem was at its shakiest, the popular/unpopular line was clearly drawn, thanks to savvy marketers of seasonal chocolates and flowers.
I do have to say the handmade cards my children gave me over the years were pretty cute. They would be left on my pillow, anointed with Elmer's glue dripping off the red construction paper. Unlike the manufactured kind, I have kept many of these gems. They were especially flowery when penned by a child who was currently in trouble for some misdeed. How can you put a kid in timeout when she has just written "I adoar you Mom"? One of my favorite valentines from my little son was signed, "Love, PJ Seyfried," just in case I was wondering who in the world "PJ" was.
As I was married very young, I got to skip the "dateless on Valentine's Day" ordeal, but I know plenty of people, male and female, who suffered through years of this nonsense. One friend had a string of boyfriends who all conveniently (for them) broke up with her in late January. Isn't life tough enough without having other people's joy thrown in your face for an entire 24-hour period every year? And as a restaurant worker many years ago, I dreaded the onslaught of teenage Valentine's Day daters almost, but not quite, as much as the New Year's Eve revelers. Many young couples, all decked out, would arrive at our upscale eatery, and attempt in vain to order alcohol, flashing their fake IDs. They'd select the cheapest thing on the menu, then pay in cash to the dime (meaning, no tip). How adorable!
Lest I sound like the Valentine Grinch, I do applaud any and all efforts to spread a little love in this crazy, mixed-up world. I would just like to step back a bit from the commercialization frenzy, and see us offer simple, sincere, inexpensive, and inclusive sentiments to one another — and not just on Feb. 14 either, but every day.
Meanwhile, happy holiday-named-for-a-third-century-Christian-martyr! I only ask that you lucky recipients keep your diamond bracelets to yourselves. The rest of us don't want to know.
—
Elise Seyfried is the author of three books of humorous essays, a columnist for The Chestnut Hill Local, and a freelance writer whose work has appeared in the Philadelphia Inquirer and many other publications.