UPDATED: O'Neill amendments to commercial corridors would affect his district least of all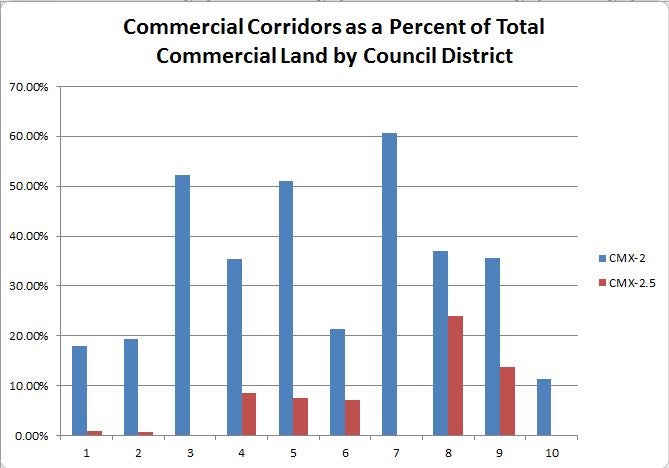 UPDATED:
Councilman Brian O'Neill has proposed a handful of amendments to the three-month-old zoning code—he is not unique in that regard. But he is unique in that his proposals would affect every other Council District more than they would affect his own.
Two bills introduced by the 10th-District Councilman would prohibit or require special exceptions for more than a dozen uses currently allowed by right in neighborhood commercial corridors zoned CMX-2 and CMX-2.5. The uses include things like community gardens, visitor accommodations, and prepared food shops.
But an analysis of zoning data indicates that O'Neill's district contains less CMX-2 zoning—around 11 percent of the total commercial land in District 10—than any other Council District. And it contains no CMX-2.5 zoning at all.
With the help of Casey Thomas at the Philadelphia Public Interest Information Network, PlanPhilly performed an analysis of zoning data available on OpenDataPhilly.com which shows that every other Councilmanic District contains more land zoned CMX-2—in terms both of total land area and as a percentage of commercially zoned land—than the 10th District in Northeast Philadelphia.
A similar analysis was sent to PlanPhilly this week by a source who insisted on remaining anonymous, so an independent analysis was performed using publicly available data.
CMX-2 zoning accounts for more than half the commercial land in both the 3rd, 5th and 7th districts. Councilwoman María Quiñones-Sánchez' 7th District would be the most affected by the bill; more than 60 percent of the commercial land there is CMX-2. And the classification accounts for 51 percent of commercial land in Council President Darrell Clarke's 5th District.
"Council President Clarke is currently reviewing the possible impact of Councilman O'Neill's proposals on the 5th District and citywide," said Jane Roh, a spokeswoman for the Council President.
Said Councilwoman Sánchez, "If the data you present is correct, I will definitely have serious concerns. I feel very strongly that we need to wait a while before making drastic changes to our new zoning code. I understand that individual districts may have unusual circumstances but this appears to be a major [overhaul]."
Contact the reporter at jbrey@planphilly.com and follow him on Twitter @jaredbrey