Underage driver crashes car on Roosevelt Boulveard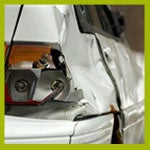 Questions surround the Sunday morning crash on Roosevelt Boulevard that left a child injured, including: How did a 9-year-old get behind the wheel?
Police are still investigating that and other circumstances of the crash as the child remains hospitalized. Around 9:30 a.m. Sunday, witnesses say they saw the car strike a tree in the outer northbound lanes near Rhawn Street. Authorities discovered the young driver and he was transported to St. Christopher's Hospital for Children in critical but stable condition.
No further details have become available.