'Unconstitutional' Colin Quinn brings a lot of Philadelphia to one-man show
Listen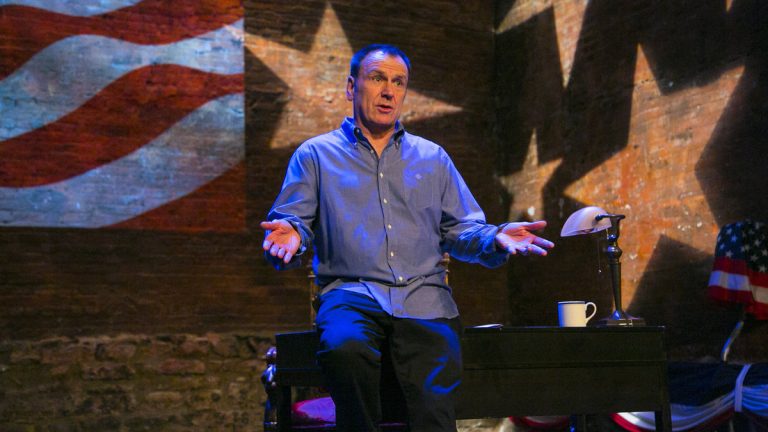 After comedian and social commentator Colin Quinn decided he could make an entire show out of skewering the U.S. Constitution and our relationship to it throughout American history, he began to become a student of the document.
"I didn't want to," he said. "It's a lot of work. But that's what happened."
The result is a funny, satiric and sometimes expletive-rich look at the Constitution, from its creation to the way we interpret it now, and from its preamble through the Bill of Rights. To give you an idea of the way he sees it, Quinn compares the discussions of the Founding Fathers to a bar scene, and imagines the cronyism as they drank inside City Tavern. Quinn plays Ben Franklin as the Godfather.
Although he performed the show Off Broadway and on tour, it wasn't until Quinn arrived here several weeks back that he began thinking about the city's basic role in the topic he was covering on stage. As a result, there's plenty of Philadelphia in his running commentary — and "running" is an accurate description, because "Unconstitutional" has a comedy-club feeling that's informal and delivered in a spit-fire way, as if Quinn is thinking on his feet.
Quinn, who became popular in the late '90s when he was a cast member of "Saturday Night Live," has gone on to movies, television shows and, twice, Broadway. His current show gives Quinn a sort of double edge: Even as he clearly respects the Constitution and our national acceptance of its principles and authority, he elicits laughs by focusing on the curiosities and controversies that come directly from its words.
I talked with Colin Quinn at WHYY studios about how he developed the show, and in our conversation you can hear the everyday style of delivery that he also uses on the stage. His next project, he says, is a look at ethnicity and race — something he begins to touch on in a clip from "Unconstitutional" that's part of our conversation."Unconstitutional" runs through July 6 in a Philadelphia Theatre Company production at the Suanne Roberts Theatre, Broad and Lombard Streets. 215-985-0420 or www.philadelphiatheatrecompany.org.
WHYY is your source for fact-based, in-depth journalism and information. As a nonprofit organization, we rely on financial support from readers like you. Please give today.