Trump would love a lifetime presidency. He was just kidding, folks!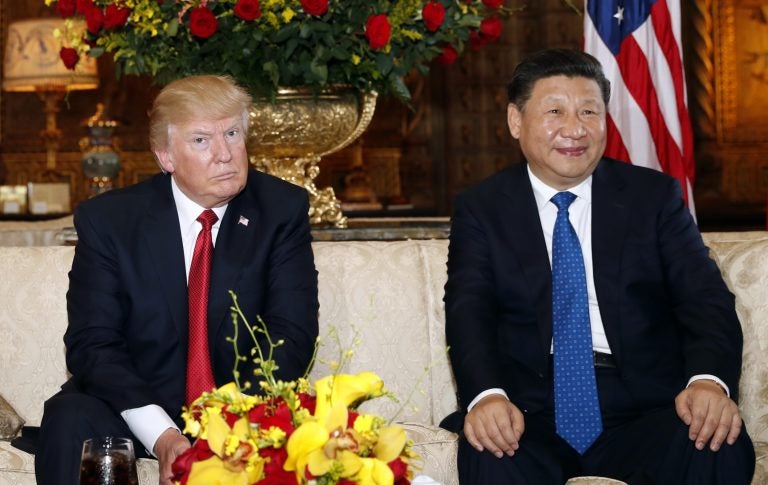 Trump's latest ode to autocracy, mouthed at Mar-a-Lago over the weekend, was predictably despicable. The temptation is to simply ignore it. Let's not.
When Trump praised the ruling Chinese Communist Party for erasing the two-term limit for its presidents – thus paving the way for Xi Jinping to reign for life – he was probably just trying to titillate the toadying plutocrats at his private fundraiser. That was just Trump's idea of a joke. Only a fake president with no respect for the norms of democracy would ever think it was funny to toss off a line like this:
"(Xi Jinping) is now president for life, president for life. And he's great. And look, he was able to do that. I think it's great. Maybe we'll have to give that a shot someday."
It's no fun to start this week with a fresh reminder that our democracy is imperiled, but there's one silver lining. Trump's fat-cat fans can cheer his president-for-life wet dream all they want (as indeed they did), but in truth he's a cornered rat with landslide unpopularity, and is thus ill-positioned to convince three-fourths of the states to erase the two-term limit embedded in the U.S. Constitution since 1951. His odds of becoming president for life are even lower than his odds of being jailed for life.
But what is worrisome, what does make his remark so contemptible, is that it reflects his general 'tude about the job he's unfit to hold – and how he'll continue to abuse it in ways that warrant his removal.
For starters, no previous president repeatedly pined for unchecked dictatorial power, or voiced a desire to reign like the leaders of Russia, Turkey, the Philippines, and China. Trump envies the president-for-life of China, a country that routinely jails journalists and political dissidents, a country that stokes hatred of ethnic minorities and allows leaders to fatten their families' coffers at the public's expense. (Heck, Trump has been loving up their communism since 1990, when he told an interviewer that the Chinese government's massacre of students in Tiananmen Square "shows you the power of strength.")
But Trump doesn't need to actually seize such power, he doesn't need to "give that a shot" in order to inflict great damage. He's damaging us already by simply acting on the attitude he "joked" about this weekend. He's trying to bend the norms of democracy without actually breaking them.
That's my best attempt to put his remark in perspective. I suppose that qualifies as cold comfort.
His family is already trying to fatten its coffers at the public's expense. He's already stoking hated of minorities, and has done so since the dawn of his candidacy. He's already trying to bend independent law enforcement – the FBI, the Justice Department – to his will, to destroy their integrity by demanding loyalty, and he has done so since first trying to compromise James Comey one year ago.
The ultimate test will likely occur when Robert Mueller hones in for the legal kill — not necessarily by releasing evidence that Trump directly "colluded" with the dictatorship he most admires (as if that should be the only standard), but by releasing a critical mass of evidence that Trump's operation is infested with confessed and credibly accused criminals; and that Trump himself has long been hostage to Russian money and favors. (On that score, we already have loads of damning evidence.)
So when high noon finally arrives, how freely will Trump indulge his dictatorial instincts? When Mueller comes calling, what happens if Trump asks himself,  "What would a president-for-life do?") It's likely that the worst is yet to come. As one Trump official reportedly confessed this weekend, "We haven't bottomed out."
—
But in my continuing quest to find an upside of life, the latest news in southwest Pennsylvania's special congressional election, slated for next Tuesday, is downright bullish for the anti-Trump American mainstream. We could soon be witnessing a major upset.
The district has long been solid red — Trump won it by 20 points in '16; Mitt Romney won it by 17 points in '12 — and it's open now because its Republican congressman (an anti-abortion family-values fraud) was compelled to quit after word got around that he'd told his extramarital girlfriend to consider an abortion.
In a normal House race, Democrats would barely bother to field a candidate, and the Republican would win the district by double digits without breaking a sweat or spending more than a proverbial dime. But not this time.
The polls are neck and neck. Turns out, Trump's coattails are shorter than a tank top.
With eight days left on the clock, outside GOP groups have been forced to pump $9 million into the district, just to drag Trump-lover Rick Saccone across the finish line. If Saccone, a state legislator who calls himself Trump's "wingman," winds up losing to moderate Democratic newbie Conor Lamb, or if Saccone merely ekes out a squeaker, there may be no better evidence of a burgeoning blue wave in 2018.
And it'd be tough to play president-for-life if the blue party is back in the game.