Trump proposal to Atlantic offshore drilling draws opposition from New Jersey lawmakers
The Trump administration is proposing to open virtually the entire Outer Continental Shelf, including off the New Jersey coast, to oil and gas drilling in a draft, five-year leasing program.
The proposal unveiled by U.S. Secretary of the Interior Ryan Zinke yesterday would make over 90 percent of the total acreage in its jurisdiction offshore available to exploration and development. Only one planning area in Alaska of 25 acres was excluded.
The move quickly drew opposition from New Jersey's congressional delegation and two Democratic senators, as well as conservationists, as a threat to the state's $44 billion tourism industry, much of it derived from its coastal communities and fishing.
The 2019-2024 program proposes the largest number (47) of lease sales in U.S. history, dwarfing the 11 conducted during the Obama administration, which also initiated a ban on offshore drilling from Virginia to New England. President Donald Trump reversed that order last year.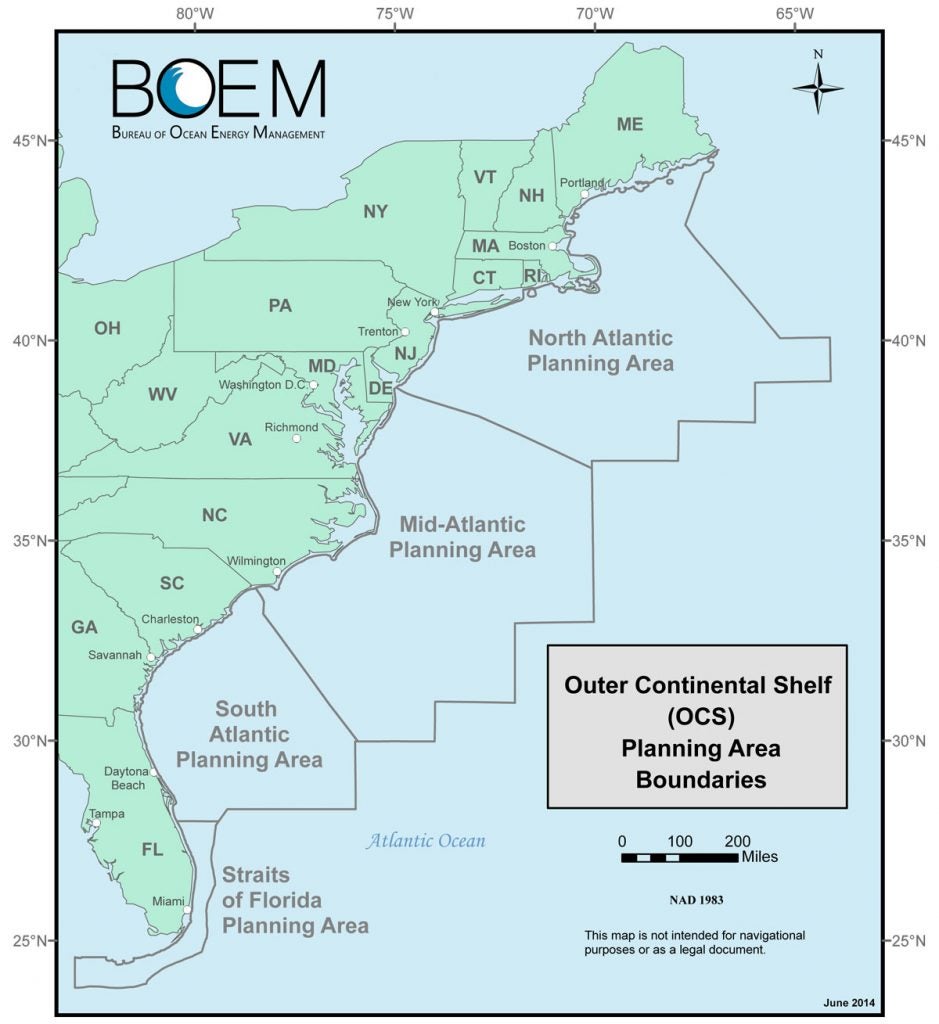 'Energy dominance'
"This is a start at looking at energy dominance,'' Zinke said during a teleconference call with the media. "The important thing is we strike the right balance to protect our coasts and people while powering America and achieving American energy dominance.''
Sen. Cory Booker, the Democrat from New Jersey, condemned the proposal. "The Trump administration has proven that they are willing to put oil company profits ahead of the safety of our coastal communities,'' he said. "We know full well the potentially devastating impact drilling in the Atlantic could have on the Jersey Shore and the entire East Coast.''
"Too much is at stake to risk our ocean's health,'' agreed Tim Dillingham, executive director of the American Littoral Society. He noted the drilling plan comes on the heels of a separate proposal to repeal offshore-drilling safety regulations that were put in place after the 2010 Deepwater Horizon oil rig disaster.
The decision to roll back those rules indicates that only lip service will be paid to environmental, economic, or human safety, Dillingham said. "Where we drill, we spill. And this administration shows little interest in requiring the oil industry to act responsibly.''
But the Institute for Energy Research applauded the move. "The United States has at its feet stores of energy resources that could potentially remake world markets,'' said Thomas Pyle, the president of the institute. "The leadership of this administration is now moving us closer than we've ever been before to realizing our enormous energy potential.''
Public comment period
The plan, however, is far from finalized. Initially there will be a 60-day public comment period. In his remarks, Zinke pledged to meet with congressional delegations, governors, and others who have concerns about drilling off their coasts.
"Interior should not be in the role of an adversary,'' he said. "It should be a partner.''
But ultimately, whatever the public input is, it is up to the secretary to decide where and how drilling goes forward, officials said. That prospect worries environmentalists.
"This is reckless,'' said Jeff Tittel, director of the New Jersey Sierra Club. "They are giving away the coastal waters to the oil and gas industry.''
In the past, Gov. Chris Christie has been a vocal opponent of offshore drilling along the Jersey coast, sending a letter to Interior this past summer opposing being included in the new five-year program.
Today, Sen. Bob Menendez, Gov.-elect Phil Murphy, and Congressman Frank Pallone plan to hold a press conference with environmental advocates to denounce the proposal in Long Branch.
NJ Spotlight, an independent online news service on issues critical to New Jersey, makes its in-depth reporting available to WHYY.