Traveling abroad with kids and making memories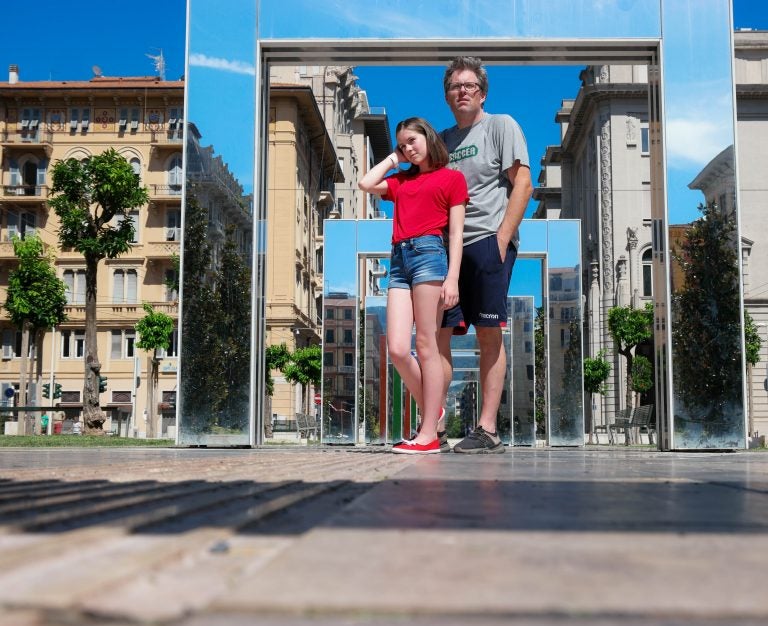 I never traveled to Europe as a kid but I remember hearing that 'only American tourists walked around in shorts'. I had no idea if this was actually true, but it stuck like peanut butter on white bread.
As an adult who's now been to Europe a fair bit, I'm still self-conscious about blending in by trying to look the part. In short: no shorts! But hot damn, it was 87 degrees already at 10 A.M. and beads of sweat began to form before we were even past the security checkpoint in La Spezia, Italy on the day the Symphony of the Seas came a calling. Sure, straight leg blue jeans, a smart button up shirt, and my hip cordovan boots would've looked cool and vaguely European (that's truly the best I can do), but a performance t-shirt and my favorite Italian football club gym shorts were the right choice to keep me cool as we walked nearly 7 miles in 3 hours.
As we stepped off Royal Caribbean's newest and largest vessel, back onto Italian soil for the 5th time this year and, ridiculously I admit, the 11th or 12th time in the past 30 months, I turned to my 14-year-old, waved my right arm out in front of us like I was showcasing an exciting range of new products on an imaginary shelf, and asked, "does this — being in Europe, in Italy — does it even faze you anymore?"
She laughed and said, "nah, not really".
I wasn't upset at her blunt honesty. Quite the opposite, actually. She has never 'belonged to me' — that's a exaggerated way to frame our dad & daughter relationship — but I realized then and there that I have successfully handed over my oldest child to the world.
When my teen arrives in Europe now, whether by ship, plane, or train, she saunters right past the postcards, gaudy magnets, and the tourist tchotchke to seek out funky neighborhood shops for local clothes and authentic food. She swiftly blends in with the natives, without a lick of fuss or fanfare.
When my wife and I first became parents and decided we would invest in childhood by pouring disposable income into experiences instead of accumulating stuff and, controversial in some circles, in place of saving for college, we dreamed of this day. Where some parents might choose to see a young person who is no longer wide eyed upon reaching a foreign destination as being a spoiled kid or a brat who is taking something special for granted, I see a young adult who simply belongs here — wherever here happens to be.
Those 7-days in Europe this summer on the Royal Caribbean Symphony of the Seas was our 7th cruise in the last three years, but cruising initially seemed antithetical to our way of travel. I stubbornly resisted vacations at sea because we prefer assimilating over swooping in. Those cruises though have helped us reach this point quicker than we could have ever imagined.
They made it easy to access and experience many different countries and cultures, and we have been able to employ our style of travel too once in port thanks to rental cars, commuter ferries, and, as in warm & wonderful La Spezia, our own two feet!
Whether it's beautiful Bonaire on the edge of South America, the tantalizing ruins of Turkey, the tasty food in Greece, or acting as gateway to huge swaths of Umbria, Tuscany and the islands of Italy, cruising has ushered in not only boatloads of experiential learning but unforgettable memories. Pretty soon, my oldest daughter who, in a few years' time, will likely be off exploring the world on her own, alongside her sister, or with passport-wielding friends who are equally unbound by a home zip code.
On that day in La Spezia, my worldly teenager found a couple of boutique shops and scored some end of season deals on clothes she could be fairly certain no one else will be wearing back on home turf; a shirt and shorts she'd put on two days later, for a stroll around an equally toasty Naples, Italy. And she didn't care one lick about what American tourists do or do not wear in Europe.
WHYY is your source for fact-based, in-depth journalism and information. As a nonprofit organization, we rely on financial support from readers like you. Please give today.