Snowy family fun just a few hours from Philly's disappointing winter weather
During a season offering very little opportunity for snowy fun in the region, look to the north for all many of wintry outdoor activities.
This season has been more slush than snow, more wind tunnel than winter wonderland. It's been a slew of school closings and two-hour delays — minus the joy of sledding and snowball fights. With spring right around the corner — as evidenced by the Phillies playing in Clearwater — the opportunities for wintry fun are dwindling.
But there's still time to pile the kids into the family car and head north for a last-gasp winter escape to play in a few feet of fluffy snow.
Stowe, Vermont
Take a scenic seven-hour drive from Center City — counting down from Interstates 95 to 91 to 89 — and you'll find the iconic New England ski town of Stowe. But skiing is far from the only thing on offer. The lower village is lined with Alps-inspired lodging choices; restaurants such as The Green Goddess Café serving up delicious fare; and a Umiak outdoor adventure center for all your snowmobiling, snow shoeing, dog sledding, and fat-bike tour needs.
Pro tip: Behind Stowe Elementary School is a sizable hill perfect for epic sledding that won't cost you a penny. So throw your best sled in the truck or buy a cheap one at a hardware store on the drive up — as my tween and I did last weekend — and sled for hours for free.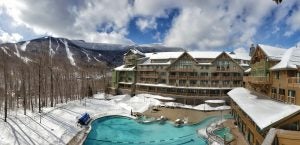 Continue up the appropriately named Mountain Road a few miles more, and you will reach the crown jewel of Vermont vacation life — the Lodge at Spruce Peak.  This five-star mountain resort offers ski and snowboard in-and-out access. A massive heated outdoor pool, complete with a pair of hot tubs, awaits — and a lazy river starts and ends indoors, allowing you to ease your way into or out of the potent blend of steamy water and frigid air. Steps from the stunning lobby is Stowe's upper village with options for shopping, dining, and idyllic outdoor ice skating beneath twinkle lights at the foot of the slopes. Pack your camera and your youthful exuberance.
One more thing:  It may be tempting, but — unless you have a GMC engineer and a fleet of Sierra AT4 trucks at the ready — be sure not to drive down a snow-covered side road in a foolish attempt to photograph a covered bridge in a winter storm. (My daughter and I may or may not have personal and rather embarrassing experience in this regard.)
Mont-Tremblant, Quebec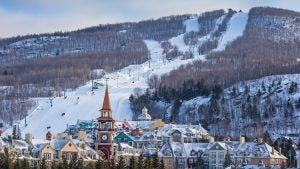 You'll need passports and a few more hours of driving stamina for this next winter escape. If you meet those requirements, enjoy une journée froide et neigeuse in this French-speaking snowy paradise.  My good friend Jason Greene of the One Good Dad travel blog makes an annual trip to Mont-Tremblant to take his kids skiing. One look at a Google image search for this winter-escape destination nine hours north of Philly will make it obvious why: Mont-Tremblant is drop-dead gorgeous. Much like Stowe, it offers world-renowned skiing, dog sledding, snowmobiling, ice fishing, and a photogenic village. But in Mont-Tremblant, you can also practice your French. Say "un croissant et un café s'il vous plaît" every morning to get a Francophile's favorite breakfast. That in and of itself is worth the drive.
Lake Placid, New York
The site of the 1980 Winter Olympic is a timeless winter escape destination, and at less than six hours away from Philadelphia, an easily reachable one too.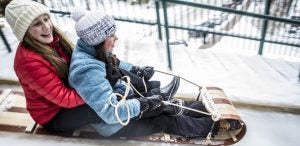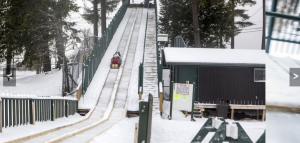 Whether you want to shout "Do You Believe In Miracles!?" on the very place a hockey miracle happened on ice nearly 40 years ago or simply want to toast s'mores with your family as snowflakes fall after a day of riding in a real bobsled, ice skating on the Olympic oval, and watching athletes train on the ski jumps, Lake Placid is a dream destination for a last gasp winter escape from Philly. While there are several spots for free sledding, you absolutely need to check out the Lake Placid toboggan chute for a once in a lifetime chance to ride down a 30-foot converted ski jump to glide more than 1,000 feet out onto the frozen Mirror Lake in a real wooden toboggan!
WHYY is your source for fact-based, in-depth journalism and information. As a nonprofit organization, we rely on financial support from readers like you. Please give today.