Transit agencies: Plenty of papal passes still available
Catholic masses end with the priest exhorting the parishioners: "Go in peace."
Pilgrims looking to make it into Philadelphia for the Papal visit September 26th and 27th should heed that advice with just a slight twist: Go on a Peace Train.
At least that's the advice of transportation officials at SEPTA, PATCO, NJ Transit and Amtrak. All four of those passenger rail lines have told PlanPhilly that plenty of their papal passes, pontiff tickets, and fares for Francis remain.
The low demand so far comes as a surprise as the region prepares for an estimated 1.5 to 2 million visitors to flood the Ben Franklin Parkway on Sunday, September 27th. Reports of the crowds, street closures and temporary fences have been the genesis of an expected exodus of Philly residents.
When SEPTA first attempted to sell its special $10 regional rail day passes, the transit authority's website crashed. SEPTA then turned to an online lottery, expecting demand to far outstrip supply. But after the lottery ended, more than 100,000 passes remained unsold.
So, beginning Friday, SEPTA will offer in-person sales at specific stations for the remaining tickets. Individuals can buy up to 10 passes for each day. Those interested in bulk passes can email papalbulkpasses@septa.org. SEPTA spokeswoman Jerri Williams told PlanPhilly that church groups and hotels have been interested in buying large numbers of the passes.
Passengers with mobility issues should note that not every regional rail station is wheelchair accessible. To check accessibility, look at the chart available here.
Not every regional rail station has a ticket office, so passes for some of the 18 stations that will be open that weekend must be purchased at a different station.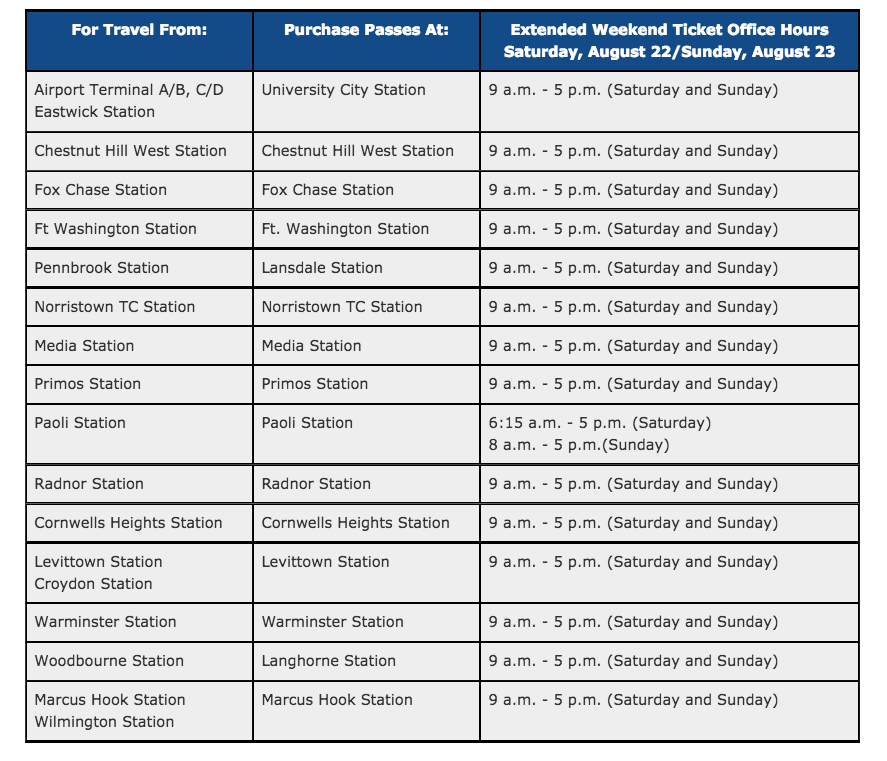 SEPTA also held a lottery for its special 3 day passes for Trolley Routes 101/102 and the Norristown High Speed Line. Like the regional rail lotto, thousands of those passes remain unsold. SEPTA has not yet decided whether they will pot those passes on sale, but they expect to announce a decision next week.
Regular fare instruments will not be valid on SEPTA's regional rail, NHSL and 101 and 102 trollies during the papal visit weekend.
However, tokens and regular passes will still work on SEPTA's buses, subways and city trolley lines. The subway stations will not accept cash. SEPTA has a $10 weekend pass available for city transit operations as well.
SEPTA will announce further plans about its bus routes next week, including which routes will be suspended or truncated for the weekend.
Williams urged pilgrims to use SEPTA that weekend, saying "we're going to get you the closest. If you use any other mode of transportation, you won't be let in the traffic box."
Her colleagues over at PATCO would probably disagree, as their 9th/10th and Locust Street station will be open and will see trains dropping off passengers every 4 minutes that weekend. PATCO riders will be able to use their existing FREEDOM Cards to use the trains, or a special one or two day passes costing $5 and $10 respectively.
Around 10,000 of the 75,000 special passes have been sold so far, said PATCO spokesman Kyle Anderson.
"A lot of attention has been focused on the walk across the Ben Franklin Bridge," said Anderson, referring to the announcement that the bridge would be closed to vehicular traffic with three lanes dedicated to pedestrians.
PATCO is running express trains to Philadelphia from four stations that weekend: Broadway, Ferry Avenue, Woodcrest and Lindenwold. Broadway is in the Walter Rand Transportation Center, where NJ Transit buses and the River LINE will drop off passengers that weekend. It's approximately a half mile from the Ben Franklin Bridge.
All PATCO stations open for the papal visit are wheelchair accessible.
Amtrak has seen some of its Keystone Service trains, which run between Harrisburg and Philadelphia, sell out already, said spokesman Craig Schulz. But seats remain available on that line and on the Northeast Corridor trains. Amtrak expects to announce additional services on the Northeast Corridor for the papal visit by Monday, if not sooner.
NJ Transit has sold just 700 of the 4,140 tickets it has available that weekend for its Atlantic City line. The AC line will run an express service hourly over the weekend from the Atlantic City station to 30th Street Station. Tickets are $30.
All of the agencies stressed that passengers planning to take their trains should purchase soon, as they all still expect to sell out. For SEPTA, NJ Transit and PATCO, day of sales will be unavailable.