Top city official slams Trump's infrastructure proposal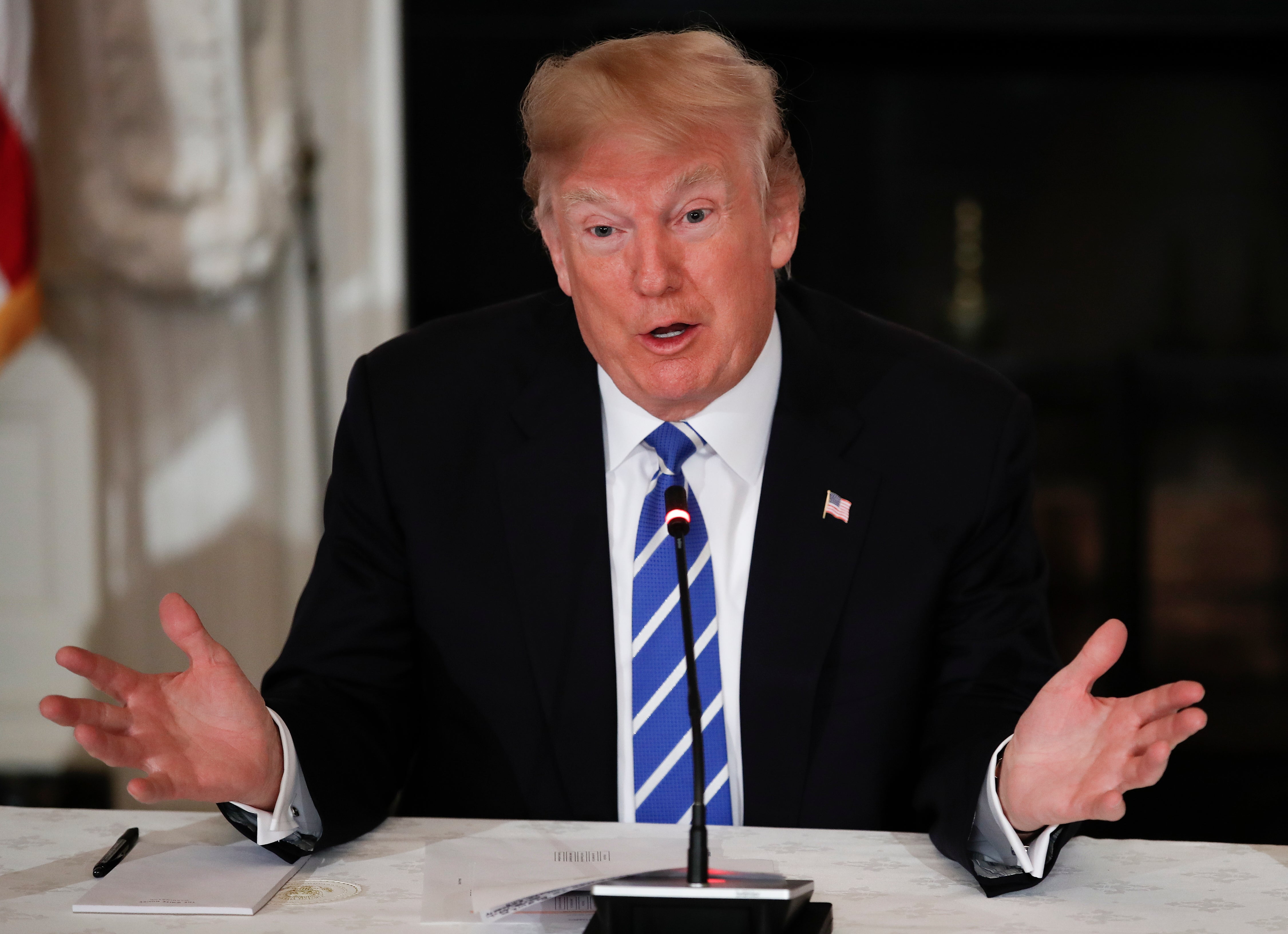 Philadelphia officials are adding their voices to a bipartisan chorus of vexed state and city officials across the nation lambasting President Donald J. Trump's $200 billion infrastructure spending proposal.
"We hold hope for a significantly stronger commitment as this moves toward becoming law, but in its current state this plan signals apathy towards urban infrastructure to the point of negligence," wrote Deputy Managing Director Mike Carroll in an email.
Trump says the plan will leverage an additional $1.3 trillion in state, local, and private investment, but experts say is little more than a legislative Big Dig — a loud, confusing mess. "It's just bizarre. It's a complete alternative reality," says Gilles Duranton, chair of the real estate department at the University of Pennsylvania's Wharton School. "These are just numbers that are being pulled out of thin air."
Besides naming post offices, infrastructure spending has been the only issue of apparent agreement between America's two political parties over the last few years. Everyone seems to agree that the country needs to spend more on highways, train tracks, and sewer pipes. And yet, actually doing anything about it remains a bridge too far.
Trump's proposal calls for a $100 billion "Incentives Program" — new federal grants to states and localities requiring an 80 percent match, meaning a project with a $10 million price tag would be eligible for a max of $2 million in federal funds and the rest would have to come from elsewhere. That would invert the current funding formula for most highway projects, where the federal government provides 80 percent of the money and requires 20 percent in matching funds. Officials in the region have expressed concerns that any reductions in federal support could delay or otherwise imperil planned repairs to I-95 and other highways in the Philly area. The proposal also calls for increased fees and privatization — the specter of which has raised concerns locally about new tolls on I-95.That too comes with political costs for local elected officials.
"No governor is going to be reelected ever by suddenly imposing $500 worth of tolls to all households for every year," said Duranton.
The proposal also would provide $50 billion in block grants for rural infrastructure projects, $20 billion for "transformative" projects advancing new technologies, $20 billion to expand low-cost federal loans like private activity bonds, and $10 billion to fix up federally-owned infrastructure. To reign in costs, Trump proposes speeding up the lengthy environmental review process required for federally-funded construction projects, calling for reviews to be led by just one federal agency (instead of every agency with jurisdiction having a say) and requiring them to finish within 21 months.
Last year, Philadelphia experienced the kind of logjam that Trump wants to prevent when plans to replace a long-abandoned, rusted swing bridge and further extend the popular Schuylkill River Trail became mired in lengthy environmental and historic reviews. The two processes slowed progress down enough to raise a risk of losing federal grant dollars that had to be spent within two years of their award.
But the devil is in the details. Before environmental impact reviews, states and localities had few tools to challenge federal projects, and citizens were virtually shut out of the decision-making process, leading to projects that rammed highways through neighborhoods and imposed all kinds of other undesirable impacts on communities."We need to remember that those regulations are here for a reason, i.e., trying to avoid really stupid things," said Duranton.
On Monday, the White House released its federal budget proposal for the 2019 fiscal year, which included $3.7 billion cut to the Department of Transportation's annual budget. Some of those cuts would ostensibly go to cover the proposed $20-billion-year-over-10-years in new spending.
Like Trump's previous budget proposals, the 2019 wish list calls for the elimination of the TIGER grant program and the Federal Transit Administration's Capital Investment Grant program (aka "New Starts"). Those cuts would derail the region's forward momentum on modernizing its aging transit systems. Over the past few year, Philadelphia has won sizable chunks of the $500 million-a-year TIGER program, and SEPTA is relying heavily on New Starts funds to cover half of the construction costs for expanding the Norristown High Speed Line to King of Prussia. The budget also calls for states to cover a larger share of the government operating subsidies that go to Amtrak's longer lines, like the Northeast Corridor, which runs between DC and Boston through Philadelphia.
Those cuts to the DOT budget would grow over time, per Trump's proposal, to total $178 billion over ten years. Combined with the infrastructure bill, Trump proposes a gross infrastructure funding increase of $22 billion over ten years. But that hike in spending seems like a cash injection on paper only to many experts, including Duranton.
"If you're a state and so far you've been paying 20 percent and the federal government has been paying 80 percent [and] now it will be the opposite… what do you think those guys are going to do?" Duranton said. "They are going to sit on their hands and say, 'well, at some point, things will change again…Lots of states are already balking at doing stuff, even with an 80 percent subsidy."
Nor does Duranton expect states and localities, which, unlike the federal government, cannot engage in deficit spending and must pass balanced budgets, to suddenly increase taxes to raise the funds needed for the relatively paltry federal match.
"On top of that, 1.5 trillion, if you try to annualize that at 5 percent a year, that's about $500 per U.S. household," he said. "That could come as extra state tax, but I don't think states are willing to do that."
WHYY is your source for fact-based, in-depth journalism and information. As a nonprofit organization, we rely on financial support from readers like you. Please give today.