This week: Baltimore Ave Dollar Stroll, Victorian architecture walking tour, 2015 planning law update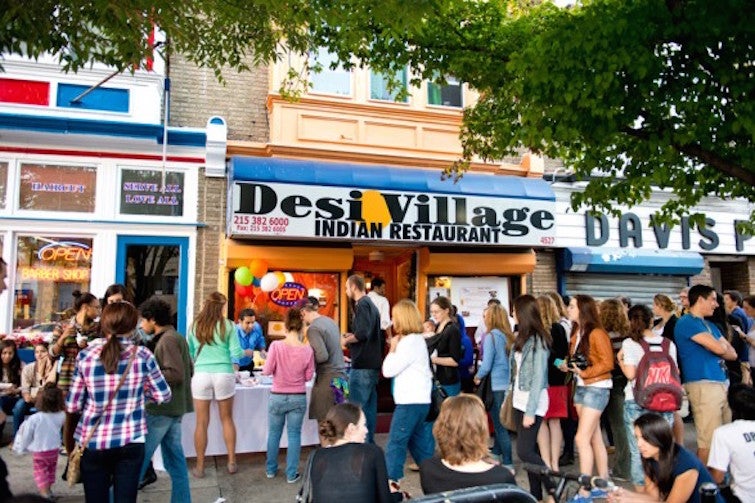 Each week the PlanPhilly staff curates our top picks of the week's most informative, entertaining, and important events from our events page. Sign up here to get our events email in your inbox every Monday morning. If you're hosting an event, submit it here and we'll consider including it in our weekly email.
Monday 6/22
7:00 pm: SOSNA Dines Out benefit at the Gray's Ferry Triangle pedestrian plaza, with food and drinks from nearby restaurants. $35.
Wednesday 6/24
3:30 pm: Learn about how 2015's court decisions will impact planning law from DVRPC. Free, registration required.
6:00 pm: Southeast neighbors happy hour at the PHS pop-up on Passyunk Ave, with members of southeast civics. Free.
6:00 pm: A walking tour of Victorian architecture west of Broad Street by the Preservation Alliance. $10-15.
Thursday 6/25
12:00 pm: Meet "the most advanced measure of sustainability in the built environment possible today" with the Living Building Challenge. $5.
5:30 pm: The Baltimore Avenue Dollar Stroll. $1 per thing!
All day: Check out some seriously tall ships and a comically large rubber duck on the Delaware. $16-150.
Saturday 6/27
1:00 pm: A commercial corridor tour of Manayunk hosted by Young Involved Philadelphia. $10.
2:00 pm: An architectural walking tour of Chestnut Hill with the Preservation Alliance. $10-15.
Sunday 6/28
2:00 pm: An architectural walking tour of Spruce Hill Victoriana. $10-15.