The Walnut's engrossing 'Curious Incident of the Dog in the Night-time'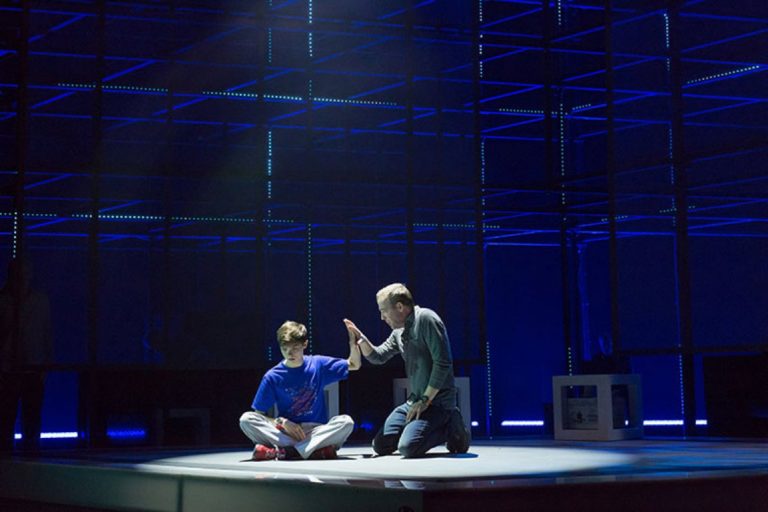 The inventive "The Curious Incident of the Dog in the Night-time" – unusual in the way it tells its story through characters, design, and even actors playing inanimate objects – is getting a smooth ride in a Walnut Street Theatre production that makes the play its own.
That's no simple task. On Broadway, where it won the 2015 Best Play Tony Award, "Curious Incident" was a dazzling piece of movement theater over two full acts. The staging was indelible. The show, about a teenage math whiz with autism suspected of killing his neighbor's dog, upended the way some people thought about theater – it seemed more like a boundary-stretcher in a Fringe Festival than it did a Broadway show (or before that, a hit in London's West End).
What do you do with a play like that, whose original production sits solidly in its own niche? Bill Van Horn, usually found in the director's seat of a Walnut musical, takes the play and runs with it his own way. The movement is more subtle; the tension depends more on the script than the staging. The acting is accomplished. And in the end, the story speaks eloquently for itself.
I don't mean to imply that the Walnut's "Curious Incident" is some scaled-down version of the play. It's also enhanced by Ryan O'Gara's striking blue-lit molding over a simple stage setting (by Roman Tatarowicz) and many projection designs by Christopher Ash that illuminate the internal thoughts and fears of the play's main character, Christopher.
Christopher's mom is gone. He lives with his dad and attends a school whose special — education resources shine if his teacher (Alicia Roper, who invests the character with credibility and smarts) is any example. Christopher's autism sets him apart socially – it's a condition never really defined in the show except through the spot-on mannerisms of the terrific young actor who plays him, Austin Nedrow. But everyone recognizes that when Christopher loses himself in science, and especially in numbers, he may be a genius.
Simon Stephens adopted the play from the popular novel by Mark Haddon, in which Christopher, falsely accused of stabbing a neighbor's dog to death with a pitchfork, naively commands himself to find the murderer. This takes him, wildly, out of his comfort zone and into a world he's always been protected from confronting.
The production's cast  — it includes two locally based, real-life couples: Ian Merrill Peakes as Christopher's dad and Karen Peakes as his mom; and Susan Riley Stevens and Greg Wood in a total of 11 roles — form a community of neighbors and strangers. Others taking many different roles, fleeting passers-by or minor characters who appear for only a few minutes, include Jane Ridley, Sarah Gliko, Dan Hodge, and Justin Lujan.
When they're not interacting with Christopher, they watch him carefully behind the stage set's glass walls, like guardian angels. They are the loosely constructed village it takes to raise this child.
—
"The Curious Incident of the Dog in the Night-time" runs through April 28 on the main stage of Walnut Street Theatre, on Walnut Street between Eighth and Ninth streets. Tickets: 215-574-3550 or walnutstreettheatre.org