The quest to designate Chestnut Street "commercial architecture"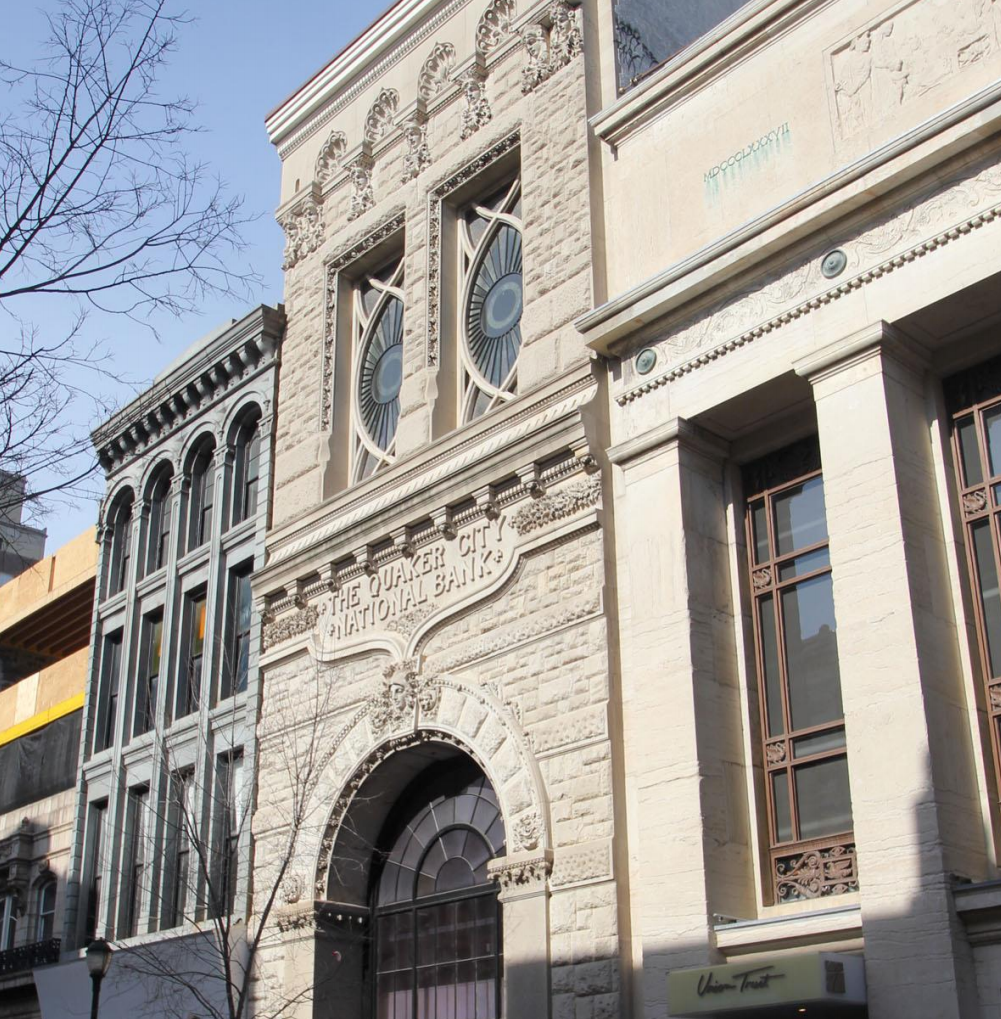 Update: The Designation Committee recommended approval for all of PAGP's nominations, including the 700 block of Chestnut St parcels; the Carnegie Branch Libraries at 3948-50 Walnut St., 8711 Germantown Ave. and 601 W. Lehigh Ave. 365 Green Lane, a nomination submitted by John Manton in Manayunk, was also recommended for approval.
For his swan song as Director of Advocacy for the Preservation Alliance of Greater Philadelphia, Ben Leech will appear before the Historical Commission's Committee on Designation Thursday to nominate four significant and storied buildings in the 700 block of Chestnut Street.
According to an Alliance survey, only the Paul Cret bank at 719 Chestnut is currently designated. Interestingly, the other three candidates on the north side of the block (721, 723, and 725) are all surviving remnants of larger buildings. Both 721 and 723 were once sections of larger three-part commercial blocks, and 725 used to be six stories before getting chopped down to two in the 1930s (and is now getting a new multi-floor addition).
"The row has always reminded me of the old Dadaist 'exquisite corpse' parlor game," Leech said. "I personally think this makes the block fascinating as an example of the evolution of commercial architecture over time. I'm curious whether the Commission will question the 'integrity' of the surviving pieces. So far, we're not anticipating any owner objections, but there are always surprises …"
The nominated properties have been on the Alliance's back-burner for years, although the organization has always recognized the 700 block as an exceptional collection of smaller-scale nineteenth- and early twentieth-century commercial buildings.
"Though the entire block could really be a small historic district (maybe including Jewelers Row immediately to the south), we recognized the current inertia of district designations and decided to pursue individual nominations for a handful of stand-out buildings," Leech said. "Also worth noting that one of these (721) was submitted by the Young Friends of the Preservation Alliance— the first of what I hope are many more to come."
The block also has development potential. A partnership involving Parkway Corporation, the parking-garage company run by Joseph and Robert Zuritsky, is planning to replace a surface parking lot at 7th and Chestnut streets with a 32-story apartment tower, thePhiladelphia Business Journal reported this morning. The plans for 709 Chestnut Street—which a Parkway affiliate purchased for $3 in 2012, according to city records—call for 304 apartments and an automated parking garage for 125 cars.
Leech has been stewarding the Alliance's Advocacy cases for five years. He is expecting staff recommendations for approval of all of Thursday's Chestnut Street nominations. His successor, Patrick Grossi, has been on the job three days and will also attend the meeting.
"Ben has been a tremendous asset to the organization and to the Greater Philadelphia area," said Preservation Alliance for Greater Philadelphia Executive Director Caroline Boyce. "He has represented preservation interests before the Philadelphia Historic Commission, nominated or assisted with the nomination of many buildings in Philadelphia to the Philadelphia Register of Historic Places, provided direct assistance to countless property owners and neighborhood organizations, been a resource to elected officials and public policy makers, and contributed to the body of knowledge of Philadelphia's historic buildings through research and mapping. He will be missed greatly by the Alliance."
Details of the nominated properties are assembled below.
723 Chestnut Street
Period of Significance (from year to year): c.1855-1965
Date(s) of construction and/or alteration: c.1855; 1965; 2004
Architect, engineer, and/or designer: Stephen Decatur Button (attributed)
725 Chestnut Street
Period of Significance (from year to year): c.1855-1935
Date(s) of construction and/or alteration: c.1855; 1903; 1935
Architect, engineer, and/or designer: Stephen Button (attributed); Chester H. Kirk; Karl F. Otto
722 Chestnut Street
Period of Significance (from year to year): 1897- c.1960
Date(s) of construction and/or alteration: 1897; c.1960
Architect, engineer, and/or designer: Collins & Autenrieth
Original owner: Henry Charles Lea
721 Chestnut Street
Period of Significance (from year to year): from 1889 to 1923
Date(s) of construction and/or alteration: 1889, altered in 1923
Architect, engineer, and/or designer: Willis G. Hale; Paul Cret (alterations)
Original owner: Chestnut Street National Bank
Other significant persons: William M. Singerly, Developer