Advocates rally for Boyd Theatre reuse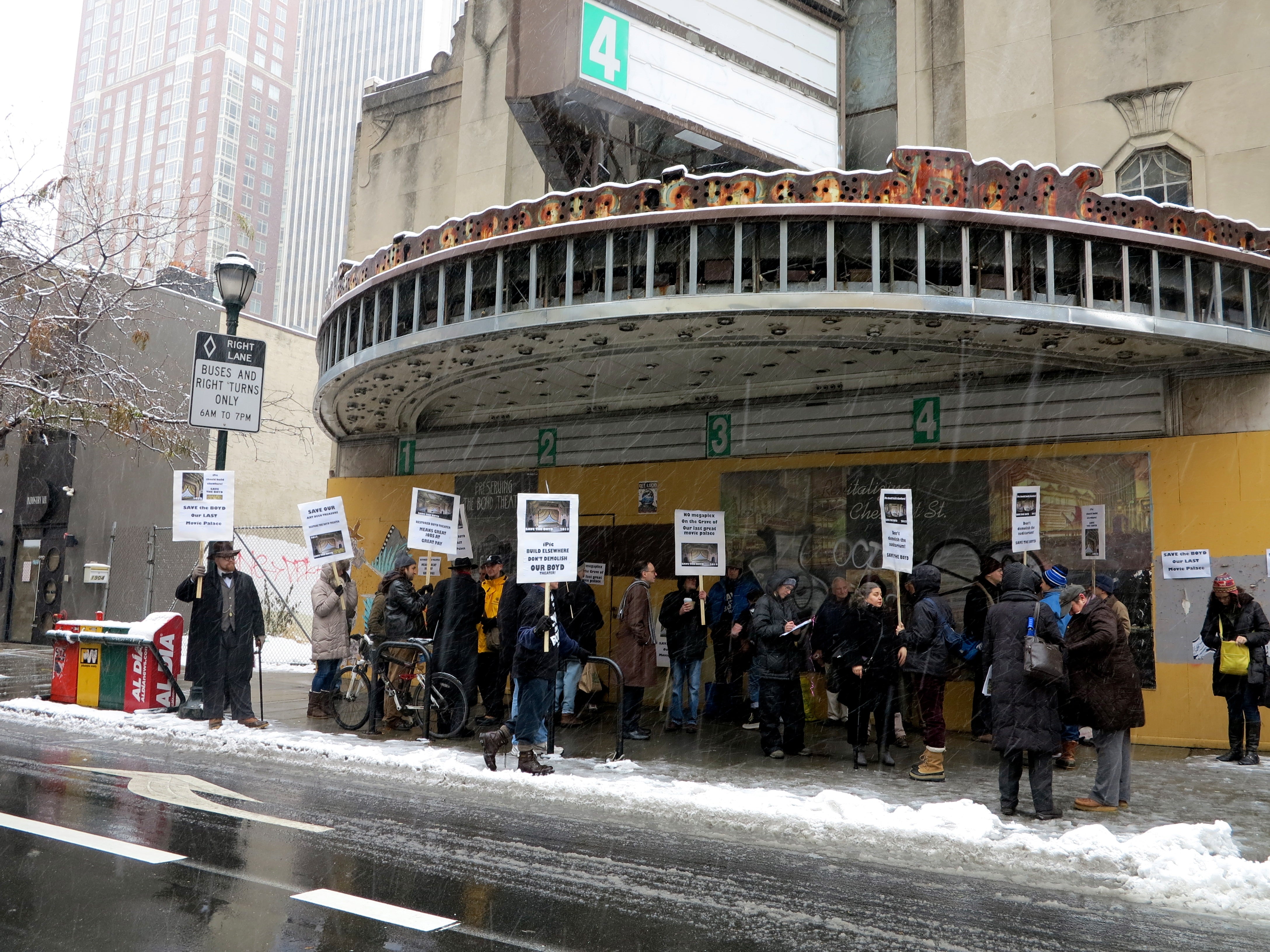 As snow fell Tuesday, about 35 hardy souls rallied under the Boyd Theatre's canopy to protest the historic theater's possible demolition, dutifully holding signs and sporting "Save the Boyd" t-shirts over winter gear.
The Boyd Theatre, a vacant but stunning 1928 Art Deco movie palace, leads the Preservation Alliance for Greater Philadelphia's Eleventh Annual Endangered Properties List, officially released at the rally today. As PlanPhilly reported last month, plans to demolish all but the Boyd's façade are being floated so that iPic Entertainment can build eight small but luxe movie theaters. That development will require a hardship finding from the Philaldelphia Historical Commission because the theater is listed in the Philadelphia Register of Historic Places.
The Historical Commission's hardship committee has postponed the hardship proceeding for the Boyd, originally scheduled for next week, to a later date. The Preservation Alliance's advocacy director, Ben Leech said that the independent consultant reviewing the hardship application "needed more time, possibly more information."
"I think they had legitimate concerns that the application didn't have enough information in it to judge the merits of the claim," Leech said. "The letter of the law and the spirit of the law for hardship is a demonstration that there is no possible reuse for this building. Just because they can't fit iPic's eight-screen business model here doesn't mean that there's no other use. And to be honest it hasn't been on the market for very long."
Both of those points are key to a hardship finding: Owners must demonstrate that there is no viable future use of the property and there must be a good faith effort to sell the property.
The adaptive reuse evaluation performed by EConsult for iPic was very narrowly defined. It only considered the possibilities of reusing the Boyd a single-screen movie theater, a live music venue, or an off-Broadway theater. And even though theaters are notoriously difficult to reuse, there has been no study as to whether or not there could be some adaptation of the Boyd to would enable a multiple screen movie theater or some sort of retail use.
"It's so stunning inside, it's worth thinking creatively," Leech said, pointing to examples like the mansion at 18th and Walnut that was reused by Anthropologie and the Limelight Marketplace built into a former church in Manhattan. In both examples historic buildings were treated as beautiful shells, and new construction inside inserted different floor plans and circulation patterns to suit retail uses. That sort of approach could work at the Boyd, showcasing its deco ornamentation, but no one has really tested that idea.
"We would be willing to consider a whole host of options," said Caroline Boyce, executive director of the Preservation Alliance, provided that any interventions to the theater are sensitively done and reversible.
"One way that Friends of the Boyd and the Alliance are going to part probably in the future is about what an appropriate use is going to be," said Leech.
For Howard B. Haas, president of Friends of the Boyd, the priority is to let the Boyd relive its glory days as a true movie palace.
"Our goal is to get it restored and reopened," Haas said. He points to examples of elaborate, historic movie theatres in other big cities, like Boston and Baltimore, that were closed for 25 years and now are vital parts of their city's arts economy. Plus, he notes, there have been several plans for the Boyd in the last 10 years, so it's not like there is a lack of interest. The key might be finding the right partner.
In other cities big media companies have taken on huge theater restoration projects, such as Cablevision's preservation of Radio City Music Hall and the Beacon Theater in New York City. When asked if any of Philly-based companies, like Comcast, had been approached about restoring the Boyd, Haas was reluctant to answer.
"We would love to get Comcast involved," he said. But when pressed if Comcast was actually being courted, Haas hesitated and said, "I'm not going to answer that." Why? "Because you already figured that out."
For now, however, advocates are focusing on dealing with the proposal at hand. And the next stop will likely be a hardship hearing in January.
"Nobody is going to step forward and appear to interfere with this current proposal. We're pretty confident if iPic walked away there would be interest," said Leech.
(Ashley Hahn, EOTS)

(Ashley Hahn, EOTS)

(Ashley Hahn, EOTS)