Task force focuses first on state of preservation in Philly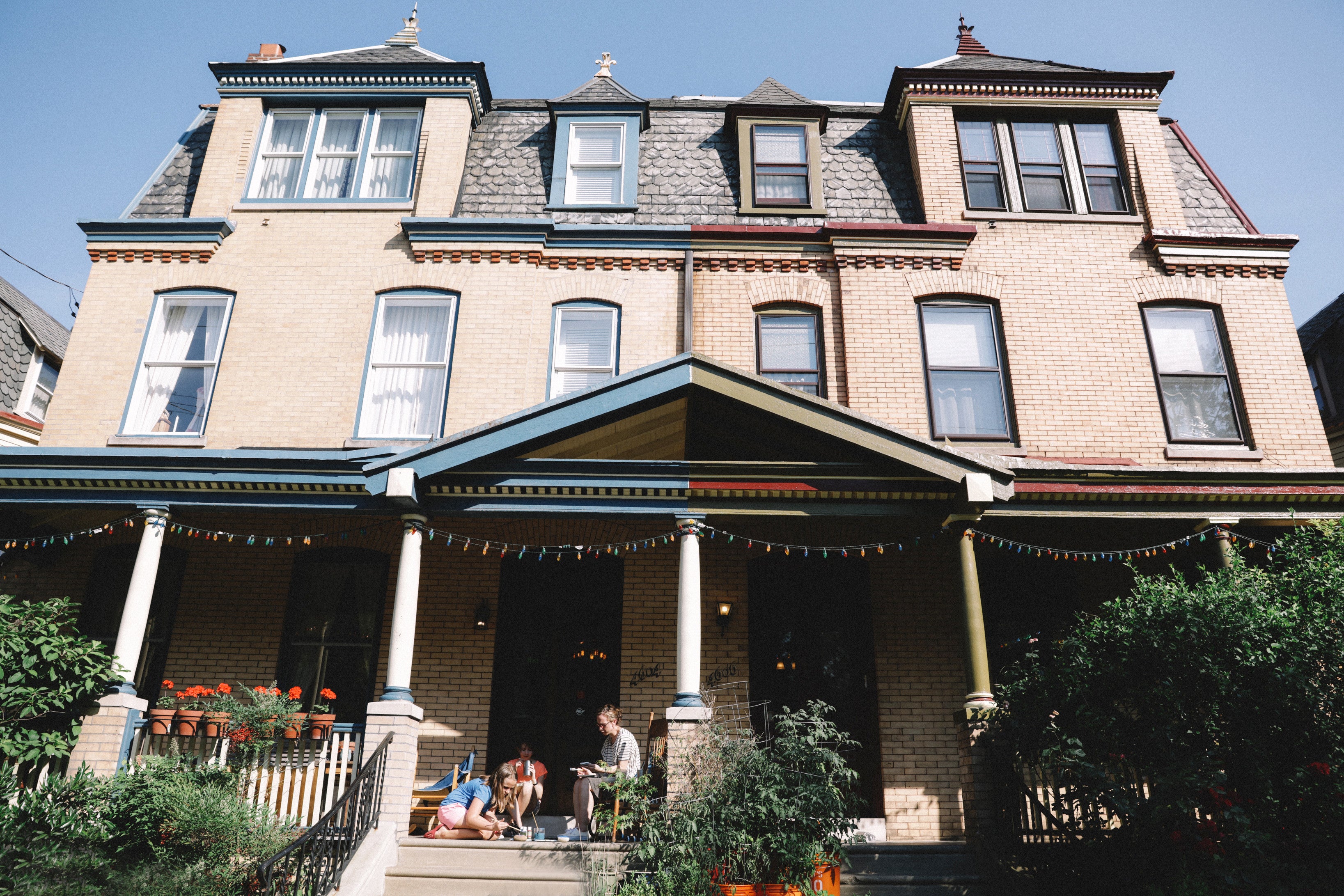 Philadelphia created the Historic Preservation Task Force in April with a lofty charge: Think creatively about ways historic preservation can be a meaningful partner in the city's growth. But its 18-month tenure has begun with a very grounded phase of reflection and foundational research about the current state of historic preservation in Philadelphia.
If its initial meeting in July was an exercise in self-definition, its second, held Thursday, found the task force looking outward by hearing three perspectives — city government, local advocates, plus a national viewpoint — on Philadelphia's preservation climate, which will also be the subject of its first report, due out in December.
The future begins in the past.
Philadelphia preservation begins in a policy sense in 1955 with the city's historic preservation ordinance (rewritten in 1984), explained Jon Farnham, executive director of the Philadelphia Historical Commission, later bolstered at the federal level by the 1966 National Historic Preservation Act, and the 1971 Environmental Rights Amendment in Pennsylvania's constitution.
Farnham outlined the Historical Commission's powers, explaining how sites are designated as historic and regulated, and sharing some of its biggest challenges. Chief among the latter has been staff capacity, though this year's budget enabled the commission to finally hire additional staff.
Last year, commission staff reviewed more than 2,000 applications for the first time, thanks to the city's ongoing building boom and an uptick in designations that happened largely in the late 1990s and early 2000s. Owners of buildings designated on the local historic register must seek the commission's approval before making changes to the structure. Commission staff approves more than 90% of applications submitted, Farnham said, but the more properties that are nominated, the more permits the staff will need to review. And there are more applications being generated per property, Farnham said, meaning the permit review duties have consumed the majority of staff time, which has led to a move away from focusing on designation.
There are nearly 12,000 properties listed in the Philadelphia Register of Historic Places, and though the approval of new historic districts — a collection of historic resources typically unified by geography, like Old City or Society Hill, where preservation protections are placed on properties located within its boundaries — has slowed, there are five pending which would encompass roughly 2,000 additional properties.
Farnham also identified several challenges familiar to those in preservation circles: the limitations of a strict ordinance, which can hamstring creative approaches to preservation; the lack of a comprehensive survey of the city's historic resources; the demolition of undesignated but historic properties; limited mechanisms to protect archaeological resources; and too few preservation incentives.
Next, James Lindberg, vice president for research and policy at the National Trust for Historic Preservation, shared an overview of two recent Trust reports, showing how Philadelphia compares to its peer cities on preservation. Its 2016 Atlas of ReUrbanism, a 50-city parcel-level study, revealed that Philly's built environment is denser and older than most.
Philadelphia has the third most total buildings (behind New York City and Los Angeles), the second most constructed before 1945 (after New York), and the highest number of building parcels per square mile. Despite this wealth of historic assets, Philadelphia has a lower than average amount of its buildings designated. Just 2.2 percent are locally designated as historic, compared to the 50-city average of 4.3 percent, while 4.2 percent of Philly's buildings are listed in the National Register of Historic Places, compared to a 6.8 percent average. Local designation means stronger protections from insensitive alterations or demolition, listing in the national register makes certain properties eligible for preservation tax credits.
Retrofitting Philadelphia, co-published in 2014 by the National Trust and Urban Land Institute, offered several recommendations for encouraging reuse of older buildings, which can help align developers' narrow economic incentives with the city's broader preservation goals. Among those Lindberg recounted: extending and targeting the existing 10-year property tax abatement, creating a revolving loan fund to help finance preservation projects, and creating "innovation zones" for adaptive reuse.
Finally, the Preservation Alliance for Greater Philadelphia's Patrick Grossi shared how local advocates perceive the city's preservation climate. He shared several reuse and preservation success stories, but Grossi echoed Farnham and Lindberg in noting that too little is designated and too many historic resources of every stripe are left vulnerable.
"What we're seeing more and more throughout the city is a lot of demolition," said Grossi. With today's building boom comes a rise in demolition permits, from block-scale buildings like the former Mt. Sinai Hospital in South Philadelphia to churches scattered around the city, as well as historic housing itself.
Among the great barriers to preservation that the Preservation Alliance sees, Grossi said, is a significant public education and awareness gap about how preservation works – from how to nominate a building to the common perception of historic preservation as an infringement on private property rights. Perhaps worse, is preservation's image problem: that historic preservation is the provenance of whiter and wealthier neighborhoods. Still, he said, there are real opportunities to make preservation work better for more people, like programs to support homeowners in maintaining their homes, greater collaboration among city departments, broadening the reach of preservation to more neighborhoods, and determining alternative forms of protection for historic buildings.
TASK FORCE SUBCOMMITTEES
Surveying Historic Resources
Chairs: Randy Mason (PennDesign) / Nan Gutterman (Vitetta)

Bob Thomas (Campbell Thomas / Philadelphia Historical Commission chair)

Doug Mooney (Philadelphia Archaeological Forum)

Oscar Breisert (preservationist)

Corey Kegerise (PA Historical & Museum Commission)

Aparna Palantino (Philadelphia Parks and Recreation)
Incentivizing Preservation
Chairs: Peter Angelides (Econsult) / James Wright (People's Emergency Center CDC)

Mark Squilla (Councilman)

Shawn McCaney (William Penn Foundation)

Duane Bumb (Commerce Department)

Roland Kassis (Domani)

Cathy Califano (Department of Planning and Development)
Regulating Preservation Outcomes
Chairs: Dominique Hawkins (Preservation Design Partnership and Matt McClure (Ballard Spahr)

David Hollenberg (University of Pennsylvania)

Justino Navarro (Spring Garden)

Mike Fink (Department of Licenses & Inspections)

Leo Addimando (Building Industry Association)

Carl Dress (AIA Philadelphia Historic Preservation Committee)

Fon Wang (Chinatown)
Education and Engagement
Chairs: Laura Spina (City Planning Commission) / Trapeta Mayson (Historic Germantown)

Lou Iatarola (Tacony)

Bob Jaeger (Partnerse for Sacred Places)

Elhadji Ndiaye (Department of Housing and Community Development)

Patrick Grossi (Preservation Alliance for Greater Philadelphia)

Julia Gutstadt (Urban Land Institute)
Four task force subcommittees will begin work this month studying preservation incentives, approaches to surveying the city's historic resources, regulations for preservation outcomes, and public outreach/education. To anchor all of this work, task force chair Harris Steinberg of Drexel University offered this draft vision statement and sought input from members:
Philadelphia in 2030 has preserved the unique identity of its historic buildings, blocks and neighborhoods while embracing new investment.
Philadelphians are active protectors of their neighborhood history and cultural identity. In partnership with foundations, developers, civic leaders and government, residents identified the buildings, sites and places that are important to protect for future generations in order to tell the story of Philadelphia and its people.
The city uses regulations and incentives to protect these important places that reflects the values of its residents and results in the extraordinary layering of history that makes Philadelphia unique.
By and large, task force members felt it fell flat, wanting to see a more expansive, dynamic, and aspirational vision.
The National Trust's Seri Worden said she hoped it could aim higher and be better tailored to Philadelphia. Agreeing that parts of the vision don't exactly "lift the spirit", architect David Hollenberg noted that some of the verb tenses suggested the work is over, even though a city is not static and the goal should be about leaving the city in a better position to manage change. After a raft of similar comments, Steinberg promised a revised vision statement.
If the responses to the vision statement are any indication, task force members appear ready to put their fingerprints on Philadelphia preservation. But just how the very large task force will be able to deliberate and make decisions as such a big group remains to be seen.
Since the last meeting, the task force has also grown to more than 30 members. Two new community representatives joined the September meeting: Ballinger's Director of Historic Preservation Fon Wang, representing Chinatown, and Trapeta Mayson, director of Historic Germantown. Both are women of color, added in part because the task force's leadership recognized a lack of diversity in the group's initial composition. To that end, a few more appointees may be added, pending mayoral approval, said Cathy Califano, first deputy director of the Department of Planning & Development.
The Task Force is developing a new website, phlpreservation.org, to be a one-stop shop for the group's work and public information. (Now it just redirects to a page on the Historical Commission's site.) Additionally, the public is encouraged to ask questions and share ideas via email at Preservation@phila.gov. Steinberg stressed that meaningful civic input would help give the task force's recommendations weight.
When Wang asked, however, if fliers for the upcoming October 3 public meeting in Center City could be translated, Laura Spina of the City Planning Commission hedged. If fliers are translated, Spina said, that implies the promise of translators at the meeting, for which the budget does not provide at this time.
The first public participation meeting will be held October 3, 6:30-8 p.m. at the Independence Visitors Center. The next meeting of the full task force will be October 19, 6:30-8 p.m. at Philadelphia University's Kanbar Campus Center, 4201 Henry Ave.
Task force members to leadership: aim higher
WHYY is your source for fact-based, in-depth journalism and information. As a nonprofit organization, we rely on financial support from readers like you. Please give today.