What a tangled web Trump weaves, when he practices to deceive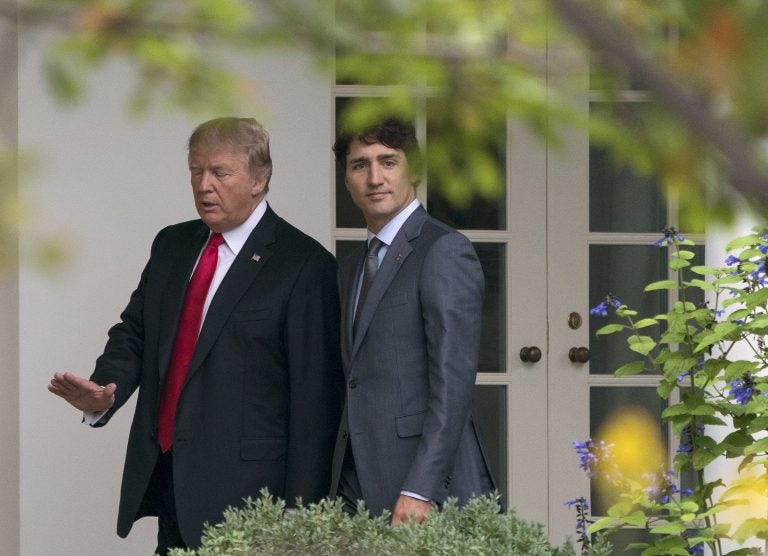 No wonder Trump's lawyers are loath to put him under oath in the Russia probe. If he'll lie so willfully to our allies, how would he fare with Robert Mueller?
When the Scottish poet Sir Walter Scott wrote in 1808, "Oh what a tangled web we weave/ When we first practice to deceive," he likely could not have conjured a western head of state so entangled in such pathological webs. With the passage of each benumbed day, Trump is incrementally destroying the credibility of the presidency and our standing in the world — prompting even a prominent newspaper in nice Canada to lament yesterday that "all we can do is hold on and wait for another president, one who doesn't lie to other leaders, and then brag about it afterward."
Leave it to Trump to wage war on facts and foul the air for no reason whatsoever. During a private fundraiser on Wednesday, as I briefly referenced yesterday, he purported to recount a recent meeting he'd had with Canadian Prime Minister Justin Trudeau. His riff was intended solely for the ears of the fat-cat donors in the room, but, as usual, somebody with a conscience recorded his remarks and shared it with The Washington Post. The gist is that even though Trudeau insisted (accurately) that America doesn't have a trade imbalance with Canada, Trump insisted that we do.
To help guide you through Trump's gibberish, I've bold-faced his key lines. Naturally, the moneyed saps laughed, because he's so darn entertaining:
"Trudeau came to see me. He's a good guy, Justin. He said, 'No, no, we have no trade deficit with you, we have none. Donald, please.' Nice guy, good-looking guy, comes in — 'Donald, we have no trade deficit.' He's very proud because everybody else, you know, we're getting killed … So, he's proud. I said, 'Wrong, Justin, you do.' I didn't even know. I had no idea. I just said, 'You're wrong.' You know why? Because we're so stupid … I said, 'You're wrong, Justin.' He said, 'Nope, we have no trade deficit.' I said, 'Well, in that case, I feel differently,' I said, 'but I don't believe it.' I sent one of our guys out, his guy, my guy, they went out, I said, 'Check, because I can't believe it.' 'Well, sir, you're actually right.'"

So. Trump boasted to his donors that he had "no idea" what he was talking about, but talked about it anyway. His own Commerce Department, just two months ago, reported that in January alone, America had a trade surplus with Canada — exporting $600 million more in goods and services than what we imported from that nation. And according to the Office of the U.S. Trade Representative, we had a $12.5-billion surplus with Canada in 2016. That fact has long been posted on the office's website.
Does Trump not know those fundamentals? Does nobody brief him on those fundamentals? Is he told those fundamentals but prefers not to know them? Most importantly, why should any ally — much less a dangerous adversary — have confidence in anything he says, when it's clear, from his own braggadocio, that he couldn't care less whether there's a factual basis for what he says?
But yesterday the plot thickened (and sickened). After learning that the donor gig had been recorded, he doubled down. Even though his careless lie about a trade imbalance with Canada had been exposed, he insisted yesterday that his lie was true. He tweeted: "We do have a Trade Deficit with Canada, as we do with almost all countries … PM Justin Trudeau of Canada, a very good guy, doesn't like saying that Canada has a Surplus vs. the U.S. (negotiating), but they do."
Again, he had ample time to consult the Commerce Department and the Office of the U.S. Trade Representative, but he either chose not to fact-check himself, or did so but didn't like what he heard.
It's hard to envision an upside of ticking off the Canadians, of all people, unless his goal is to make us a detestable laughingstock worldwide. As Cory Whiteduck, a Canadian radio host, said yesterday, "It is scary, as his lying has become the new normal … It is not a productive way of doing things, or a good mentality." As Bruce Hayman, a former U.S. ambassador to Canada, tweeted, "Lying to your friends only hurts the relationship … How can you just casually damage this relationship?"
And wait, there's more! It's likely that Trump's recounted meeting with Trudeau — with aides  ("his guy, my guy") supposedly scurrying in and out of the room to check the trade stats, with his own "guy" coming back to tell Trump, "well, sir, you're actually right" — didn't happen at all. Except in his dreams.
Canadian Press correspondent Alexander Panetta contacted Canadian government officials. He reported yesterday that there's "some confusion in Ottawa about when/where this encounter is supposed to have happened." At best, Trump might have been referring to "a blend of different chats" on the phone, but they don't recall any meeting where a fact-checking Trump aide told Trump he was right.
Panetta's conclusion: "Behold, a matryoshka doll of tall tales."
My conclusion (bear with me): While talking to donors, Trump lied about a face-to-face meeting that didn't exist, during which he lied out of willful ignorance to the Canadian prime minister about an American trade deficit that doesn't exist, then yesterday he lied that the lie he told in the nonexistent meeting was actually true, even though he could've determined via trade evidence from his own government that what he still insisted was true was actually another lie.
Shackled as we are to a web-weaving buffoon whose word is worthless, dare we wonder where we are heading?
Or, as Sir Walter Scott metaphorically penned in that 1808 poem, yearning for spring to rescue his land from winter:
"The genial call dead Nature hears/ And in her glory reappears / But oh! my Country's wintry state / What second spring shall renovate?"