'Sweat' breaks open a new era for Philadelphia Theatre Company
Lynn Nottage's play about factory decline and its effect on disrespected workers puts the stage company back into production.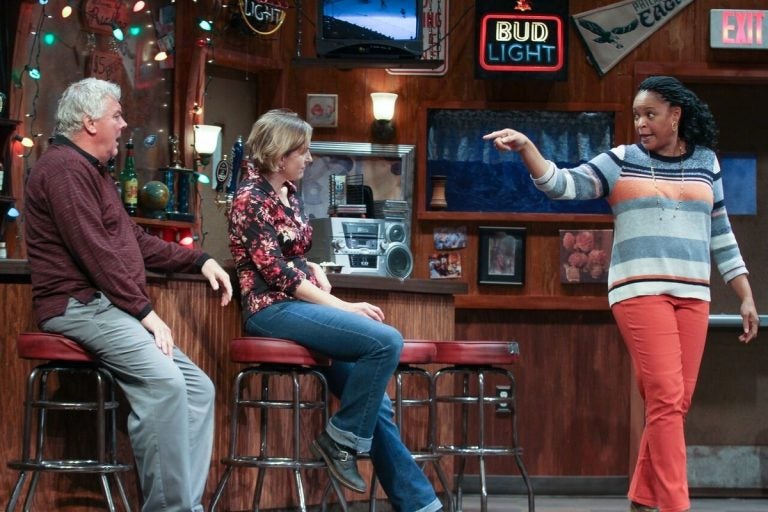 "Sweat" is about change and loss and the inability to move forward in an economy that continues to shut out the working class. Lynn Nottage's play is set in the first decade of this century, so it never mentions Donald Trump. It doesn't have to. The working-class disappointments in "Sweat" are the same ones that, a decade after the play takes place, helped move him into the White House.
When Philadelphia Theatre Company announced it would produce "Sweat" as the first play after a year's absence in order to regroup, rethink its mission and shore up its finances, I thought it was the perfect choice to formally introduce Paige Price as its new artistic director. Nottage's play is inarguably current – it raises a mirror to the plight of many small American cities whose manufacturers seek to hire cheaper labor elsewhere and to satisfy owners' and stockholders' demands for rising profits.
It's also very close to home. "Sweat" is set in Reading, Pa., at a time when the town's many factories that produced textiles, hardware, steel and metals, paints and even cough drops were moving out or just plain drying up.  And to top it off, "Sweat" was a highlight of the Broadway season last year, when it also won the Pulitzer Prize for drama.
There's plenty of feeling in director Justin Emeka's production for Philadelphia Theatre Company, and the cast displays a clear understanding of the characters. But this "Sweat" is less muscular than the Broadway production, which sucked you into the action. You felt part of it, no matter where you sat on the economic scale. Its factory-working characters, who frequent a bar where everyone knows everyone, sent out constant sparks. I expected it to explode in front of me.
It did on Broadway and it does here, too, with a rawness artfully staged by noted fight director Rick Sordelet. The action, though, is too little and late in a play heavy with exposition in its first act – a problem the Broadway version finessed with line readings that were highly charged but came off as natural after-work camaraderie.
At the Philadelphia Theatre Company production, we sit far from the bar where most of the action takes place – Christopher Ash's set is tucked back into the stage, as if we're being kept away at arm's length. The placement makes us feel as if we're not allowed to be part of the action. It also means that the lines don't always reach us.
In addition, the production tries to help the play make its case with projections and quick TV clips that take us back to 2000 and 2008, many of them connected to the era's politics. This was also a part of the original production, but more subtly. These particular clips flash by – they're more for mood than information – and they detract from the play. A triumph of "Sweat" is that it's political by default, not by design. It's not primarily about politics, it's about the people affected by them. We don't need to be hammered into the era with these clips, which make this very current play seem dated.
Surely, the actors can carry this play by themselves: Kimberly S. Fairbanks as the African-American worker proud to have a place on the factory floor; Walter DeShields as her factory-working son and Damien J. Wallace as her estranged husband, locked out of a textile mill; Kittson O'Neill as another factory worker who faces job loss and Matteo Scammell as her hard-boiled factory-working son. Suli Holum plays their colleague and after-work drunk, Rich Hebert is the cheery barkeep and J. Hernandez is the Colombian-American who's his all-around helper. Two of the characters have served time for their behavior, and Brian Anthony Wilson portrays their parole officer. These actors add up to a powerhouse of talent, in a production that tamps them down.
The Philadelphia Theatre Company is one of the city's arts treasures, yet through the years it's been on the brink a few times. The company and its new leader came back with a challenging piece. They're about to take on more. For theatergoers and for the city, that's great news.
_
"Sweat," produced by Philadelphia Theatre Company, runs through Nov. 4 at the Suzanne Roberts Theatre, Broad and Lombard Streets. 215-985-0420 or philadelphiatheatrecompany.org.  
WHYY is your source for fact-based, in-depth journalism and information. As a nonprofit organization, we rely on financial support from readers like you. Please give today.