Students have some options as Philly Art Institute closes, but many unsure of next step
Listen
2:51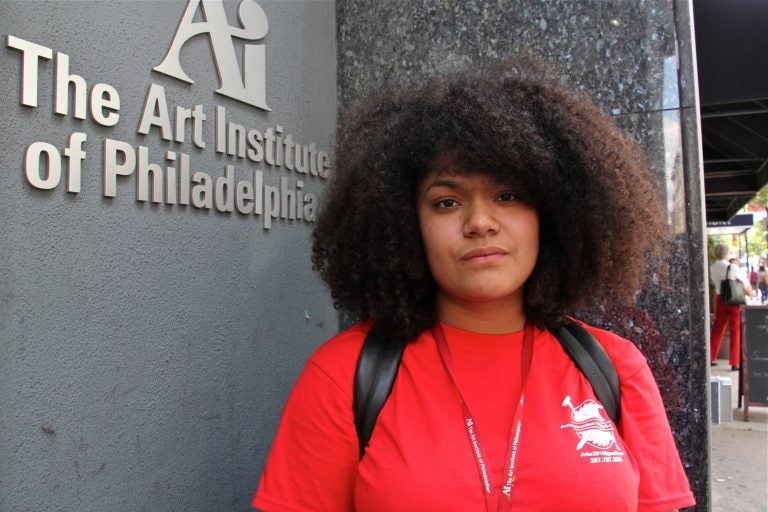 As a little girl, Mykaela Valentin would go into the attic of her Fox Chase home and sneak into an old chest that held her dad's collection of comic books. She recalled falling in love with the work of the late Michael Turner — a comic book artist known for his style of drawing female characters with body curves.
"That's how I learned to draw," said Valentin, 21.
After graduating from high school, Valentin spent a year at Temple University lost and unsure about what she wanted to study. Eventually, she convinced her parents to invest in her pursuit of a degree from the Art Institute of Philadelphia.
But now, with six courses completed and thousands of dollars spent on tuition, she's still lost because the school is closing its Philadelphia campus and 30 others next month.
"I found out through a friend, who found out from another friend," Valentin said. "And then I heard about it on the news, and after I heard it on the news is when we got a mass email from the school. I'm kind of disappointed the school didn't tell us first."
Dream Center Education Holdings, LLC, the company that manages the Art Institute in Philadelphia and 30 other sites, maintained in a statement that it would "support current students by offering multiple options to continue their education."
Current Art Institute students are being directed to other satellite campuses in Virginia Beach and Pittsburgh or online to complete their degrees.
"The closest Art Institute for me is Pittsburgh," Valentin said. "And since they closed a lot of the student doors anyway, I can't live on campus — so that's even more money to live off campus. And I'm not financially ready to go out there yet, so I'm still living with my parents. I really don't know what I'm going to do."
"I actually called someone yesterday about [the online option], and they told me that they're not accepting us for the online division," she said. "So that was my last resort, sort of. To find that out, I was very devastated. I was crying yesterday. I was very emotional."
Area colleges are inviting derailed Art Institute students to complete their degrees at their schools. Delaware College of Art and Design encourages students to enroll for the fall semester by Aug. 1.
"If I were to receive that information, I would be a little blindsided," said Katy Ro, academic dean of Delaware College of Art and Design.
"We were all there. All of us who work here at DCAD as a faculty member or even as a staff member — and I'm speaking for myself — we were all art students. We were all design students at one point in our life," she said. "And the reason we are in the roles in higher education is because we're committed to supporting the next generation of designers."
Others stepping up to help include Community College of Philadelphia, which is offering an "express enrollment day" Aug. 1 for the fall semester.
And Harcum College is offering $5,000 in tuition assistance for Art Institute students affected by the school closure, said Julia Ingersoll, executive vice president.
"We have programs very similar to the programs at the Art Institute," Ingersoll said. "The similarity in programs would allow for an easier transfer for current students."
Valentin said she's looked into other options for education, but found that not all of her credits would transfer. She plans to withdraw from the Art Institute, but said that could mean her hopes of becoming a professional animation artist will be put on hold.