Stanton, Sheppard spared by SRC; eight other schools to close
By Benjamin Herold
The School Reform Commission voted Thursday night to close eight District schools, but spared E.M. Stanton and Isaac Sheppard Elementary Schools.
"The SRC has been very clear in its commitment to maintain its focus on student achievement while we work toward fiscal stability," said SRC Chairman Pedro Ramos. "Tonight's vote reflects those priorities."
The schools that will close are Harrison, Drew, and Levering Elementaries; Pepper Middle and Sheridan West Academy Middle; FitzSimons and Rhodes High Schools (the latter to become a middle school); and the Philadelphia High School for Business and Technology.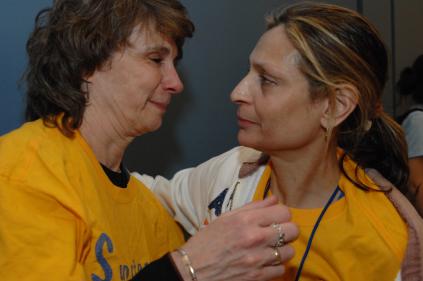 Bas Slabbers photo/for NewsWorks
The closures will save the cash-strapped District a projected $6 million next school year.
But the big news was that both Stanton and Sheppard will remain open. For months, supporters had mounted vigorous defenses of their schools, stressing high-quality academics, strong partnerships, and a family environment.
Before the vote, the SRC unanimously agreed to remove the two schools from consideration, stressing the need to support, rather than dismantle, high-performing District schools.
"I feel very strongly that we try to do no harm," said Commissioner Joseph Dworetzky.

Parent Temwa Wright, one of dozens of Stanton supporters who have lobbied the SRC for months to keep their school open, expressed elation.
"Thank you for listening," Wright told the commissioners. "I'm so proud to be a parent in the Philadelphia School District."

State Sen. Anthony Williams, a frequent District critic and a strong proponent of charter schools and vouchers, praised the SRC for finding a way to keep Stanton open.
The school, Williams said, is "an example of what can happen in public education in Philadelphia" and should be replicated across the city.
Thursday's vote comes at the end of a months-long facilities master planning process . For over a year, District officials have said they needed to shed 40,000 excess seats to address an aging infrastructure, changing neighborhood demographics, and declining student enrollment exacerbated by an exodus of students to charter schools.
WHYY is your source for fact-based, in-depth journalism and information. As a nonprofit organization, we rely on financial support from readers like you. Please give today.