Spotted: A poolside pop-up in Francisville
Built-in wooden deck loungers and palm trees overlook clear blue water, and patio sets grace the lawn. These are not the view of amenities at a luxury building but at Francisville Playground thanks to the Pop-Up Pool Project, an initiative to make Philly's public pools more inviting and beautiful through low-cost but high-impact moves.
The Pop-Up Pool Project, designed by the firms Group Melvin Design and Sikora Wells Appel in partnership with Fairmount Park Conservancy and the Department of Parks and Recreation, was made possible by a $297,000 Knight Cities Challenge Grant. The program's pilot pop-up is at Francisville's public pool through mid-August, and will officially open with an event 4-7pm on July 1.
Philly's public pools tend to be basic affairs: pool, concrete deck, and lifeguard chairs in a fenced-off zone. And even though they're extraordinary public resources scattered citywide, they can be underappreciated. The Pop-Up Pool Project's goal is to treat our pools like the tremendous civic assets that they are, and capitalize on them by adding "lighter, quicker, cheaper" design elements. By doing so the hope is that our pools will become even more dynamic, equitable, and inviting places where people are welcome to relax, linger, and find community.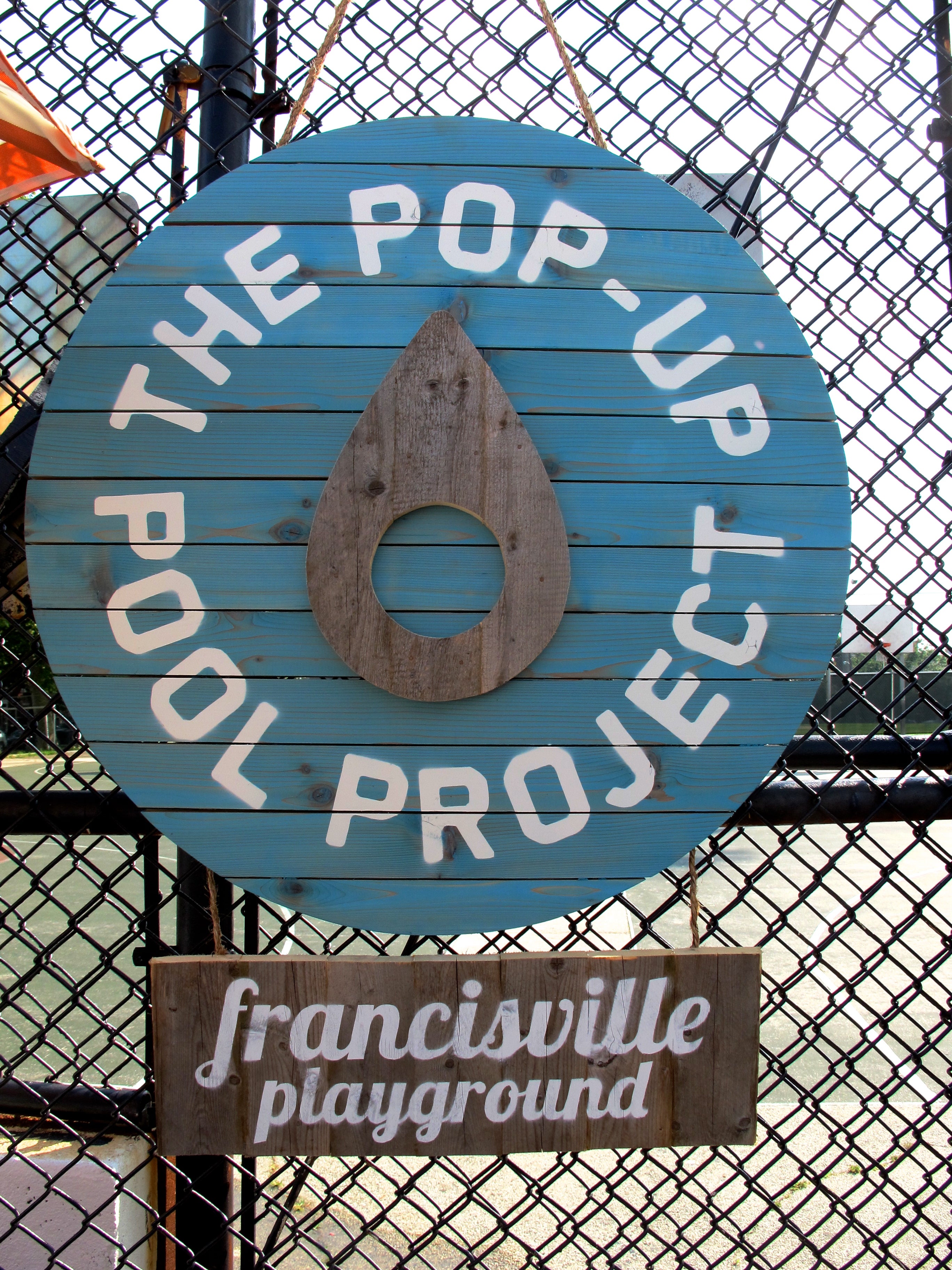 Along one edge of the pool the designers built a long wooden bench and loungers with potted palm trees for shade. (One reason our city pools don't have deck seating already because of liability concerns. That's why these long built-ins are more akin to bolted-down parklet design than pool lounger chairs.) Yellow umbrellas will shade new wooden benches on another fence line. Clusters of big metal tubs sport cheery plantings. And a new outdoor shower area at the entrance provides a space to wash off. The pool-deck feel extends beyond the pool area's fence there thanks to new patio furniture, both woven chair and loveseat sets in primary colors as well as wooden tables and chairs with umbrellas for picnicking.
Michelle "Tee Tee" Ruffin, a longtime seasonal Pool Maintenance Assistant and Francisville resident, said the additions have made the pool feel more family-oriented, magnetic, and the improvements are already a point of pride.
"I've lived in the neighborhood for 55 years and we've always had a great pool, but this is unbelievable," Ruffin said. "Who would ever think a palm tree is growing in Francisville?"
That sense novelty is exactly what this sort of "tactical urbanism" is meant to do: get the public to see familiar places with fresh eyes, envision new possibilities, redefine our common ground and build a new constituency of users.
"Last year our pool didn't have any excitement. Our updated stuff is funner and more enjoyable," Ten-year old Ayeashi Daniels told me, after posing in one of the palm trees as her mom snapped a photo.
Eleni Zorn, a nine-year old who is on the pool's swim team, agreed. "The improvement shows what this pool is to Francisville. It's not just a regular pool. It makes it look more popular."
(Ashley Hahn)

(Ashley Hahn)

(Ashley Hahn)

(Ashley Hahn)

Francisville's Pop-Up Pool Project will be open through August 21, 2015

(Ashley Hahn)
Celebrate the Pop-Up Pool Project launch on Wednesday, July 1 from 4-7pm. Visit the pool weekdays 11am-7pm and 12-5pm on weekends.
WHYY is your source for fact-based, in-depth journalism and information. As a nonprofit organization, we rely on financial support from readers like you. Please give today.