South Street Bridge Gets LED Illumination, Green Bike Lanes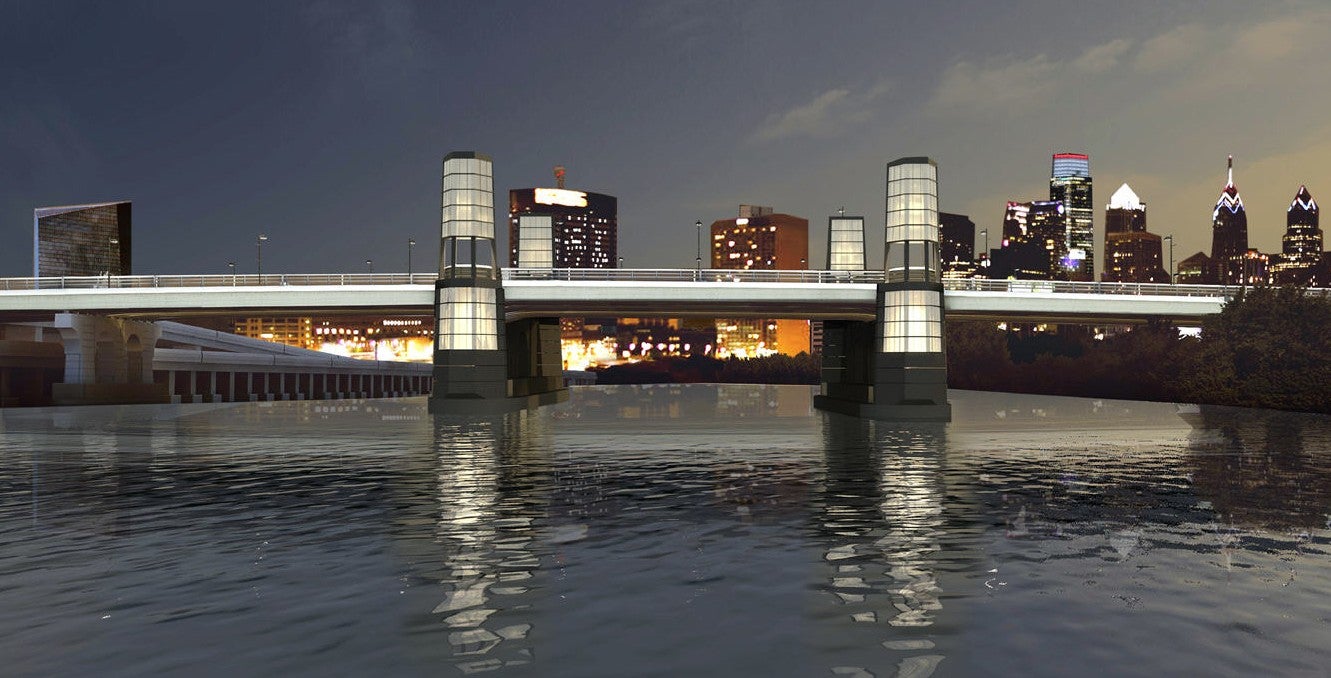 The South Street Bridge is busy with construction again: welders are on cherry-pickers working on the tower overlooks, electricians are running conduit, and contractors are washing and painting the bike lanes. Over the next month (or two) the bike lanes will turn green and LED lighting will illuminate the pedestrian overlook towers.
Electricians are installing LED lighting behind translucent panels that will turn the bridge's four pedestrian overlooks into light towers at night. The towers will be illuminated above the overlooks and below the decking toward the river, creating a shimmering effect on the water. According to one contractor on site, the LED lighting installation will be finished in November. No confirmation from the Streets Department about whether or not the lights will be colored or programmable. As you can see in the rendering below, white would be a classier bet.
The light towers are the new bridge's major design flourish, and it's going to be really interesting to see them illuminated after so much debate. Where the former bridge's overlooks were stout towers built of massive (albeit crumbling) stone, its replacement echoes the shape of the old drawbridge's towers but aims for lightness, literally and figuratively. Yes, we lost the old 1920s drawbridge and its jazz-age flourishes, but the new bridge is a safer crossing, especially for cyclists and pedestrians. Hopefully the decorative lighting scheme will improve the new bridge's highway-like aesthetic.
The bike lanes along the bridge – extending from South 33rd Street to South 27th Street – are being painted green, much like the lanes along the Benjamin Franklin Parkway. Contractors told me they hope to finish the lane painting soon, but they need dry weather.
Note: An earlier version of this post incorrectly stated the bike lanes on Spruce and Pine streets are painted green.
UPDATE 10/5/11: The Streets Department confirmed that the LED lights will be programmable.
WHYY is your source for fact-based, in-depth journalism and information. As a nonprofit organization, we rely on financial support from readers like you. Please give today.