Skyrocketing special ed. costs falling heavily on Pa. school districts, taxpayers
Listen
4:00
Special education costs are rising much faster in Pennsylvania than state aid — causing local taxpayers to foot most of the bill, while also stretching school budgets thin and increasing inequities between rich and poor districts, according to a new report by a duo of advocacy groups.
The Education Law Center and PA Schools Work found that for every new dollar Harrisburg spent on special education between 2008 and 2016, school districts spent $20.
During that time, districts saw their special education costs rise $1.54 billion while the state chipped in just $71 million.
This latest report arrives five years after the state implemented a new special education funding formula that was supposed to make life easier for districts. But advocates say lawmakers haven't sent enough money through the formula to make an impact.
"If anything, the issues with special education funding — of inadequacy and inequity — have actually grown worse over time," said Reynelle Brown Staley, a policy attorney at the Education Law Center.
Proponents of the new special education formula can regard the spike in special education expenses as at least a partial victory. Advocates felt the prior system deterred some districts from providing robust special education services or identifying students with special needs.
So, from the perspective of child advocates, this latest data may suggest some improvement: either because districts are doing a better job providing services or because families are doing a better job requesting them.
"Some of the increases I think we're seeing are a natural consequence of trying to meet the need for services that was previously being unmet," said Brown Staley.
'Insolvent'
Those increases, though, have fallen disproportionately on the backs of local school districts.
In 2008, districts covered 62.1 percent of all special education costs, the state picked up 32.3 percent of the tab, and the federal government covered the rest. By 2016, the latest year for which data was available, the local share had shot up to 71.5 percent and the state portion had fallen to 23 percent.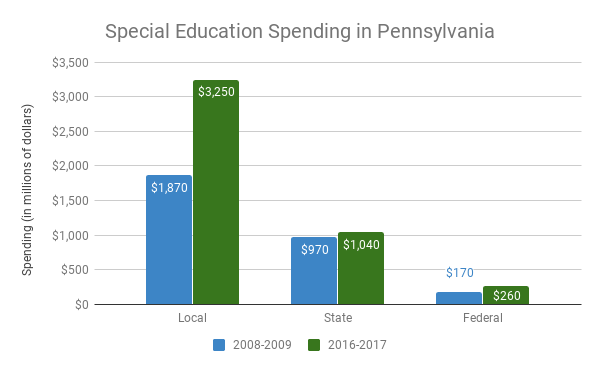 Districts have to lean on local taxpayers to keep pace with this trend, Brown Staley said. And advocates worry less wealthy school districts will be forced to cut other services.
The Iroquois School District, just outside Erie, has done both, according to Superintendent Shane Murray.
The district's special education expenses rose 50 percent from 2008 to 2016, according to the new report, and the district picked up nearly all of that increase. In 2008, Iroquois taxpayers covered 31 percent of the district's special education costs. By 2016, that number was up to 65 percent.
To compensate for that — as well rising pension and healthcare costs — the district eliminated some high school electives, dug into its fund balance, and raised taxes seven years in a row.
"In the near future, we're going to be OK," said Murray. "[But] five, six years from now we're going to be insolvent where we can't pay our bills."
A cross-state trend
A decades-old federal law requires schools provide a "free and appropriate public education" for students with special needs, regardless of cost.
The burden for meeting this mandate falls increasingly on state and local governments. From 2009 to 2015, the overall share of special education funding provided by the federal government fell from 33 percent to 16 percent, according to one study.
Pennsylvania isn't the only state where school districts appear to be shouldering more of the load. California has experienced a similar phenomenon. A decade ago, according to one report, California and the federal government combined to provide more than half of all special education funding in the nation's most populous state. Today that number is down to 38 percent.
In Pennsylvania, local districts pick up an even larger share of expenses. Data curated by the Education Law Center and PA Schools Work shows which of the state's 500 districts spend the most proportionally on special needs students.
The Lower Merion School District, just outside Philadelphia, leads the way — covering 90 percent of all special education costs for its students. Of the 34 districts that cover more than 80 percent of special education costs, all but one are in the wealthy, collar counties surrounding Philadelphia.
Districts picking up largest share of special ed. expenses
| | | |
| --- | --- | --- |
| District |  County |  Local Share of Special Ed. |
| Lower Merion |  Montgomery |  90% |
| Great Valley |  Chester |  88% |
| Wissahickon |  Montgomery |  88% |
| Phoenixville Area |  Chester |  86% |
| Haverford Township |  Delaware |  86% |
| Upper Merion Area |  Montgomery |  86% |
| New Hope-Solebury |  Bucks |  86% |
| Spring-Ford Area |  Montgomery |  85% |
| Radnor Township |  Delaware |  85% |
That doesn't, however, mean this is an exclusively suburban phenomenon. Special education costs are rising fastest in a wide array of school districts, touching every corner of the state.
Carbondale Area School District in Lackawanna County saw expenses rise a staggering 211% over the eight-year period studied. And the local share dedicated to special education spiked from 44 percent of all costs to 80 percent.
Rural school districts such as Galeton Area in Potter County, Homer-Center in Indiana County, and Cameron County also saw costs more-than double.
In Philadelphia, expenses rose 97 percent.
Districts with largest jump in share of special ed. cost
| | | | | |
| --- | --- | --- | --- | --- |
| District |  County |  2008 Local Share |  2016 Local Share |  % Point Increase |
| Galeton Area |  Potter |  18% |  61% |  43% |
| Ligonier Valley |  Westmoreland |  25% |  64% |  39% |
| Northern Potter |  Potter |  22% |  60% |  38% |
| Pittston Area |  Luzerne |  32% |  68% |  36% |
| Carbondale Area |  Lackawanna |  44% |  80% |  36% |
| Mount Carmel Area |  Northumberland |  18% |  52% |  34% |
| Iroquois |  Erie |  31% |  65% |  34% |
| Derry Area |  Westmoreland |  27% |  59% |  32% |
| Tunkhannock Area |  Wyoming |  41% |  73% |  32% |
Big reform without big bucks
The state reformed its system for distributing special education dollars before the 2014-15 school year. Lawmakers felt then that the old method disincentivized districts from identifying special education students. Prior to the change, the state assumed special education students made up about 15 percent of all students in each district — and didn't award extra money to districts with a special education population higher than that rate.
The new formula takes into account actual enrollment and the severity of each students' needs, but it applies only to special education dollars allocated after the 2013-14 school year.
"I think that the report was basically groundbreaking because it did change the way funding is allocated," said State Senator Judy Schwank, D-Berks, who was on the state special education funding commission. "What we couldn't address — and maybe now is the time we have to face the reality — is that we didn't adequately fund what we knew would be needed in the future."
Schwank and special education advocates think the state needs to invest more in special education, and not just because of the stress it puts on local property owners. School districts are already suing Pennsylvania over the gap in spending between rich and poor communities. Because wealthy districts can better cope with rising costs, Schwank argues, any shift toward local reliance will further divide the haves and have nots.
"By increasing the burden on local communities we only exacerbate that issue," said Schwank.
Maureen Cronin, executive director of the Arc of Pennsylvania, a disabilities-rights group, believes the state should spend more on special education because it will ultimately alleviate the burden on social service programs run by the state.
"The benefactor of good, quality special education is really our adult system, the system of medicaid and state-funded public supports," said Cronin.
Adam Blank says he's a living testament to that theory.
Born with albinism, partial blindness, and autism, Blank received special services from his home district in Washington County starting at age three. That included speech therapy to help him overcome a debilitating stutter and a vision teacher that helped him identify shapes, learn to read, and cross the street.
"It's very important for every kid to receive early intervention because early intervention can change that child for the long run," said Blank.
Today, the 23-year-old runs his own motivational speaking business, works at Macy's, and studies business management at the Community College of Allegheny County. None of it, he says, would have happened without the extra support he received from the Peters Township School District and the Washington County Intermediate Unit.
"Some people need more help than others," said Blank. "We should not forget those kids."
To see how much your district spent on special education in 2008-09 versus 2016-17, click on this table.
Please note, ELC did not have federal spending on special education for 160 districts in 2008-09. Those districts are marked in the table with a "†" symbol. Districts that didn't report federal data in either year are marked with a "††" symbol.
WHYY is your source for fact-based, in-depth journalism and information. As a nonprofit organization, we rely on financial support from readers like you. Please give today.