Situation Vacant: Viola Street residents work to stem decline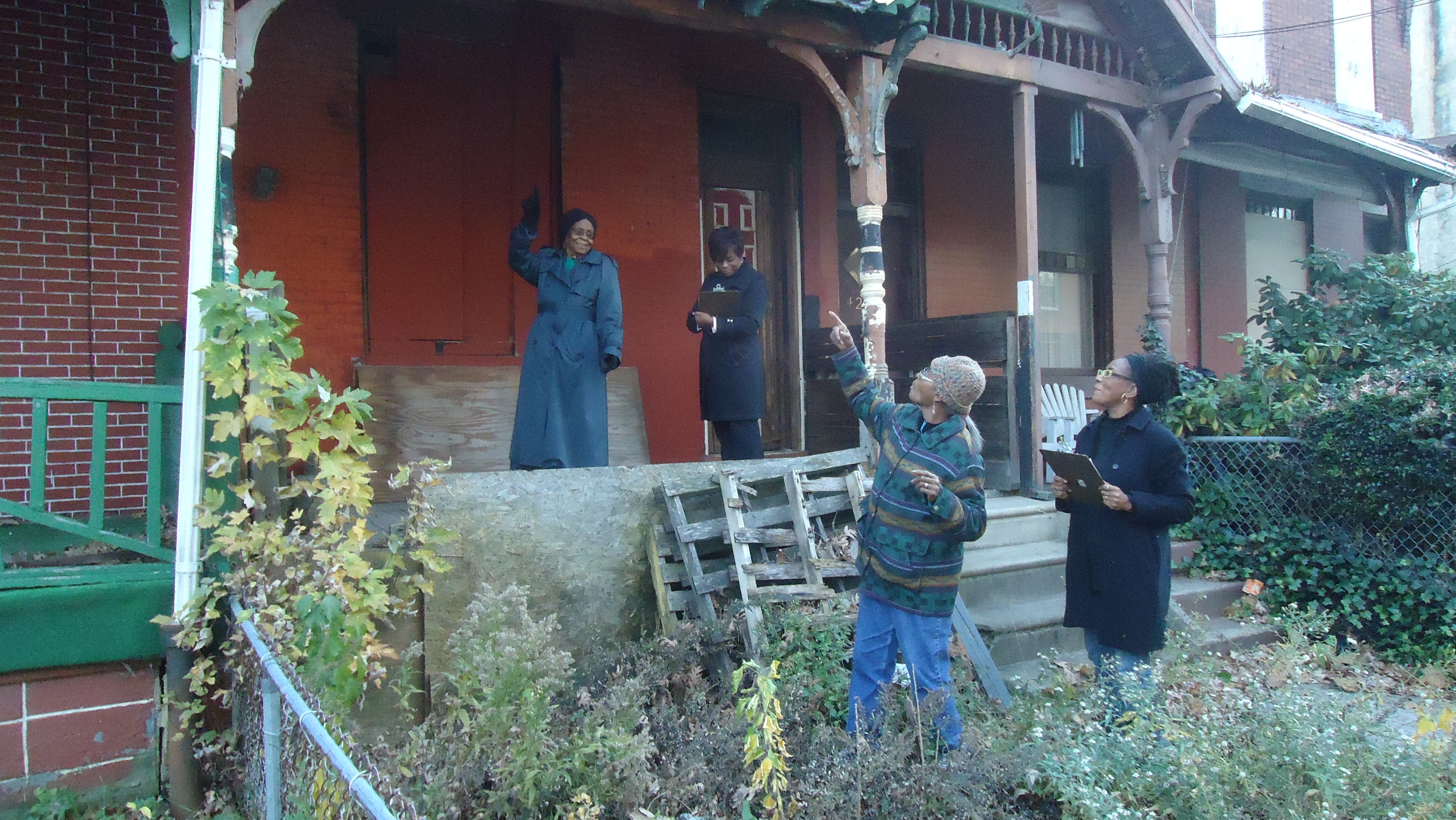 Viola Street Residents Association (VSRA) is a proactive resident driven group that has been battling blight in the East Parkside section of West Philadelphia for a number of years. Our primary focus, which we hope will serve as a neighborhood role model, is the 4200 block of Viola Street.
Our community's residential district, which is on the National Register of Historic Places, is surrounded by or situated near cultural icons like the Please Touch Museum, Concourse Lake, Mann Music Theater and the Zoo. The north side of Viola Street is on the Philadelphia Register of Historic Places but the lengthy block is saturated with abandoned houses and littered with vacant lots. Sadly the rest of East Parkside is similar, including our long-abandoned commercial corridor.
Over the course of approximately 4-5 years, VSRA has carried out a number of initiatives including cultivating a relationship with License & Inspections and our local government. Our first effort included applying for trees from UC Green. Meanwhile, block cleanings provided much needed manpower to clear debris-ridden lots. We painted the facade of long vacant houses and the street curbs. Throughout the years we carried out street beautification projects, placing plants in front of houses, abandoned and occupied, as well as on going maintenance of the vacant lots. Our lots, almost always clean now, still posed a problem and after the city failed to provide the fences and dirt we needed. So we had a fundraiser and brought a lawn mower and used member dues to pay a landscaper. To top it off "The Other Carpenter" volunteered his services and installed fences on our largest two lots.
Meanwhile, VSRA authored "Project Reclaim" a long-range plan to address the elephant in the room: the more than 11 abandoned houses on Viola Street. First we approached a housing organization about helping us gain possession of these properties, but finding financing would be difficult because clear title wasn't guaranteed. It was suggested that we consider moving the properties to sale for delinquent taxes and find a developer(s). But, first we also wanted to "legitimize" the disrepair. VSRA met with former Commissioner Fran Burns and L & I staff on several occasions, which resulted in a litany of code violations for abandoned properties. Some occupied properties were also cited, but as one resident put it, "We understood the risk, but we have to do something before we lose more houses and create more vacant lots".
Our mission is to move these long abandoned properties to sale and to find responsible developers. We hope to do side yards or greening areas for some of the lots.
Meanwhile VSRA members continue to meet with prospective developers and educate ourselves about best tools & practices addressing the abandonment problem. In our latest venture we applied and were approved for a Community Design Collaborative grant to do a conceptual plan for the revitalization of Viola Street's 4200 block. This may seem that we are putting the cart before the horse, but we are committed to rebuilding each house one step at a time.
———
Joyce Smith is a housing paralegal at Philadelphia Legal Assistance representing homeowner's facing foreclosure. PLA works with the court diversion program and runs the city's Hotline "Save Your Home Philly." She has been a community advocate most of her life and serve as the Community Development Coordinator of the proactive grassroots resident group Viola Street Resident's Association of East Parkside.
Eyes on the Street is collecting stories about the effects of vacancy on neighborhood quality of life and community development in Philadelphia. If you want to share your story, send it our way.
WHYY is your source for fact-based, in-depth journalism and information. As a nonprofit organization, we rely on financial support from readers like you. Please give today.