September 29: Metro Philly's carbon emissions fall | Market East LED signage | Looking back on Eraserhood | Effective bike junket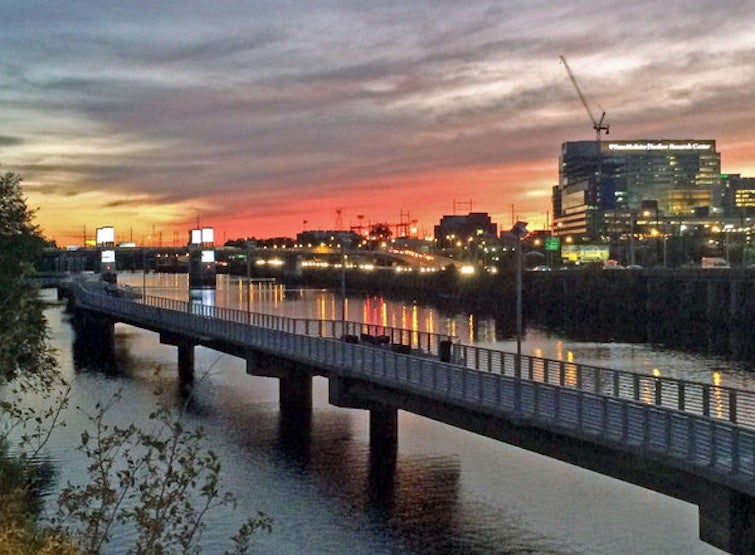 Big win for mixed-use development at the PA Supreme Court last week. Supremes upheld the state's planned residential development (PRD) law, which allows mixed-use development in municipalities, and rejected National Realty Corp's claim that a proposed mixed-use development by Equus Partners in Newtown Square would devalue their company's adjacent property, and that Equus should have to secure all the individual business tenants prior to approval by the township.
The 14-foot wraparound LED sign is finally being installed on the former Lit Bros. department store on Market East, Maria Panaritis reports. "Officials hope to light up Lits for the first time on New Year's Eve – the holiday synonymous with Times Square, the Manhattan billboard mecca whose mojo Market Street's boosters and investors are hoping to mimic."
Greater Philadelphia's net greenhouse gas emissions fell by about 13% between 2005 and 2010, according to a new report by DVRPC. The key reason was that our fuel mix changed, with a drop in market share for coal, and an increase for natural gas. Philadelphia is the largest greenhouse gas emitter in the region, but lower per-capita, per-job emissions than the suburbs. Move a family and their jobs from the suburbs to the urban core, and their lifestyle produces less carbon pollution.
Jake Blumgart's write-up of director David Lynch's talk at PAFA in Vice examines how Philly, and Lynch's impression of it, has changed since the release of Eraserhead in 1977, set in Callowhill. "Since Lynch's tenure the neighborhood has been aspirationally dubbed "the Loft District" by (presumably) developers. It is speckled with fancy condos, but the overwhelming mood is still of neglect and postindustrial decay."
The Green Lane Project's junket for elected officials and advocates to Copenhagen, the Netherlands, and Sweden to gain direct experience with high quality bike infrastructure appears to be extremely persuasive to politicians. Pittsburgh Mayor Bill Peduto is perhaps not the best example, since he was always interested in improving bike infrastructure as a Councilman, but Green Lane Project organizers told me at the Project for Public Spaces conference that it's helpful for expanding elected officials' sense of what is possible.
Inga Saffron gushes over the Schuylkill River Boardwalk. "It seems incredible that such a modest amenity could cast so powerful a spell. Built for $18 million, with none of the design acrobatics of the High Line – without even the involvement of an architect! – the boardwalk owes its existence entirely to necessity."