SEPTA's sustainability program saves system money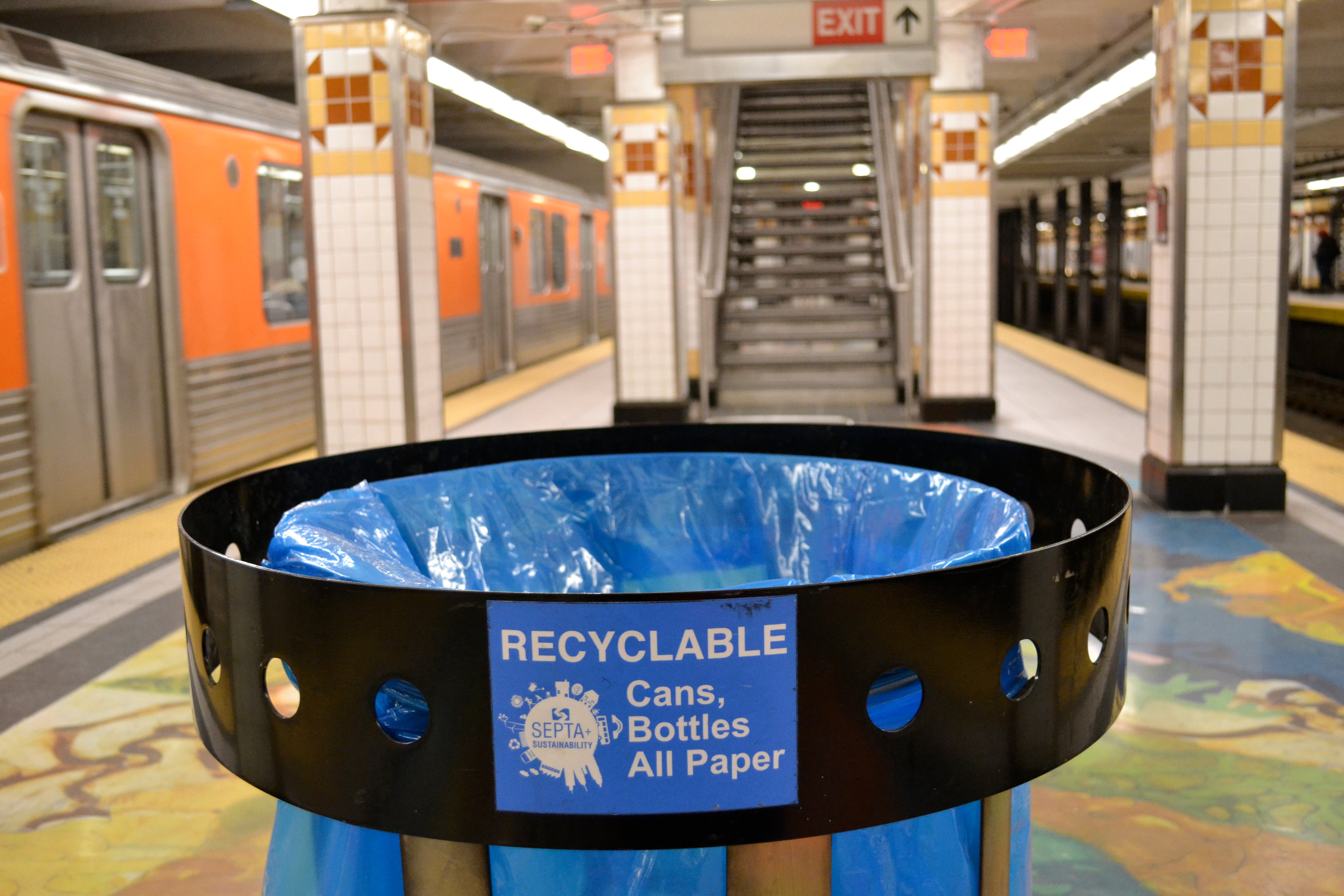 As part of a series on SEPTA's bleak financial situation, PlanPhilly scoured SEPTA's annual sustainability report to find out just how much those initiatives are saving the cash-strapped transit authority and how SEPTA is working toward sustainability goals despite limited funding.
The annual sustainability report, released Wednesday and title "SEP-TAINABLE Empowering Action," marks the third year of SEPTA's formal sustainability program – a comprehensive framework that advances environmentally, socially and economically sustainable initiatives.
A penny saved is a penny earned
Many of SEPTA's sustainability initiatives have resulted in hundreds of thousands of dollars in savings, and though saving $100,000 by, for example, streamlining the organization's printing capacity may seem like a drop in the bucket, it all adds up.
When it comes to electricity initiatives, SEPTA is both saving and earning money. According to the 2013 sustainability report, SEPTA saves an annual $300,000 through reduced electricity costs at its 1234 Market Street headquarters. Its current wayside energy storage facility – part of its regenerative braking system – and the additional facility it plans to build will each generate an estimated $440,000 in cost savings and revenue.
Through PECO's "Smart Ideas," SEPTA has received $34,706 in energy efficiency rebates. Those rebates were for energy efficiency initiatives at five facilities: Callowhill Bus Depot, 8th Street Station, Fox Chase Station, Susquehanna-Dauphin Station and a shop at 2nd Street and Wyoming Ave.
An additional $130,385 in PECO rebates for projects at seven facilities is in review or on program's waiting list.
Like SEPTA's electricity reducing initiatives, its industrial recycling program both saves and generates revenue. For instance, waste oil recycling generated $144,969 in 2012. That is more than double the $70,207 it generated in 2010. When it comes to recycling construction debris materials, SEPTA saves approximately $49 per ton in avoided landfill costs.
Additional savings included in the sustainability report come from inventory reduction initiatives, Transit First programs and an Environmental & Sustainability Management System (ESMS) aimed at reducing the amount of hazardous materials stored on site by 10 percent by 2015.
Alternative funding
One of SEPTA's economic sustainability goals is to improve the system's overall state of good repair. To do so, however, will take considerable funding, funding that SEPTA does not have.
As PlanPhilly reported previously, SEPTA is waiting to hear what Governor Corbett's transportation-funding package, expected next month, will entail. Until then, SEPTA will continue planning its capital budget based on current funding levels, the lowest in 15 years. At this funding level, the system's state of good repair backlog, currently at $4.7 billion, could grow to $8.6 billion by 2031.
Because of this capital funding budget crisis, SEPTA continues to seek alternative ways to fund its sustainability initiatives, including state of good repair projects. In 2012 the authority received four grants that provided supplemental funding.
The U.S. Department of Transportation awarded SEPTA a $13-million TIGER Program grant to upgrade the Wayne Junction Substation, which powers approximately half of the Regional Rail system and is part of SEPTA's state of good repair program.
The Federal Transit Authority Bus and Bus Facilities program awarded SEPTA two grants. The first was $5 million to renovate the 69th Street Transportation Center's west bus terminal, which among other features will have vegetated roofs and walls to manage storm water, dampen noise pollution and reduce urban heat island effect.
Another FTA award of $3 million was allocated to replace aging diesel buses with new hybrid-electric buses. One-third of SEPTA's bus fleet is already hybrid-electric buses, and as a result SEPTA is now saving more than one million gallons of diesel fuel each year. According to the 2013 sustainability report, by the end of 2013 nearly half of SEPTA's bus fleet will be running on hybrid-electric technology.
A fourth grant from the Delaware Valley Regional Planning Commission (DVRPC) Congestion Mitigation and Air Quality (CMAQ) Program awarded SEPTA $1.28 million to repower a diesel locomotive with an ultra-low emissions engine.
No matter what Governor Corbett's transportation-funding package entails, SEPTA will continue to seek supplemental funding in the form of grants like these.
As SEPTA waits for a transportation funding decision from the state and works to chisel away at the $4.7 billion project backlog, PlanPhilly will be regularly covering SEPTA's financial situation, aging infrastructure, attempts to hold everything together and the impact on transit riders.
WHYY is your source for fact-based, in-depth journalism and information. As a nonprofit organization, we rely on financial support from readers like you. Please give today.