SEPTA removes "limited" from schedules, makes other adjustments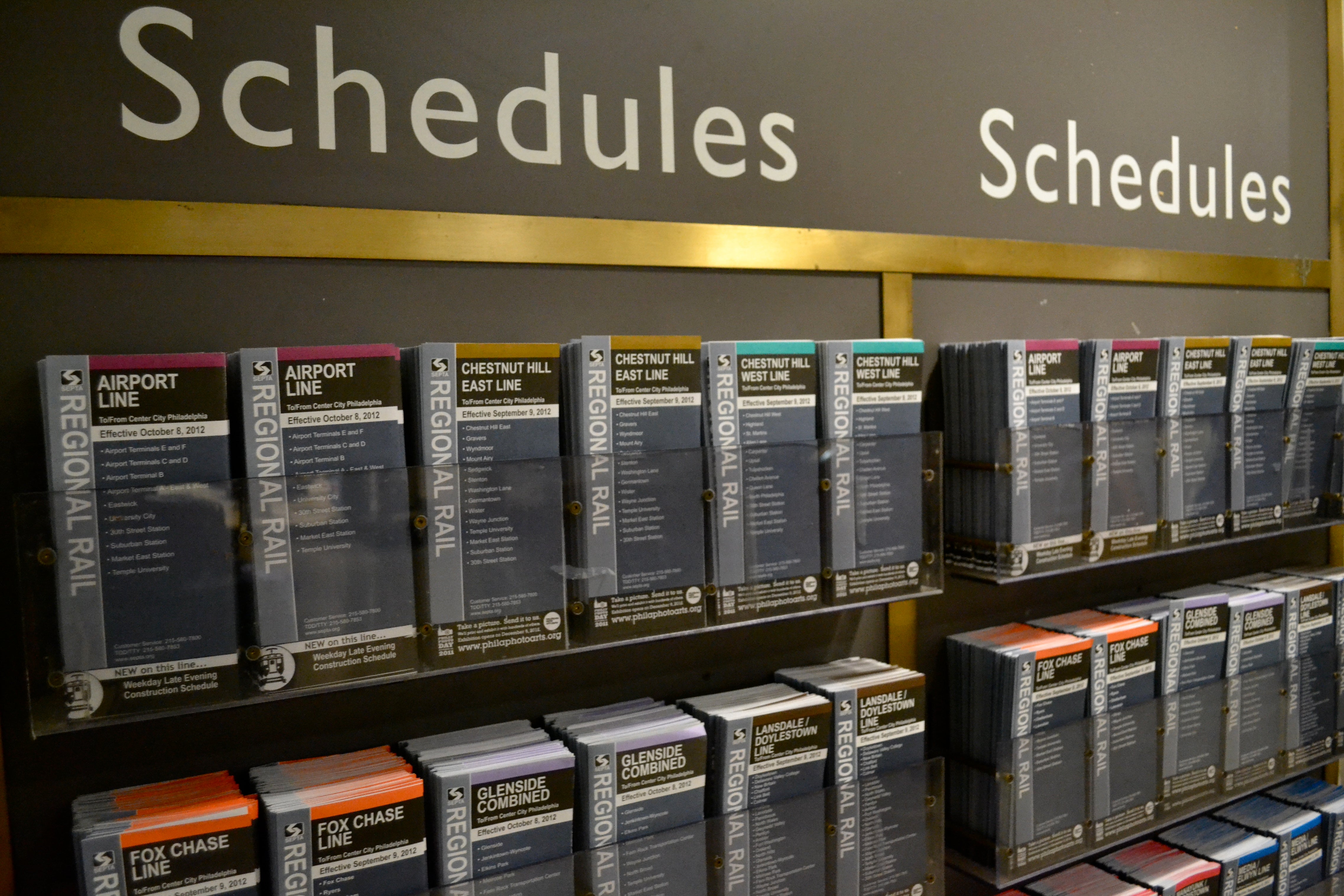 As you run to catch your regional rail train, you may notice the voice announcements on the platform have changed. Hopefully you will notice the difference, get the info you need and keep going. The days of standing on the platform, wondering if the "limited" train on deck skips your stop or not are, fingers crossed, over.
In an ongoing process to standardize the way SEPTA presents information, the authority has taken "limited" out of its platform announcements. On Feb. 10 new schedules will reflect the name changes and include minor adjustments on the Chestnut Hill East line.
Platform announcement changes
SEPTA became aware of people missing their trains or getting on a train that skipped their stop because of confusion over the "limited" designation.
The Pennypack Limited, Neshemany Limited and North Penn Limited skip all stops between Center City and a mid-point on their respective lines. They then run local service from that mid-point to the end of the line.
Now, rather than calling these trains limited, the automated platform voice indicates that they are express to a specific mid-point and local from there on out.
The focus was to simplify messaging to people who are running down the steps at the last minute, said Rich Burnfield, SEPTA's chief financial officer.
"We've been trying to be much clearer about the stops," he said.
Schedule changes
When the new schedules go into effect on Feb. 10, they will reflect these changes as well.
The Pennypack Limited, Neshemany Limited and North Penn Limited will lose those names and will instead be simply labeled express. The Schuylkill Valley Flyer name will be removed, and the service will be labeled express. The Great Valley Flyer, though, will keep its name.
Each train will run the same service, express to a midpoint and local after that.
Don't get used to the changes just yet, though. They may not be permanent.
Over the next few months, SEPTA will continue to analyze its messaging and will try to come up with wording that can be consistent across all of its forms of communication – printed and online schedules, platform and train announcements, train labels and web communication.
The limited designations may come back in a retooled and rationalized form at the next guaranteed printing, expected sometime around mid to late August.
This is all part of an attempt to standardize the way SEPTA presents information, said Harry Garforth, SEPTA's manager of rail planning and scheduling.
"When we discussed the situation in December it became clear to us that there were several ways to solve this and none of these ways were perfect," said Matt Mitchell, president of the Delaware Valley Association of Rail Passengers (DVARP).
He said these changes will alleviate some of the confusion but not all of it.
Chestnut Hill East times change
While the name changes above won't change any actual service times, the Chestnut Hill East schedule will get new train times.
The slight adjustment in times – anywhere from one to two minutes – is intended to better reflect the line's actual performance, which SEPTA can track more precisely now thanks to signal modernization.
Chestnut Hill East is the fifth of SEPTA's 13 regional rail lines where SEPTA has used improved train-time data from signal modernization to provide more accurate times.
Of SEPTA's 726 trains, 480 have 95 percent or higher on-time train performance. The changes on the Chestnut Hill East line are an attempt to increase that number.
"It's amazing what technology has been able to do for us in terms of being able to track our vehicles," Burnfield said.
Part of the reason the times were slightly off track in the first place, Burnfield said, was that SEPTA's regional rail system has seen a drastic increase in ridership. The spike, combined with the fact that Chestnut Hill East has all low-level platforms, means it takes riders longer to get on and off of trains, slowing down the trains' performance.
The Norristown Line might be the next line SEPTA looks at to evaluate on-time train performance.
Scheduling challenges
"It's a jigsaw puzzle that these guys go through," said Ron Hopkins, SEPTA's assistant general manager of operations.
Those in charge of scheduling at SEPTA have to manage the 726 trains running on 13 different lines, all of which must converge through the four-track Center City connector tunnel.
Sharing tracks with Amtrak throws another monkey wrench into the mix. Garforth said SEPTA's relationship with Amtrak is positive, but sharing tracks still means that on parts of the Northeast Corridor SEPTA has to hand control of its train over to Amtrak.
If a SEPTA train arrives late, there's a chance Amtrak will run one of its own faster trains ahead of the SEPTA train, he said.
Another issue is that Silverliner V trains have faster acceleration speeds than the Silverliner IVs. SEPTA cannot designate certain trains to specific lines or times because it needs the flexibility that comes with moving the trains around the entire network. A 5:25 p.m. service may run a Silverliner V one day and be slightly faster than the same 5:25 p.m. service running a Silverliner IV the next day.
"There are actually very good reasons these schedules look a little peculiar," Mitchell said. SEPTA, he explained, is trying to use the system as efficiently as possible and maintain flexibility.
"There's definitely an art to this," Mitchell said.
All of the new schedules are available now in both printed hard copy and online forms. They go into effect on Feb. 10.
Contact the reporter at cfisher@planphilly.com