SEPTA pulls 40 Market Frankford railcars after cracks discovered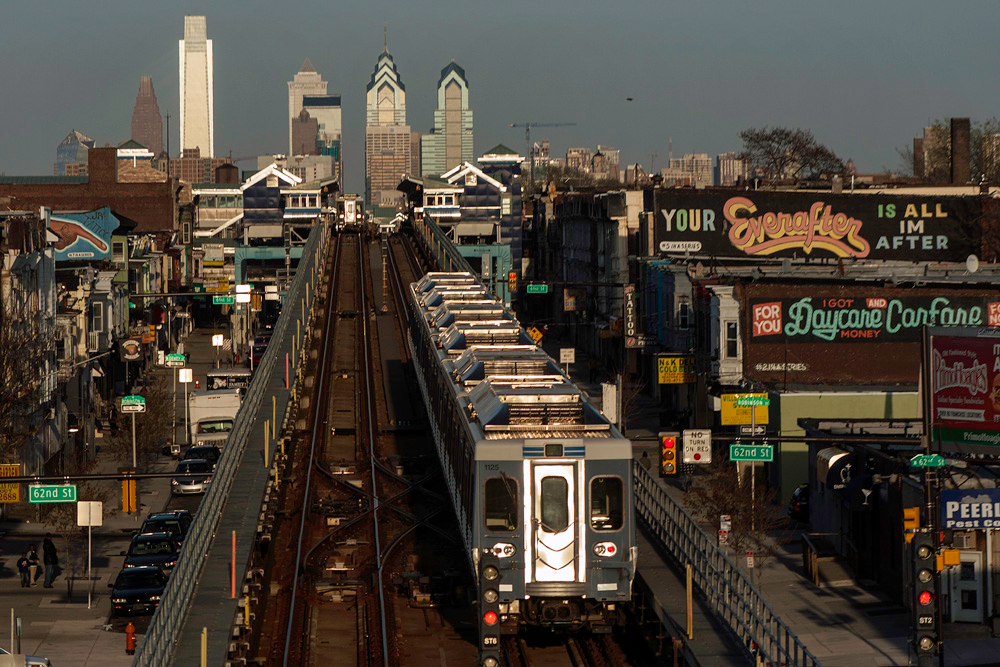 For SEPTA, the hits keep on coming.
SEPTA announced Sunday evening that cracks were discovered on the bolster beams on two Market Frankford Line rail cars. SEPTA decided to pull another thirty to forty rail cars out of service for immediate further inspection, meaning El riders will see fewer trains Monday.
It's a problem eerily reminiscent to the defect that sidelined a third of SEPTA's regional rail trains over the summer and into the fall. Just as SEPTA was getting a handle on that service interruption, SEPTA faced a citywide transit strike that lasted a week in November. And now, this, another big hit announced just before most riders sat down to watch the Superbowl.
The cracks were discovered as part of an ongoing train overhaul on the 20-year old M4 trains, said SEPTA spokesman Andrew Busch. The 30-40 other M4 railcars SEPTA will take out of service showed some of the barely perceptible, yet similar characteristics to the two with cracks, suggesting they might also have that issue. To find out, SEPTA crews need to take the train apart and look under the hood. So while they haven't exhibited any major red flags yet, Busch said the authority decided to pull them "out of an abundance of caution."
"It really is out of caution for the safety of our customers and for employees as well," said Busch.
SEPTA doesn't yet know how many trains will be out of commission or how long it will take to fix the problem. Busch said the authority hopes to have more information available at a midday press conference Monday.
SEPTA hasn't suffered a major train accident since 1990, when a Market Frankford Line train derailed underground, killing three passengers and hurting 150 more.
The Market Frankford Line is SEPTA's busiest route, with 187,000 average weekday trips made. SEPTA will have 60 buses running parallel routes to the MFL to help ease overcrowding.
SEPTA usually runs 144 railcars during weekday peak hours and has 220 total M4 railcars. But many of those cars are already undergoing rehabilitation work, Busch said, meaning the authority will be short while the 30-40 suspect trains are inspected and repaired.
It isn't clear how acute the shortage will be. Trains on the El usually run every 4 minutes during morning (6-10 a.m.) and evening (3 – 7 p.m.) rush hours.
Busch said trains will run per usual during off-peak hours and urged riders with flexible schedules to consider avoiding peak hour travel.
SEPTA can't pull rail cars from the Broad Street Line to run on the MFL. The track gauges—the width of the tracks—are different sizes, thanks to a nearsighted decision made nearly 100 years ago by the Philadelphia Rapid Transit Company, the private company that built Philadelphia's subway and elevated lines.* SEPTA inherited those lines, plus others, when it was created in 1965.
*CORRECTION: As more than one keen PlanPhilly reader noted, it was the Philadelphia Rapid Transit Company, not its successor, the Philadelphia Transportation Company, that built the first sections of what became the Market Frankford Line. This original sentence referred to the "Philadelphia Transit Company," which wasn't a thing. PRT used an unusually wide guage rather than the standard size so that non-PRT trains would not be able to run on their tracks. The city, in conjunction with PRT, later built the Broad Street Line and extended the Market Frankford Line.
WHYY is your source for fact-based, in-depth journalism and information. As a nonprofit organization, we rely on financial support from readers like you. Please give today.