SEPTA proposes 15 service and route changes for 2016, seeks public input
SEPTA officials discussed formal proposals to alter over a dozen bus routes with members of the public at an open house today, beginning the fiscal year 2016 Annual Service Plan review. The proposals range in scope from tiny, half-block rerouting to avoid a difficult left turn to splitting the city's busiest bus route in two.
Assuming no community opposition and clean passage through future hearings and approval from the SEPTA Board, the proposals would be implemented sometime in the spring or summer of 2016.
This year's proposals include a few larger than those made in recent years, including a suggestion to split Route 23 into two lines, to extend a bus route to Penn's Landing, to provide Queen Village with a non-transfer trip to Center City, and to make Frankford Transportation Center safer and more convenient for many riders.
SPLITTING ROUTE 23 INTO TWO ROUTES
Route 23 is SEPTA's busiest bus line, carrying 22,800 daily weekday passengers along a route stretching from Chestnut Hill to South Philadelphia. The proposal would split the 23 into two routes: a northern route (still known as Route 23) running from Chestnut Hill along Germantown Avenue and 12th Street into Center City, before turning around at Chestnut Street and heading back up along 11th; and a southern route (a new Route 45; no word on whether '45' was picked because this route is the Michael Jordan of SEPTA lines) travelling along 11th and 12th Streets from Oregon Avenue in South Philly and Noble Street, a small, underused street between Callowhill and Spring Garden.
The 23 gets more customer complaints than any other bus route, with a majority objecting to skipped stops due to full buses. In 2014, its on-time rate was just 64 percent, a far cry from SEPTA's 80 percent goal for buses. Until 1992, the 13.8-mile-long line operated as a trolley – according to some, it was the longest trolley car route in the world (some Crimeans might disagree, though).
"The combination of very high ridership, its length, and its run through some very congested parts of the city" causes the line's problems, said Dan Nemiroff, a Senior Operations Planner at SEPTA.
That made the 23 ripe for a re-think. "I think common sense tells you that short routes run better than long routes," said Nemiroff.
By splitting the lengthy line into two shorter loops, SEPTA hopes to improve on-time performance and limit the number of over-packed buses, while still providing the same level of regular service on the two routes. While SEPTA is not proposing to restore trolley service at this time, this change would not preclude a restoration in the future.
According to SEPTA's ridership studies, most 23 riders get on or off in Center City, rather than travelling through. There will be free transfers for those few riders that will need to transfer between the new 23 and 45 buses. Because of the change, 23 and 45 riders will be able to use transfers between the two lines for free using SEPTA Key.
EXTENDING A CENTER CITY BUS LINE TO PENNS LANDING
If you were among the thousands who made their way to the Spruce Street Harbor Park last summer, you probably spent enough time lounging in its hammocks or drinking on its docks that you managed to forget all about how difficult it was to get there.
The Delaware River Waterfront Corporation, the waterfront-developing brains behind the pop-up park, estimates that over half of its visitors traveled by means other than car. The DRWC wasn't able to get enough data to definitively determine exactly how these non-driving visitors made their way to the bucolic boardwalk, but plenty walked from the Market-Frankford Line on 2nd and Market or other relatively far away public transit termini.
SEPTA's proposing to help bridge this transit gap by extending either the Route 12 or Route 40 bus lines closer to the Delaware. Route 12 starts at 50th and Woodland in Southwest Philly, travelling along Grays Ferry and Locust for most of its way east before turning around at 3rd Street. Route 40 starts on the other side of City Avenue from Bala Cynwyd, travelling around Fairmount Park and through Mantua before hooking a left down Spruce, over the South Street Bridge and finally turning around at 2nd.
Route 12 would be extended over I-95 and Columbus Boulevard to drop passengers off right in front of SSHB and the Hyatt Hotel. Route 40 would extend to Front Street, where riders would alight and then walk over the South Street Pedestrian Bridge to access the waterfront.
The DRWC doesn't really prefer one over the other, says Karen Thompson, a planner at the development corporation. "I think we support both of them."
"Anyway that we can… bring more transit to the waterfront, [the DRWC] wants to do that" said Thompson, adding that, long term, the DRWC would like to see transit along Columbus Boulevard to add "a great north-south connection" to the proposed east-west connectivity improvements.
The DRWC, of course, doesn't regularly try to cram onto the 40 in University City trying to make it over the Schuylkill. But SEPTA officials told skeptics at the open house that the bus empties out a bit at Graduate Hospital. And if another proposed route move goes through, the 40 bus could get a little relief from another rerouted line….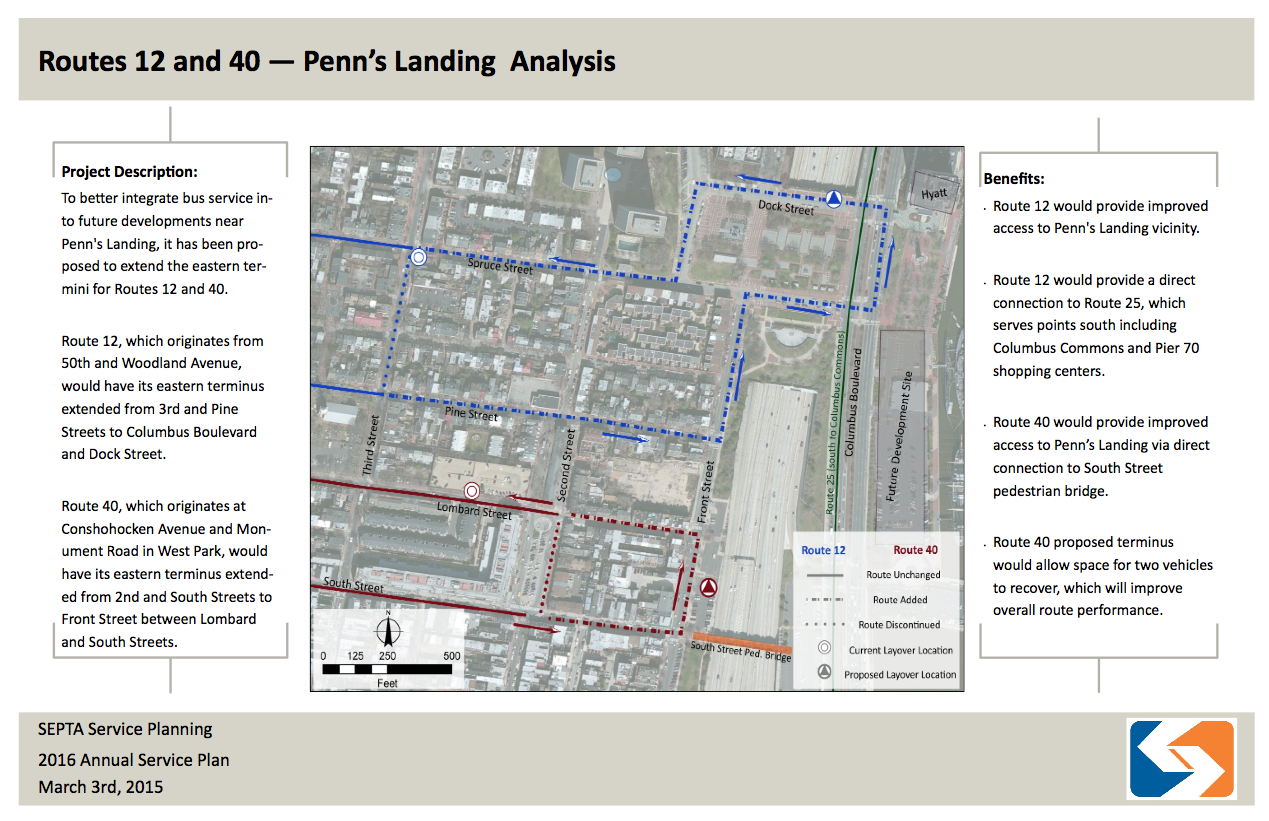 THINKING A FEW MOVES AHEAD – GIVING QUEEN VILLAGE A STRAIGHT LINE TO CENTER CITY
Walking through Queen Village, you might be forgiven for thinking the neighborhood has it all. Historic colonial homes tucked down small, shaded streets? Check. Beloved neighborhood waterholes and noteworthy fine dining? Double check.
But Queen Village doesn't have an easy ride getting to Center City. Unlike the similarly named chess piece, Queen Village can't move diagonally northwest to Center City – at least not via public transportation today.
SEPTA is considering extending either the Route 31 or Route 32 line to the neighborhood nestled among Society Hill, Bella Vista and Pennsport.
Right now, SEPTA is leaning towards the 31 extension, said City Service Planning Manager Steven D'Antonio. "It has a little more potential." The bus could help support commercial developments along Christian Street and provide another route to the Italian Market.
More importantly, the 31 heads to University City, where 11.5 percent of Philadelphians currently work and the sight of numerous construction cranes suggests even more will in the near future.
"You see from the map that there are people in those neighborhoods that already work [in University City]," said D'Antonio. As the number of Philadelphians working in University City grows, SEPTA will need to respond.
If we offered another route in the area that went to University City," said Anita Davidson, Operations Planner for SEPTA, "we could potentially take some heat off of the 40 [bus route], which is also highly complained about and deals with overcrowding issues."
And that, in turn, might make the proposed extension of the 40 to Penn's Landing more tolerable to that route's current riders.
SEPTA's planners are playing Annual Service Plan chess, trying to think a few moves ahead, freeing up space on one line to make new moves on another, and ultimately end up in a better position than before.
FRANKFORD TRANSPORTATION CENTER ACCESS
As in chess, SEPTA sometimes needs to make a handful of moves before it can make one. That was the case in trying to improve pedestrian access to the Frankford Transportation Center, where the authority is now considering the rerouting of four bus lines.
The proposal hopes to move the 25, 26, 73 and 84 routes, so that riders on the 25, 73 and 84 would no longer need to cross Frankford Avenue to reach the FTC. The proposal cuts service to a stretch of Harbison Avenue between Frankford and Cheltenham currently provided by an occasional extension of Route 26. SEPTA hopes, however, that riders in the area will appreciate the considerable improvements the proposals would make to overall pedestrian safety and operational efficiency.
PROVIDING HUNTING PARK A RIDE BETWEEN THE PARK AND THE PLAZA
By extending Route 53 down Hunting Park Avenue from Hunting Park to the Hunting Park Plaza, SEPTA hopes to provide a needed east-west bus route that will help connect Hunting Park residents with the Broad-Street Line and bus Routes 4, 47 and 57, all the while maximizing the number of times "Hunting Park" is uttered in any given day.
The proposal hopes to help support the Hunting Park Avenue commercial corridor, which has seen some welcome redevelopment in the past few years. The proposed extension would not impact service to the Little Flower High School, but would also provide access to the Nueva Esperanza Academy Charter School and Fortaleza Rehabilitation and Fitness Center.
This proposal comes in response to ongoing requests from the public for an extension of some east-west service in the neighborhood. After weighing other options, SEPTA planning staff ultimately decided to recommend this extension.
MOVING FORWARD
This year's implementation will be a bit behind previous year's plans, due in large part to the papal visit in September for the World Meeting of the Families. SEPTA, like many government agencies in the area, is putting many projects on hold to focus on the huge influx of visitors expected to crowd Philadelphia this fall.
With all this discussion of extending routes, and if longer routes tend to cause longer delays, why not just start a new route in the needed areas?
"I think it costs a lot more money to build a new route than to extend one that is already existing. And then to build up a base ridership for a new route is extremely difficult," said Davidson.
The full list of proposals is available here, which include suggestions to move Route 55 and Route 64 to avoid a slippery hill and an ungainly left turn, respectively, and to shutter County Line Station on the Norristown High Speed Line, which sees an average of 24 riders getting on and off at it a day.* Most of the ridership comes from employees at the nearby Villanova Conference Center, causing the Augustinian University to oppose the closure.
Interested riders can express their support or displeasure by submitting comments to SEPTA via an electric form at the bottom this SEPTA page, or by attending a meeting in person. There will be a hearing sometime in mid-April (exact date TBD) and the formal comment period will end soon after that. Based on the feedback provided and budgetary limitations, the SEPTA staff will make recommendations to the Board, which often then adopts the staff's suggestions wholesale.
*Correction 3/4/15: This sentence was corrected to reflect that Route 64, not Route 63, is being changed and to correct another typo. My apologies for the mistake.
Frankford Transportation Center Operations Analysis

Route Realignments

Routes 105 and 106 Proposal

Route 53 — Hunting Park Avenue Proposal
WHYY is your source for fact-based, in-depth journalism and information. As a nonprofit organization, we rely on financial support from readers like you. Please give today.