SEPTA and PATCO hop on bike trend to boost ridership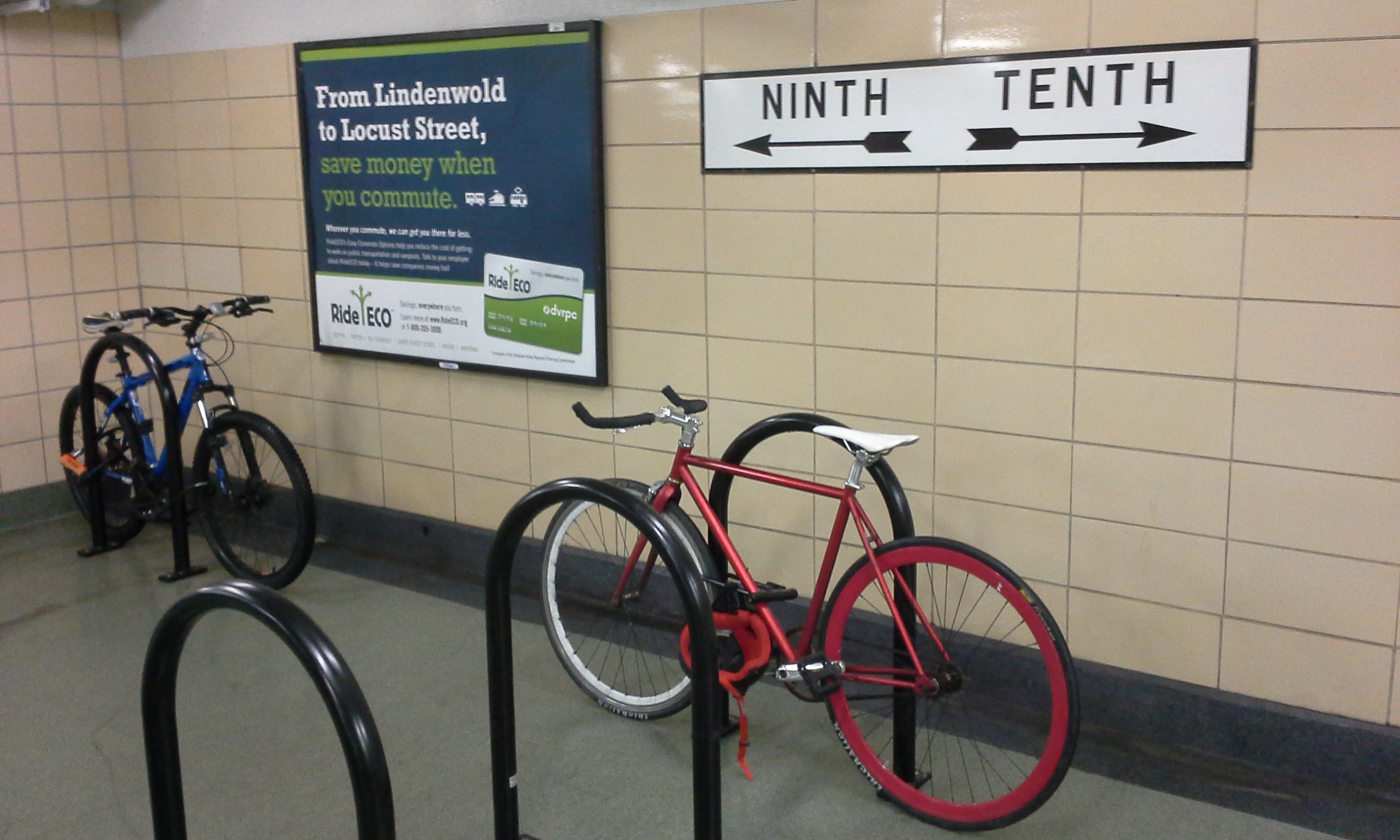 Last month, SEPTA released its first ever Cycle-Transit Plan, an addendum of sorts to its Sustainability Plan, detailing what the transit authority has done—and will do—to make it easier for cyclists to take the train or bus.
At first blush, creating plans to help people on one type of transportation device use another kind of transportation device might seem a bit redundant, maybe even silly.
But upon further reflection, we do this all the time, transitioning from short-range transportation modes to long-range modes and back again. It's what we do every time we go to the airport, and every time we walk to-or-from a car. And, in fact, American society has dedicated quite a considerable amount of time and effort making sure that driving is an easy, convenient way to get around, building a surfeit of highways and planning cities around the automobile.
So why not put a little thought into making it work better for the bike-to-bus crowd, thereby encouraging a few more folks to leave their car at home, and making everyone's commute just a teensy bit better?
That's just what SEPTA aims to do here, looking at ways to make it easier to bike to a station, and then either leave your bike there or take it with you.
(SEPTA)

(SEPTA)

(SEPTA)

(MBTA)

(BART)
The main takeaway: expect more bike racks at stations. But not just some u-racks hanging out on the sidewalk. SEPTA will be looking to build sheltered racks — meaning some sort of cover above them to keep your bike dry in foul weather — and more racks underneath existing station awnings.
For the upcoming fiscal year, SEPTA hopes to build racks at sixteen stations: ten of the busiest regional rail stations should get racks, plus racks at Jefferson and Suburban Stations, and two stations each for the Broad Street Line and Market-Frankford Line. They've set aside a little under $1 million per year over the next five years for bike infrastructure projects.
After that, the authority hopes to start installing covered racks at more regional rail stations, and to improve bike lanes and trails leading to stations. The Cycle-Transit plan will influence planning and improvement projects down the line by keeping bike infrastructure on SEPTA's mind. In coming years, riders may see proposals for secured bike lockers like those available at some MBTA stations around Boston.
Additionally, SEPTA plans on installing its first bike stair runner at Suburban Station. A bike stair runner fills in the stairs next to the walls to create ramps for pushing bikes up stairs, obviating the need for riders to carry them.
PATCO'S ALREADY AHEAD
SEPTA isn't the only transit agency in town hopping on the bike n' train … train. PATCO has installed bike racks inside its stations: six at the 9th/10th and Locust station, eight at the 12th/13th and Locust station, and five at the 15th/16th and Locust station in Philly. All of these racks are behind the PATCO turnstiles, meaning would-be bike thieves would need to pay a fare to steal them.
More importantly, they are in weather-protected, well-lit, high trafficked areas—exactly where cyclists would want to lock up. (PSA: Avoid locking your bike in dark, out-of-sight alleys. Bike thieves, like all thieves, prefer to operate out of view.)
PATCO also plans to install bike racks at the 8th Street concourse in the "free area", i.e. before the turnstiles.
To protect all the locked bikes further, PATCO will be installing cameras to watch over the racks and help catch any determined — if foolish — bike thieves who go for them.
You can read the SEPTA Cycle-Transit plan here.
UPDATE: PATCO Assistant General Manager Bennet Cornelius emailed to note that PATCO has other bike racks at its stations, but not in the stations. Some are under cover, but not all. Still, better than no bike racks.
Collingswood: 38 in 2 locations
Westmont: 25 in 3 locations
Haddonfield: 22 in 2 locations
Woodcrest: 9 in 1 location
Ashland: 17 in 2 locations
Lindenwold: 15 in 1 location
WHYY is your source for fact-based, in-depth journalism and information. As a nonprofit organization, we rely on financial support from readers like you. Please give today.