Sen. Toomey raises alarms about Trump's new ethanol policy
The issue pits corn-growers against refiners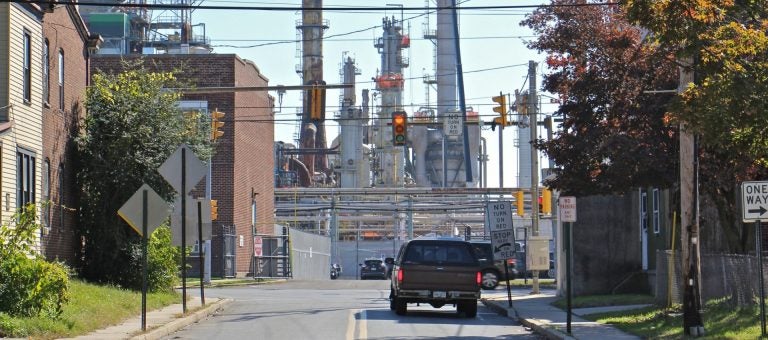 Philadelphia area refineries are raising alarms about the costs of a recent move by President Donald Trump to boost corn-based ethanol. Following through on a promise made to Iowa voters, Trump directed the Environmental Protection Agency to allow sales of so-called E-15 fuel throughout the entire year.
E-15 gasoline contains 15 percent ethanol, and is banned from being sold in the summer months. When combined with warmer temperatures, ethanol increases ozone damaging emissions. The blended gasoline sold year-round contains 10 percent ethanol.
Republican Sen. Pat Toomey has unsuccessfully tried to change Trump's mind. He met with several refinery executives and union leaders Tuesday morning at Monroe Energy in Delaware County.
"I have met repeatedly with the President of the United States," Toomey told the group. "…But frankly we're disappointed that we have not been able to get the solutions that we had hoped for."
Toomey says he would support getting rid of the ethanol mandate altogether, but that would not be politically feasible. Instead, he said expanding E-15 during the summer months should be challenged in court, based in part on the fact that it would violate the Clean Air Act.
Critics also say it could damage vehicles.
The Corn Growers Association of America praised the President's move.
"Corn farmers across the country have been advocating for year-round sales of higher ethanol blends like E15 to help grow demand, provide consumers with more options at the pump and improve economic conditions across rural America," said the organization's president Lynn Chrisp in a statement. "We thank President Trump for following through on his commitment to America's farmers."
The Renewable Fuel Standard, which relies on corn-based ethanol, was boosted in 2005 as a way to create more domestic energy and reduce air pollution from vehicles. But some question the benefits to air quality.
Toomey says the system designed to ensure ethanol is blended into gasoline has "completely gone off the rails."
"Nobody ever intended that this mechanism would end up costing hundreds of millions of dollars."
Local refineries like Monroe Energy and Philadelphia Energy Solutions can't blend ethanol into gasoline. So instead, they have relied on others to do the job, and they pay credits, known as "RINs." But several years ago, Toomey said, speculators helped create an unregulated black market, driving those prices up and putting the refineries at risk.
In 2017, area refiners spent more than $400 million dollars on RINs. A bankruptcy filing by Philadelphia Energy Solutions earlier this year blames, in part, the RFS mandate.
Jeff Warmann, CEO of Monroe Energy, says neither the refiners nor the ethanol producers benefit from the RIN system.
"The people that are getting wealthy are the middle men, the bankers and the blenders and other people who are trading the RINs," he said.
Warmann says the corn growing states and refinery states need to work out a compromise when it comes to ethanol. He says recent efforts to do so have failed.
Anthony Gallagher, business manager for the Steamfitters local 420, urged Toomey to push back against Iowa Republican Sen. Chuck Grassley, who supports expanding the ethanol mandate.
"[Grassley] is holding us hostage," Gallagher told Toomey.
Gallagher says his union members earn about $90 million in wages and benefits from the local refineries each year.
"So that's a tremendous loss for us if we lose these refineries," he said. 
Corn growers say ethanol is better for the environment because there are fewer emissions from the tail pipe. But many environmentalists now say the overall impact of growing corn for fuel does more harm than good.
WHYY is your source for fact-based, in-depth journalism and information. As a nonprofit organization, we rely on financial support from readers like you. Please give today.