In Seattle, Amazon is a low-key presence and a powerful influence
In Seattle, Amazon's growth has helped create an affordability crisis and local politicians are exploring new solutions. The company has a hand in that process.
Listen
0:00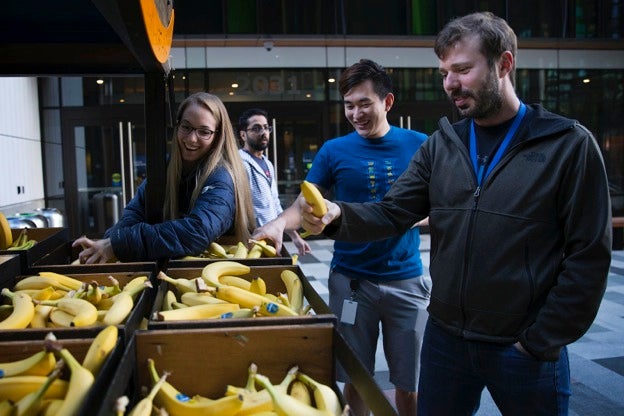 Philadelphia, Wilmington and Camden are among the cities competing to land Amazon's second headquarters and that has many people wondering what could happen if the company actually picked their city. To get some answers, we turned to our fellow NPR member station, KUOW in Seattle, home to Amazon's first headquarters.
—
Amazon is a huge presence in Seattle. Its buildings occupy two adjoining neighborhoods — about five times the space Comcast takes up in Philadelphia.
Its 40,000 workers crowd city buses and streets.
By its own estimate, Amazon's investments since 2010 have brought $38 billion to the city's economy.  And there's a new community asset: banana stands, sprinkled throughout its campus — a little nutrition to start a coder's day off right.
On a recent fall day, Seattle's former mayor Mike McGinn helped himself to a banana.
"It says not just for Amazonians, but for anyone in the community," he said.
McGinn helped make all this happen seven years ago, back when Seattle needed jobs.
"It was a deep recession, we had close to 10 percent unemployment in town," he said.
To attract Amazon downtown, Seattle offered a new streetcar and a new electric substation — investments that totaled about $1.1 billion.
But no one knew how the growth would accelerate and that it would touch off an affordability crisis.
McGinn said it was surprising how quickly people's view of the growth changed from relief to criticism.
"Public attitudes are different when you have no cranes than when you have 62 cranes, " he said.
And he understands because life in Seattle has become more expensive. A two bedroom apartment is easily over $2,000 dollars a month in rent.
"I mean look, the city's got serious homelessness issues, it's got serious issues around equity," McGinn said. "People are getting priced out of their homes and Amazon's sitting back saying, 'We are above it all.'"
Spotting Amazon's influence
Or that's been the perception because Amazon is not a company given to big public displays of charitable affection. In Seattle, there's no Amazon stadium or university pavilion. That's not the way the company expresses itself.
Yet no one doubts the company's influence — or its interest in the city where it lives, especially since it declared a search for a second home.
We got a glimpse of that influence recently at the annual meeting of the Seattle Chamber of Commerce.
Maud Daudon, the organization's president, used Amazon's announcement to sound a warning.
"This announcement should serve as a wake-up call for this city," she said. "We can't take our prosperity for granted. We need to be thoughtful about creating a better business climate here in Seattle."
In the last few years, Seattle's city council has tried to help the low-wage earners who are struggling for a place in the city. It approved a $15 minimum wage and now it's going after people with big paychecks.
The city council wants an income tax on high wage earners to help even out the tax burden between rich and poor and unlike states like Pennsylvania, Washington doesn't have a state income tax.
The last time one was considered, Amazon founder Jeff Bezos contributed to a fund to oppose it.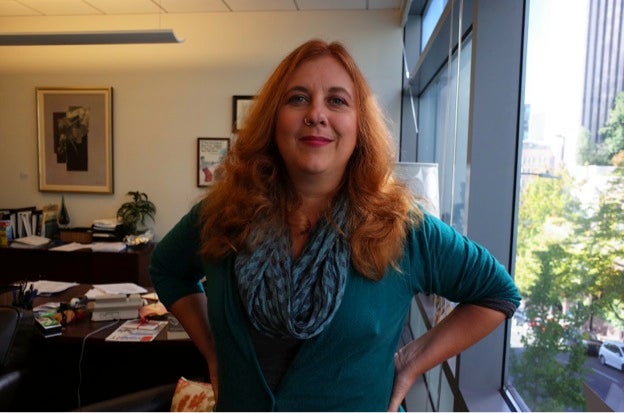 The company helps fund a political action committee that represents business interests. That PAC has picked a slate of business-friendly candidates — for mayor, the county, even city council members.
"Candidates who will work with the business community on solving our city's toughest challenges," Eileen Sullivan, who handles Seattle public policy at Amazon, told the business people assembled at the chamber meeting.
Politicians stepped up to show what partners they can be. Seattle's current mayor, Tim Burgess said, "We appreciate their presence in our city. We want them to stay here in our city and we want to grow with them as well."
But all that is in doubt. Before the HQ2 announcement, people in Seattle assumed Amazon would — of course – be doing all its growth here.
Critics of the company, like city council member Lisa Herbold, are warning other cities to be careful what they wish for.
"When you have finite public resources, you have to think about using them in a way that serves the entire city," she said.
And that means the city that wins Amazon's next head office should start building affordable housing yesterday.
WHYY is your source for fact-based, in-depth journalism and information. As a nonprofit organization, we rely on financial support from readers like you. Please give today.