Seaside boardwalk fire continues to smolder, fire chief says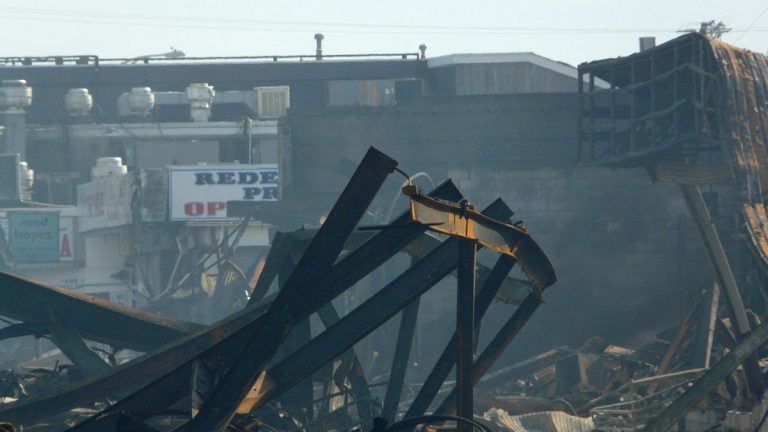 Firefighters remain on the scene of the New Jersey boardwalk fire that was placed under control late Thursday evening, a fire official says.
"The current situation is that we are still dealing with sporadic flare ups because the sea breezes keep feeding the hot embers," says Seaside Park Volunteer Fire Company Chief David Hansen. "We have been able to access and turn over most of these trouble spots and are confident we will not have a rekindle that would threaten homes or unaffected businesses."
But Hansen says that firefighters are still dealing with remote areas that continue to smoke.
"Because of the limited access to these areas by fire trucks and the heavy equipment needed to overhaul them, it is just logistically not possible to 'stop' the smoldering," he says. "These areas are remote and have no exposure risks so the decision has been made to let them smolder until we gain access."
The cause remains under investigation, Hansen says, adding that the Ocean County Fire Marshall's Office has not released any information pertaining to the cause and origin.
Hansen comments that he's proud to serve the borough as chief of the department, which was the first on the scene shortly before 2:30 p.m. Thursday.
"The firefighters in this organization continue to push and volunteer more of their time and safety to ensure the safety of the residents here," he says.
He is also thankful of the response from fire departments throughout the state. About 400 firefighters fought the fire.
"They came to our aid when called and never hesitated to put themselves in harm's way to get that fire under control. The fire service of New Jersey showed what it was capable of when we all work together," he stresses.
Civilians were also critical in the hours and days following the massive blaze, Hansen emphasizes.
"Thank you to all who brought food and water and supported all the emergency services," he says. "Thank you for your patience during the operation — I know the hose and the trucks were in the way."