Sculpture marks Delaware company's escape from 87th floor on 9/11 [video]
Listen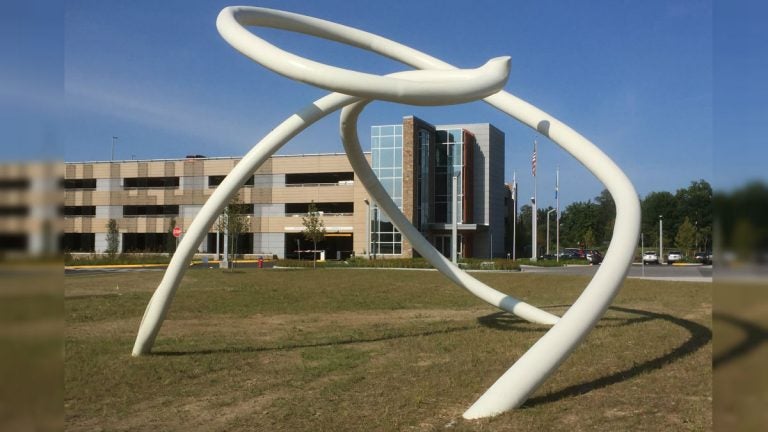 A company that had offices in the World Trade Center on Sept. 11, 2001, reveals a sculpture at its Delaware headquarters in honor of 9/11 heroes.
Ravi Swaminathan will never forget the day two planes hit the Twin Towers in New York City on 9/11.
He was heading toward his Corporation Service Company office in the World Trade Center building when he heard a loud bang, and saw people running away from the structure. Swaminathan followed suit and ran through the debris until he found a bus to take him to a location away from the destruction.
"I couldn't forget that day, because my wife was carrying my first [child] and on that day I felt like, 'You know, if something were to happen to me I wouldn't know if I had a boy or a girl,'" he said. "The next day, when I went to the doctor's office I said, 'I want to know if it's a boy or a girl,' because I could have died not knowing whether I had a boy or a girl."
As he was escaping Manhattan, his managers and co-workers were fleeing their 87th floor office, despite orders to stay in place.
Their CEO at the time, Bruce Winn, was in Houston that day. When he heard the news, he and three others drove 24 hours back to Delaware as fast as they could. During the drive, they received continuous updates of the number employees found safe—it wasn't until the next morning they learned all 108 of them had survived.
"I can't tell you how we felt in that car as we heard our final person had been reported safe," Winn said.
"It's a testament to the leaders in New York City who got everyone out, looked through all the different rooms to make sure there was no one left on that 87th floor and everyone had started down."
Sixteen years later, Swaminathan, Winn and employees of the business, legal, tax and digital brand services provider gathered to reveal a 22-foot sculpture in honor of the heroism that took place that day.
Steve Tobin's sculpture entitled The Delaware Root features three steel legs growing out of the ground and curving into space, which creates a shadow in the shape of a peace sign when the sun hits it. The three legs represent the three families that built the company from the ground up.
"Like so many around the world, CSC felt the impact of the attack on the World Trade Center in a way that is difficult to put into words," said CEO Rod Ward. "The Delaware Root is a way to honor the bravery of our employees that day and ensure the values that led them to safety—leadership, courage, teamwork—are passed on to CSC employees for years to come."
The sculpture is part of Tobin's Steelroots series, inspired by Stonehenge, the pyramids, Easter Island and calligraphy.
"When you make a piece of sculpture you're as much sculpting the space around it and the shadows in it, and that's what makes it come alive as opposed to being a static thing. So, I'm always considering many aspects in the piece—in fact, there's Asian calligraphy, Chinese and Japanese for 'Mankind' and 'Great,' in the shape and in the shadows as well," Tobin said.
"I think when you look at sculpture, especially something somewhat abstract, everybody brings their own history and own concept of what it means to them. This is just three lines in space, but the simple curves imply many things to different people. I see figures, I see language in there, but using light and shadow, everybody who looks at it, if I've done a good job, it will elicit emotion and evoke memories and stimulate ideas and thoughts."
CSC commissioned the sculpture because the company's leaders and employees were inspired by Tobin's work The Trinity Root in New York City— a recreation of the sycamore tree smashed by debris during the Twin Towers' collapse that still managed to protect Trinity Church.
"I think my response was that, 'They can knock our buildings down, but all they did was uncover our strength and history and resilience in the roots,' which is why I took the commission of The Trinity Root, the tree that saved the Trinity Church," Tobin said. "The roots were exposed and it showed the strength and resilience of our country and around the world, so roots became a very strong metaphor for me."
The sculpture reveal ceremony was kicked off with statements by U.S. Sen. Chris Coons, D-Delaware, and U.S. Rep. Lisa Blunt Rochester, D-Delaware.
"It is a reminder of how we should understand not just that fateful day, but this fateful day, a reminder that every day is a blessing, to make the most of every day we possibly can," Coons said.
"It is a reminder if we look more deeply, all of us have a challenge today and each day to reflect on these blessings that we have by being born in the right country, at the right time, at the right place—something over which none of us have control."
Blunt Rochester spoke of the symbolism within the piece of art.
"This is a representation of everyone standing here, it is the strong roots this company has in our state and commitment to stay in our state and be anchored here, but it's also about the future, as it rises up very tall, and I think that's about the future, and when I look out and see so many employees here I am lifted," she said.
"But when you look in the background and see the symbol of your company, it also fits very well together, because if I'm not mistaken, that's the sign for infinity. To me, that's what this is about—it's about something that will last. And what's at the bottom of this root is a peace sign."
Swaminathan said experiencing near death has changed his outlook on life.
"There is no guarantee in life. Live each of your day and also help people—because on that day I had many people help me—so I want to make sure I love people, help people and [feel] no hate, because that was an incident due to hate," he said.
"I know many people who died—I saw them in the newspaper. I felt so bad for them, because I used to hang out with them at the coffee house and say good morning and good night. From that day, I started thinking how I could make a difference in other people's lives, and if there's an opportunity to do that I always do that."
Swaminathan said those who view the sculpture should feel inspired.
"There's no reason for someone to die in that matter, and it could have been me also, I always think about that," he said. "Delaware Root and the sign of peace is very important for everyone in the world to start feeling love and not hate."
WHYY is your source for fact-based, in-depth journalism and information. As a nonprofit organization, we rely on financial support from readers like you. Please give today.