'We were scared to death' — 5 years later, Sandy's impact in Delaware
Delaware dodged the brunt of Superstorm Sandy, but the storm highlighted the state's vulnerability to high winds and heavy rain.
All eyes in Delaware watched the forecast as Superstorm Sandy raced up the East Coast before making a very rare left turn towards the First State.
"We were scared to death."
Bethany Beach Mayor Jack Gordon remembers the fear. He also remembers the relief as the storm jogged a bit north and made a direct hit in New Jersey, sparing Delaware.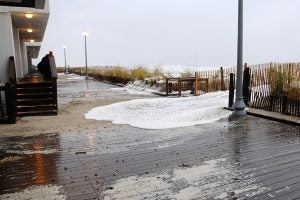 "The mind setback then was, 'Wow, if it hits as close as it was supposed to, we were scared," Gordon said. "While you're never happy that what happened happened, it's much nicer for us that it went way up into New Jersey as opposed to here."
Even without a direct hit, Sandy caused lots of damage in Delaware. It knocked out power for thousands and caused record flooding, dropping nearly 11 inches of rain on parts of southern Delaware.
"This one was weird and different because it wasn't a hurricane, but it was packing more of a punch than a lot of hurricanes, and part of it was where it was going to fall and land," said Shawn Garvin, who now works as secretary of the Department of Natural Resources and  Environmental Control. During Sandy, Garvin was an EPA regional administrator for states including Delaware. "[We] saw a lot flooding, a lot of breaching of dunes, just general impact mainly more from the water, but what it did was just to underscore the vulnerability we have in our state."
Disaster relief funds
Delaware received about $8 million in federal disaster money to do things like repair dunes and upgrade jetties like the one at the Mispillion Harbor near Slaughter Beach.
"A lot of it went towards dealing with some jetties that will help protect wetlands, wetlands being really our first and best buffer against storms like this," Garvin said.
And while the state is vulnerable to hurricanes like sandy, it's fall and winter nor'easters that typically do the most damage here. That's a concern for Mayor Gordon as he awaits the start of a dune replenishment project, scheduled for early next year.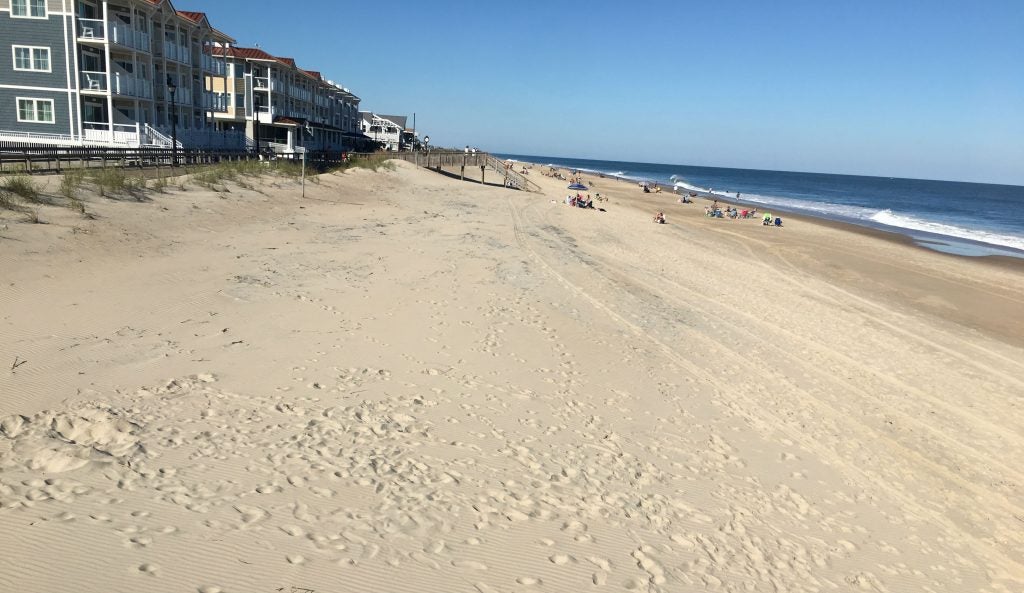 "The last big nor'easter that we had was in January of 2016 and that was one that really did the beach in," Gordon said. "We just want to make sure that it starts early enough so that they can complete the whole job."
A look at the southern end of the Bethany boardwalk shows no dune protection at all. "In fact you can't tell the difference between the beach and the dune, so you can't tell people to keep off the dune if they don't know where it is," Gordon said.
The $17 million dollar beach replenishment will pump sand onto Bethany, South Bethany and Fenwick Island beaches from an off-shore location. That offshore, underwater area was hit hard by Sandy, too. University of Delaware professor Art Trembanis studies the ocean floor and put sensors in place off Delaware's coast as Sandy approached the state.
"It just looked like someone or something had attacked the sea floor with malice, like a cat sort of scratched at the sea bed and we could see areas where it was very dug into, the scour and erosion had taken place," Trembanis said.
Trembanis focused on an artificial reef off the Delaware coast made up of sunken subway cars and ships. After Sandy, some subway cars were moved, others were destroyed as they sat about 100 feet below the surface. "We saw subway cars that were rotated, others that were just obliterated and smashed by the storm … It would have been a very difficult time to be any sort of creature living on the sea floor."
The UD research looks at how changes to the ocean floor affects the way waves build offshore before slamming into beaches and dunes and structures.
"It's really important if we're going to try to improve our models and our predictive capabilities for where different structures, different portions of the beach are going to be affected, that we know what's going on offshore, to be able to model that last little bit," Trembanis said.
As beach replenishment projects get underway, it's a reminder that changing the shape of the sand underwater can have big impacts on the land. The layers of underwater sand that can blunt the impact of waves are made up of various types of sand that makes it attractive for beach replenishment. But taking sand from those areas can have negative impacts onshore.
"As soon as you remove some- you 'rob Peter to pay Paul' on the beach- you can have an influence that can be a deleterious influence to some of those coastal communities … maybe you're letting deeper waves come closer to the shore.  There is a tradeoff there," Trembanis said.
So while it's calm today, state leaders remain focused on improving Delaware's ability to withstand the next Sandy. "Delaware is the lowest lying state in the nation, so these impacts on these storms are going to be potentially devastating," Garvin said. I think Sandy really underscored to people that this is real, and that we really need to be taking steps to try to be more resilient as a state."
WHYY is your source for fact-based, in-depth journalism and information. As a nonprofit organization, we rely on financial support from readers like you. Please give today.