'Salt Pepper Ketchup': Chinese takeout in a gentrifying place (InterAct Theatre Company)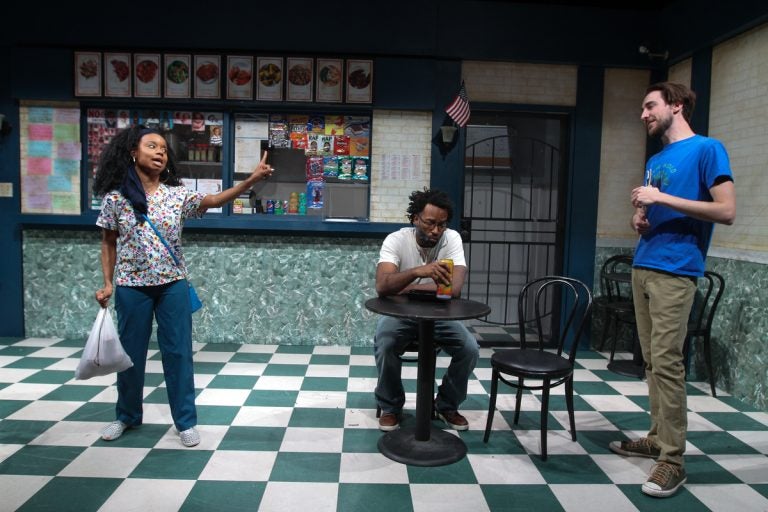 The worst of the troubles for John and Linda Wu and their Chinese takeout store came with the opening of the hip new food co-op nearby. Troubles? The co-op was no trouble at all for the members willing to pay an annual fee to shop there. In a neighborhood where the streets had grown tough and life tougher, a red onion — a beautiful organic red onion — was suddenly available if you had $3.29.
Isn't that the way neighborhood gentrification goes? Cities live and breathe and when neighborhoods become new again, rebirth for some is death for others – usually poor and often black and Latino residents. That's how it is in "Salt Pepper Ketchup," a frank play in its world premiere at InterAct Theatre Company, where it captures the displacement and promise in Philadelphia's Point Breeze neighborhood. It's written by Josh Wilder, a Philadelphia native with an ear for street dialogue and a way with swift plotting.
The bright InterAct co-production with Trenton's Passage Theatre is directed by Jerrell L. Henderson with a fine-tuned action scene at one point and spot-on African American and Chinese immigrant dialects from a talented cast throughout. It has a genuine feel, with the store's checkered linoleum floor and lighted pictures of each main menu item above the counter space (Colin McIlvaine's set).
At their store, the Wu couple — 14 years in business in Point Breeze after immigrating from China — know their clientele, always a plus. People like the shady Raheem (Jaron C. Battle) and the meditative Boodah (Richard Bradford) come and go all the time, and a young mom named CeCe (Kendra Holloway) buys a meal everyday. The Wus are cool with them all. Wu (Fenton Li) is living his dream at his plexiglass-armored counter that draws lots of take-out customers and occasional eat-ins at a few tables. He wants things the way they are, even if they sometimes seem hand-to-mouth.
That's not true for his submissive wife (Chuja Seo), who does all the cooking. She sees opportunities for change with young and wealthier people moving into rehabs and new homes. There are downsides: The new folks insist on calling the neighborhood by another name, Newbold. The established urban culture is breaking down – someone from the co-op reports that a longtime resident breaks the law selling vegetables without license. His business is ruined, and his excitable son (Mark Christie) is now desperate for money for the family.
The most pesky downside for Wu is a co-op administrator named Paul (Justin Pietropaolo), who lately pops into the Wus' take-out to fish for new members. Paul can't sense the arrogance in his easy-going talk about community-building, health foods and veganism that lurches toward the self-righteous. And after he begins to deal directly with the Wus about the co-op's future and their business, not even Megan (Miriam White) – an established community organizer – can sort out the conflicting agendas in a neighborhood suddenly full of them.
Wilder's script brings plays with similar themes to mind – the latter of August Wilson's 10-play cycle set in a Pittsburgh neighborhood, and the popularly produced "Superior Donuts." Unlike those plays, "Salt Pepper Ketchup" suffers from sometimes exaggerating – take that onion for $3.29, for instance, and other prices cited in the script that dent the play's credibility. And what about Paul, the co-op administrator? While the black and Chinese the characters speak naturally of their woes, Paul's talk can seem cartoonishly puffy. Could the gentrifiers never be anything more than privileged exploiters?
But none of this takes away from the play's keen look at the dominos that generally fall as neighborhoods change. At its best, "Salt Pepper Ketchup" does what theater does on the best nights – with storytelling and a rigorous production, it illuminates an issue, and in the light we see it afresh.
—
"Salt Pepper Ketchup" runs through Nov. 18 at InterAct Theatre's performance home, the Proscenium Theatre on the side of the Drake Apartments, on Spruce Street between 15th and 16th Streets. 215-568-8079 or interacttheatre.org.