Five shooters launched targeted attack at Roxborough High, police say
A day after the shooting following a football scrimmage at Roxborough High, some students say they don't want to go to class as police search for shooters.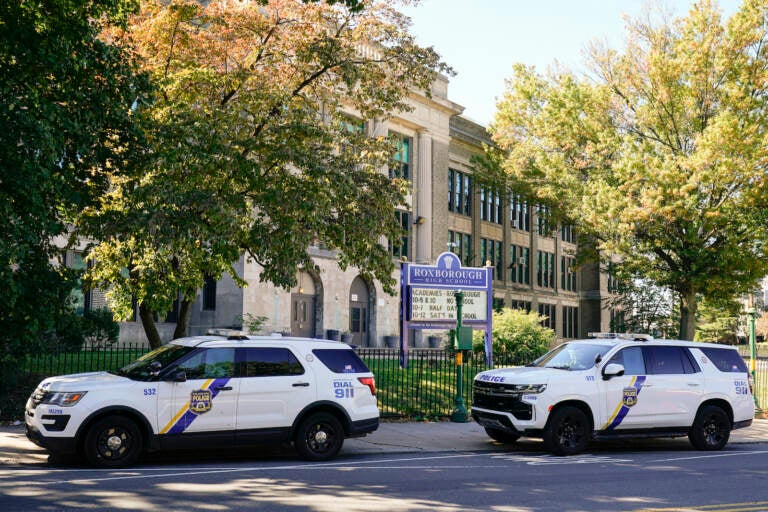 A video of the entire shooting outside Roxborough High School released by Philadelphia Police Wednesday shows what investigators believe was a targeted attack.
Homicide Captain Jason Smith said five shooters waited for about six minutes to ambush the students as they left the football field. The shooting killed 14-year-old Nicolas Elizalde, of suburban Havertown, and left four others injured. Police say they found more than five dozen shell casings in the area after the attack.
"Following the initial barrage of gunfire, the video shows four of the five shooters returning to the suspect's SUV. A fifth shooter continued shooting at a victim as both ran down Pechin Street," Smith said. "The victim was ultimately struck by one of the offender's bullets and he collapsed on the sidewalk."
School district Superintendent Tony Wattlington said the district will work to fight the violence issue in the schools.
"All of us in the school district are grieving," he said. "Yet, despite our grief, our many caring educators and leaders across the district are once again wrapping their arms around schools and our students with as much care and support as they can during this extremely difficult time."
At this point, police believe the incident is not directly tied to the football scrimmage.
Elizalde was a member of the Roxborough football team, but attended Walter B. Saul, a nearby magnet school focused on agriculture.
Classes were in session at all three schools Wednesday and staff from the district's Emergency/Crisis Response Team, a school-based team of social workers and counselors were on hand to support students, district spokesperson Marissa Orbaneck said in an email.
"We will continue to provide support to our school, staff, students, and families as needed during this extremely difficult time," Orbaneck said.
Classes were also in session at Boys' Latin, a charter school in West Philadelphia whose football team participated in the scrimmage, though all sports practices and competitions were canceled for the day.
Colleen Smith, the school's chief operating officer, said while maintaining their regular routine would be best for some members of the school community, "for others it will be best to break from the norm and step back to process and grieve."
The school's attendance policy for both students and staff provides "for the flexibility that this tragedy requires," Smith said in an email.
At school, a classroom has been set aside for "students and faculty to process and grieve," and individual check-ins are planned with each member of the junior varsity football team.
Other students and faculty members can meet with the school's counselor or with additional counselors provided through community partnerships.
Two students who attended Boys' Latin were killed by gun violence last school year, Kaylin "KJ" Johnson and Kahree Simmons. Both were members of the class of 2023.
No members of the Boys' Latin football team were physically harmed in Tuesday's shooting.
Counselors were on hand at Roxborough High as students came into school Wednesday morning. A number of police officers kept watch over the high school as school leaders greeted arriving students.
Some parents like Bud Rigner were upset that there was no police presence at the game Tuesday afternoon.
"No police presence whatsoever, that goes on Roxborough High School, and that goes on you that's on you," Rigner told City Councilmember Curtis Jones, who came to the school Wednesday morning. "I've got a 9th grader that's afraid to go to school today."
Councilman Jones responded that the incident could have happened even with a police presence.
"There are bad actors that no matter whether there is a camera, there is a police person, they will pull the trigger," Jones said. "We have to deal with the predictable consequences that comes with that."
Jones said first there needs to be an arrest and severe consequences for the taking of a young life in the incident.
Parents urged their children to get inside the school quickly and a perimeter was set up outside the school to give the students a safe corridor.
Michele Pellicone lives near the high school and said the violence in Philadelphia needs to stop.
"It's a shame for the children that they can't be in a safe neighborhood," she said. "You say it doesn't happen in your neighborhood, but it does happen in your neighborhood. And I feel terrible for the families that lost a child. I feel terrible for the kids that they can't be safe in their own neighborhood and it's affecting everybody. It's very doom and gloom around here today."
Students didn't want to talk to reporters and moved quickly into classes.  School officials and members of the DA's office response team were at the school to make sure help was available if students needed to talk.
Moving forward, police plan to increase security at schools, said Deputy Commissioner Joel Dales.
"We reached out to the school board. They're going to give us a list of all the scrimmages we have, all the games," Dales said. "We can't cover them all. There's numerous scrimmages across the city. But we receive any information whatsoever where there may be problems or issues at a scrimmage or practice, we will have police officers present, but in the meantime, we will be making periodic checks at those locations."
At a press conference before the start of the school year, Chief of School Safety Kevin Bethel said the 2021-22 school year saw nearly 700 incidents of gun violence, 304 of which involved active students. At least 119 young people under the age of 22 were killed.
WHYY is your source for fact-based, in-depth journalism and information. As a nonprofit organization, we rely on financial support from readers like you. Please give today.