Rolling Stone's Camden profile just more 'urban porn'?
Listen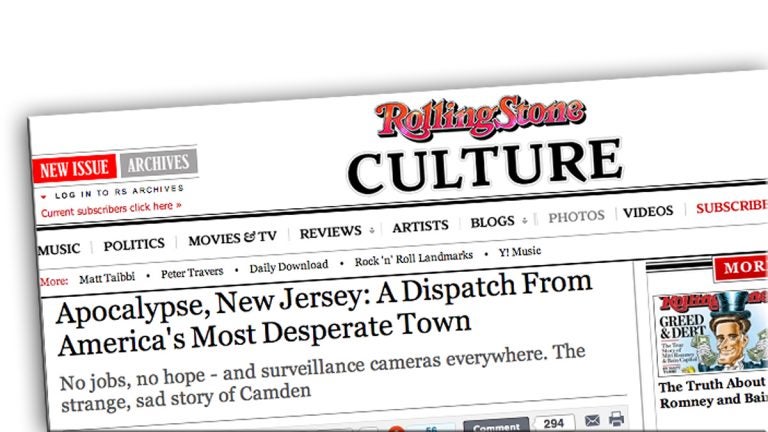 Rolling Stone's Matt Taibbi has stirred the pot on the tribulations of a city mired in extreme poverty by producing yet another sensationalist story on Camden, "Apocalypse, New Jersey: A Dispatch From America's Most Desperate Town." In doing so, he adds one more link in a chain of damning national exposes that go at least as far as a 1983 edition of 60 Minutes as well as more recent program segments from Diane Sawyer and Brian Williams.
As always, there are the usual passionate defenses, that a reporter has missed the good side of the city. Rutgers-Camden professor Stephen Danley leads the way in this effort, but from the many comments to his blog and to the Rolling Stone essay, he is far from alone in his views.
Taibbi's contribution might well be dismissed, as Danley does, as "urban porn," a thriving industry in the post-industrial era. Think of Charlie LeDuff's recent book, provocatively titled, Detroit: An American Autopsy. To his credit, LeDuff is a Detroit native with a long history in journalism. Still, his title and his unvarnished revelations helped get him on the New York Times bestseller list for weeks.
Clearly Taibbi is pointing in the same direction if one considers the description of his forthcoming book, The Divide: American Injustice in the Age of the Wealth Gap, due out in April. The pre-publication publicity makes clear why Taibbi became interested in Camden. The primary American divide, he will argue, lies in "the seam in American life where our two most troubling trends—growing wealth inequality and mass incarceration—come together, driven by a dramatic shift in American citizenship: Our basic rights are now determined by our wealth or poverty."
There is a good deal in the Taibbi article I could disagree with, particularly the lack of adequate contextualization of the situations he describes. The sense that there is unequal justice in America, for rich and poor, is hardly news either.
Still, Taibbi raises some important questions that deserve attention. The drop in crime that has been reported since Camden County took over the city's police department in May has been attributed to the introduction of new technologies and an increase in officers on the street, made possible by ending union benefits that had become unsustainable over the years. While conservative bloggers have been quick to credit change with "dumping the police union," Taibbi sees in the installation of a vast network of cameras and microphones that can pinpoint gunshots within seconds of their occurrence the makings of a "perpetual self-occupation." Camden police chief Scott Thompson calls the new devices the key to doing more with less, and arguably such devices, as they have been employed in other cities, have been actively sought by residents.
But there is room for abuse here and not much protection for residents when it occurs. Approximately 100 of the city's current police ranks—many of them former seasonal officers in shore communities—are entirely new to the city and not familiar with prevailing urban social patterns. When people are gathered on the street, are they loitering or engaged in matters of mutual support and sympathy in obviously difficult times? The majority of the new recruits are white, and in the effort to be aggressive, there is always the danger of racial profiling. According to a recent news report, while some areas close to the downtown are quite satisfied with the renewed attention they are receiving, residents in some of the city's most violent neighborhoods fear police actions they witness are often too aggressive, even for the bad situation they are in. The public deserves assurances that the system is both effective and fair. Yet there is no institutionalized means of doing that: no review board and no investigative journalism worth its salt to uncover any system of abuses.
This is the lost opportunity of Taibbi's story. Instead of relying on sensationalism, he might well have made a few recommendations. Unfortunately, he chose not to do so.
One of the positive responses to the rising violence in the city that Taibbi fails to mention was a trauma summit held at Cooper Hospital in May. Spearheaded by Father Jeff Putthoff of Hopeworks 'N Camden, this meeting pulled area service providers into an ongoing process of dealing with the pain and suffering that cannot be denied in Camden. Putthoff's effort is but one of many citizen-based programs intended to empower people against whom so many negative factors are aligned.
Grass roots efforts can only do so much to alter the structural elements that sustain urban poverty. Both police action and social services deal with the symptoms of Camden's situation, not its causes, which are rooted in dual housing market, where whites can afford the pricier suburbs while minorities are left behind, keeping poverty and its attendant social pathologies concentrated in the city.>
Governor Christie has taken credit for Camden's new police system, claiming that the change can provide a model for other cities. With 52 homicides now on the books and a murder rate well above that of Philadelphia, even since the county took control, those claims should not be taken at face value. Now it's time to evaluate the program's effectiveness, not just statistically, but as it relates to other programs in place.
Cracking down on crime without opening up opportunities for employment and for better schools as well as personal security is not a formula for success. The governor's opposition to expanding affordable housing opportunities in the suburbs closes down an option that satisfies all three criteria. Instead, he is locked into measures to alter the conditions of poverty in place, certainly a strategy, but one with serious limits.
Camden's problems won't disappear any time soon. They deserve considered attention. Consider Taibbi, then, not an educator so much as one in a long line of instigators. Reform demands informed debate. Let's use this occasion for a renewed look at the city and evaluate what is being done right and what needs to be changed. Then, maybe something positive could well follow from Taibbi's revelations.
__________________________________________________
Howard Gillette is author of Camden After the Fall: Decline and Renewal in a Post-Industrial City and is professor of history emeritus at Rutgers Camden.