Commentary: Christie wasn't 'Born to Run'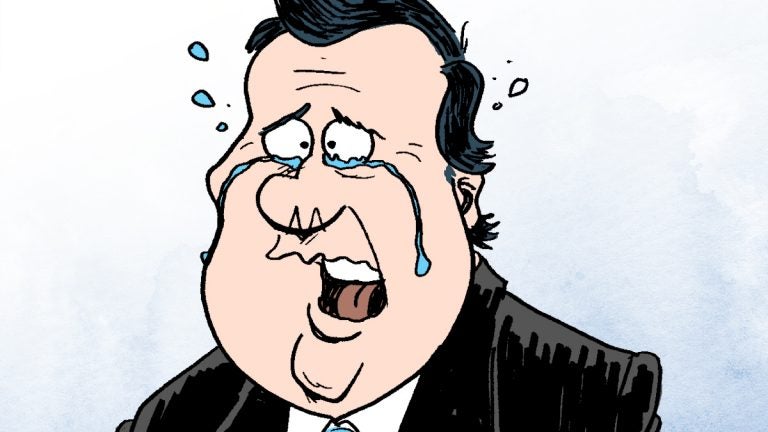 During last night's entertaining-in-all-the-wrong-ways Republican debate, Gov. Chris Christie and Sen. Rand Paul got into the most heated exchange of the evening over the collection of bulk phone data and national security.
So why did I draw a cartoon about God and Bruce Springsteen?
Christie spoke for about six minutes total during the two hour debate. Six minutes. Yes, his back-and-forth with Paul was probably the most hotly contested moment of the night, but despite being able to flash the temper he's become nationally known for, Christie made about as much impact in last night's debate as a candidate polling at 3 percent in a poll with margin of 3 percent.
That is to say none.
For all his bluster and "Tell it like it is" placards, Christie comes across as a lesser Trump, unable to pierce through the coverage of a misguided orangutan who has decided to sit upright and angrily run for president as a republican. The Drudge Report asked its conservative readers who won the first debate, and Trump won handily, garnering 47 percent of the nearly 450,000 votes. Meanwhile, Christie finished dead last, garnering just 5,600 votes, barely 1 percent.
Going back to Christie's big moment during the debate, it's completely predictable he'd be in favor of continuing the government's bulk collection of phone data. After all, he's a former prosecutor and professed 9/11 hugger (which garnered an amusing eye roll from Paul). I find myself more on Paul's side of the argument, but the public surprisingly backs renewal of the government's program of data mining. Plus, I wanted to draw a cartoon about Christie, not the NSA, which I've offered my opinion on many, many times.
I could have drawn a cartoon revealing how Mr. Tell It Like It Is continues to blame Jon "I lost $2 billion" Corzine for New Jersey's pension crisis, high foreclosure rate and the nine credit downgrade during his tenure. But that seemed too easy and obvious, considering Republicans recoil like a sunk ready to spray anytime Democrats mention George W. Bush's tenure.
Maybe I should have drawn a cartoon about his laughable claim he balanced an $11 billion deficit on a $29 billion budget. What viewers outside of New Jersey might not know is governors are required to balance the state budget every year. So Christie basically gave himself a big pat on the back about something he's simply expected to do. Can't wait to hear him brag about looking both ways before crossing the street.
That $11 billion deficit, on the other hand, is a structural deficit which doesn't count towards the budget. According to the Office of Legislative Services, the deficit was $10.7 billion when Christie took office in 2010. Today, it's $10.2 billion, meaning Christie has only shed $500 million during his tenure as governor.
Maybe I should have drawn a cartoon about his views on Social Security, but I don't necessarily disagree with his idea to eliminate payments for those making more than $200,000. I'd prefer eliminating the cap on Social Security taxes rather than raising the retirement age, but there's too much common ground there for a decent cartoon.
So when the field of 10 republicans was asked if God had spoken to them about their decision to run for president, I knew I had to invoke Bruce Springsteen's near refusal to acknowledge Christie in any way since taking office, despite his longly-professed love for the legendary singer (Springsteen did shake hands with Christie during NBC's Hurricane Sandy telethon).
Unfortunately, by the time it was Christie's turn, the moderators moved the focus away from God and we never heard what Christie might have been thinking. But in that fleeting moment when Christie had to prepare his answer, "The Boss" might have entered his mind only to quickly vanish. That's because not only did Springsteen decline to play Christie's 2009 inauguration, he also appeared on the Tonight Show to sing a duet with Jimmy Fallon lampooning the governor's role in the "Bridgegate" scandal. Last night, while forsaking Christie, he ushered out Jon Stewart during the Daily Show host's final "Moment of Zen."
Considering Christie thinks Springsteen's "Born to Run" is the best album in the history of music, I'd like to imagine Bruce Springsteen was plucking around on his guitar last night, working on a parody of one of his most famous songs for the inevitable day Christie is forced to end his quixotic campaign for president:
You waited too long to dip your toe in the run for PresidentNow you in ninth place and falling fast and unwilling to take a hintDonald Trump's more liked than youIf that doesn't sting, man you ain't got a clueOh-oh, Christie you've got no room to roamSandy victims still need your help rebuilding their homesSo get out of this race while you're young'Cause trust me Christie, you weren't born to run.
——
Rob Tornoe is a cartoonist and WHYY contributor. Follow Rob on Twitter @RobTornoe
—