Right NEast/Wrong NEast: Holmesburg flags invisible to Action News

Those pesky Upper Holmesburg flags. One minute they're there, then a TV station comes along and they disappear. That must be what happened when NBC called Holmesburg Frankford in July. And the same thing happened to Action News Monday morning.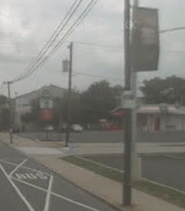 While covering the tragic story of a man who was struck by two cars at Frankford Avenue and Benson Street, Action News took the time to read the street signs, but not the adjacent neighborhood banner. So instead of taking the time to accurately report the story, the article says the accident on the 8500-block of Frankford Avenue took place in Torresdale.
"…Frankford Avenue near Benson Street in the Torresdale section of the city."
So, to be clear, if we're playing along with NBC and Action News; Holmesburg is Frankford and Upper Holmesburg is Torresdale. What does that make everything else?
Outside media don't care about the Northeast. We have all seen them misuse, misspell and mistake our neighborhoods and our streets, so we at NEast mag wanted to do something about it. When they get it wrong, we set it right in a segment we like to call Right NEast/Wrong NEast.